Men's Band Rings Custom Made
While you could pick a men's band ring from a jewelry store in minutes, there are some very strong reasons for choosing a custom band ring for men. The essential elements of a band ring are the band width, the ring size, the gemstone, the metal weight and the craftsmanship. Besides these features, men often have a preference for solid band rings with no scooping done inside the band. And of course, the need for etching a message, date or other personal detail inside the band of the ring. As an example, you might wish to wear a 14k yellow gold men's band with a fine 8mm square spessartite gem, with a band width of 9-10mm. Men love to wear heavy rings and you could be looking for a weight between 20 to 40 grams depending on your ring size. Presuming that, you are hell bent on wearing nothing but, the exact ring of your dreams - there is a less than 10% change that you would come across a ready to wear men's band ring that fits all those requirements. Kaisilver is the leading online provider of high end custom made jewelry, we place no restriction on your choice of metal, design, gemstone, metal weight etc. The best things about our custom men's rings is that, you get the same superior quality for both gold and silver rings. Get in touch with our team of experts at sales@kaisilver.com for any queries or requirements, related to gems and jewelry.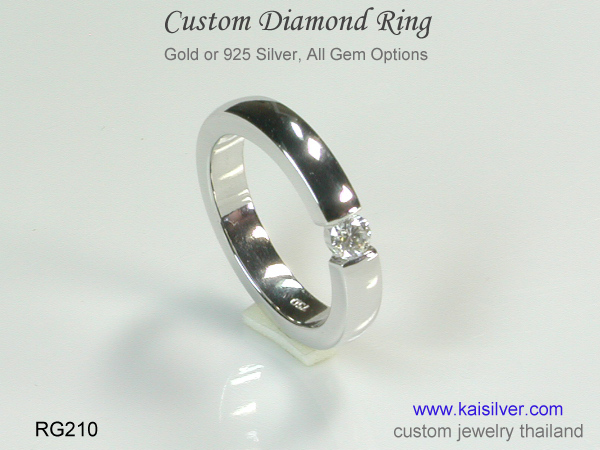 Men's diamond band rings are generally reserved for special occasions. Diamonds are expensive and this often limits the diamond size to 5mm or 6mm. A ring design that, keeps the band width very close to the size of the diamond, can deliver a luxury look ... more.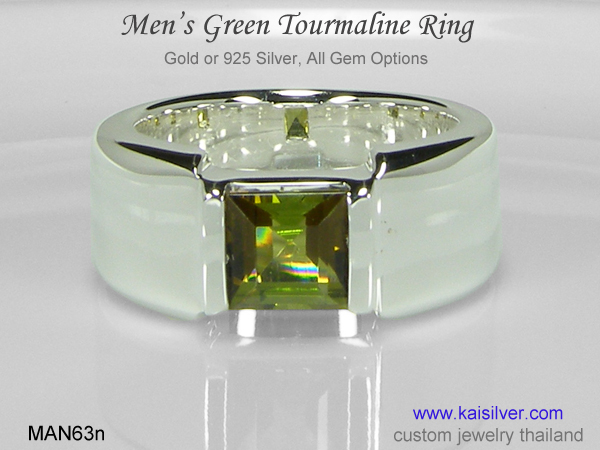 A smart and sturdy men's gemstone band studded with a custom cut square gemstone in the center. Like all Kaisilver jewels, you choose gold or sterling silver and pick the gemstone of your choice. Comfortable and durable for formal and informal wear ... more.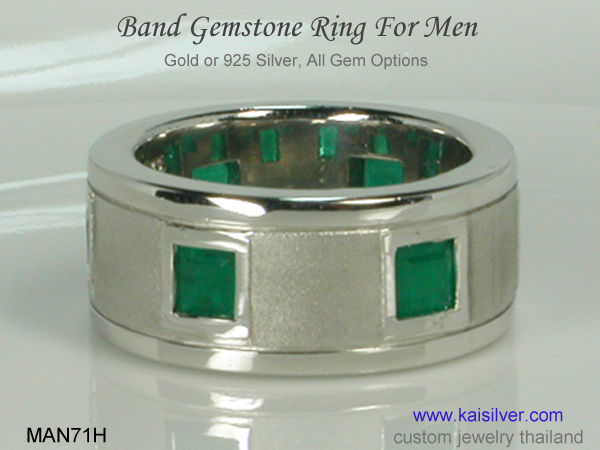 An awesome gemstone band ring for men, a sturdy ring and gems set into the metal to keep them safe and protected. The MAN71H custom band for men can be ordered with a single or multiple gemstones. The size and shape of the gems can be customized ... more.