Men's Plain Rings With No Gemstones
Men are more likely to look for meaning and significance in the jewels that they wear. While style and fashion are getting more men interested in them, the desire for meaningful men's jewelry remains high. When we talk about a men's ring with no gemstone or a plain ring, we do not imply that the design of the ring needs to be simple, dull and boring. For example, a men's cross ring where a large cross is depicted on the front of the ring, could very easily be a plain ring with no gems or diamonds studded in it. Men's wedding bands might be getting more design and gem oriented in recent years but, there still is a strong demand for simple gold, silver or platinum band rings for men - these rings are simple and without any gem adornments.
When you choose a plain gold or 925 silver ring, you do not pay any price component for the gems or diamonds because, none of these are part of the ring. Another interesting thing is that, a men's plain ring that is well designed and crafted and provided with sufficient metal weight, is unlikely to need much attention when being worn or stored. Once you bring the stone element into a men's ring, there will be some amount of caring and fussing that the stone will demand. And just for your knowledge, the durability or toughness of a gemstone does not move proportionately to the price that you pay for the stone. An expensive gem like emerald needs a lot more care and fuss than, a very modestly priced amethyst stone.
In this section we will introduce you to a range of plain men's rings jewels that, are likely to have some meaning and significance but are all devoid of gem or diamond glitter. At Kaisilver all jewelry is custom made according to your requirements, this obviously means that you are not forced to pick a design from our website. We welcome your own design ideas in the form of sketches and images to be custom made. Contact our support experts at sales@kaisilver.com with any gem or jewelry related questions that you might have. There is no obligation for you to make a purchase from us so do, take complete advantage of our expertise in this field.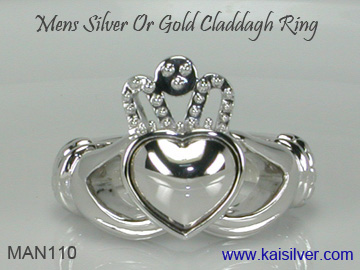 If we were to look for an example of a men's plain ring with meaning, no jewel would demonstrate that better than the MAN110 claddagh men's ring shown here. The first claddagh ring was made about 4 centuries ago by an Irish fisherman turned slave. He made the ring while working for his master, a wealthy goldsmith. Robert Joyce the young slave was mentally tormented, not by the harsh conditions of slavery but, by the fact that he was separated from his beloved.
His morale slipped down with each passing day and there seemed no hope of him being reunited with his beloved once again. Robert decided to make something for his beloved, he could then live with the thought of giving it to her when he would one day be free. He wished that, the ring would depict his true feelings for his beloved through the features incorporated into the ring. The hands, crown and heart form the essential elements of this ring as, they hold the true meaning of the jewel. The hands denote friendship and togetherness through good times and bad, the crown symbolized loyalty to each other and the heart showed how much he loved her.
This was a simple jewel, the art of cutting and polishing gemstones was unknown in those times, so the ring was made completely in metal. Kaisilver played a leading role in promoting this legendary jewel to people all over the globe, the design was enhanced to include a gemstone in the center of the heart. Gems provide color and meaning to the claddagh ring but, they did not form part of the original ring.
The plain claddagh ring is very popular among men, it saves the cost element that would be applied to the stone and also, makes it easier to wear and look after the ring. Kaisilver can custom make your plain claddagh men's ring in gold or 925 silver with or without, a center gemstone. Learn more about this awesome ring ... here.