Mens Garnet Engagement Ring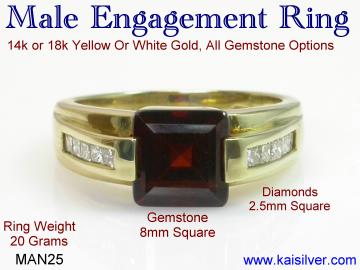 The MAN25 mens garnet engagement ring from Kaisilver is a highend custom mens garnet ring. This garnet gemstone ring for men can be custom made in gold or sterling silver. The diamonds on the side of the center garnet add that extravagant ring to the ring. You could however choose to leave the diamonds out of the design or include some other gemstones instead of the diamonds ...
more
.
Custom Men's Garnet Rings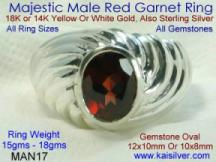 A custom men's garnet ring would give you the freedom to choose every single feature in the jewel. It is not just the design of the garnet ring for men that, can be customized. The gem shape and size, the type of finish for the metal portion in the ring, and even the overall dimensions of the jewel can be personalized to suit your preference. Get to know more about interesting ideas to add individuality to your garnet gemstone men's ring ... more.