Mens Garnet Rings
When talking about mens garnet rings, most people refer to mens red garnet gem stone rings. There is no doubt that red garnet rings are very popular with men. If you had to compare the price of red garnets with other options like spessartite garnet, demantoid garnet, tsavorite garnet or mandarin garnet - red garnets offer the best equation between value and price. Kaisilver mens garnet rings can be ordered in silver or gold, you can choose from any of the garnet gem varieties available. One interesting thing about our red garnet gems is that, they are natural and not treated in any way to enhance color. We procure rough red garnet gemstones and custom cut the stones to precisely fit the gold and sterling silver mens garnet gem stone rings that we make. If you are looking for a mens birth stone ring with a January birthstone, you should get a silver or gold mens garnet ring as this is the January birthstone. In this section we bring together some fine mens rings with garnet gemstones. You can ofcourse order your garnet ring with the design of your choice and all the rings on our website can also be made with garnets.

The good thing about Kaisilver garnet rings for men is that, you get the same quality of craftsmanship, design and gem stone for the gold or 925 silver garnet gem stone ring. Since each ring is fully custom made, we can provide the jewel in all ring sizes. All Kaisilver jewelry is provided with a healthy metal weight, this ensures longterm durability. We give equal importance to fine appearance and long term durability. You can contact our support experts at sales@kaisilver.com , with any questions or requirements that you might have.

Mens Garnet Engagement Ring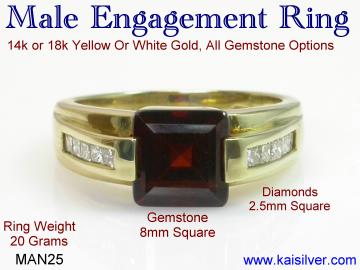 The MAN25 mens garnet engagement ring from Kaisilver is a highend custom mens garnet ring. This garnet gemstone ring for men can be custom made in gold or sterling silver. The diamonds on the side of the center garnet add that extravagant ring to the ring. You could however choose to leave the diamonds out of the design or include some other gemstones instead of the diamonds ...
more
.
Custom Men's Garnet Rings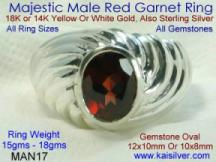 A custom men's garnet ring would give you the freedom to choose every single feature in the jewel. It is not just the design of the garnet ring for men that, can be customized. The gem shape and size, the type of finish for the metal portion in the ring, and even the overall dimensions of the jewel can be personalized to suit your preference. Get to know more about interesting ideas to add individuality to your garnet gemstone men's ring ... more.