Citrine the yellow gemstone, can be found in a range of yellow, brownish yellow or orangish yellow color. Mens citrine rings are not very rare, the gemstone is one of the preferred yellow gemstone. If you browse the birthstone charts, you will see that this gem stone is listed as the November birthstone. There are more reasons than one to explain why, mens citrine gem stone rings are a good investment for your money. Compared to other yellow gemstone options like yellow beryl and yellow sapphire, citrine gems have a modest price even when the gem size is in the 4 to 6 carat range. Despite the moderate price, citrine has good durability and does not need too much of fussing and caring. Mens sterling silver citrine rings are far more popular than mens citrine gold rings.

At Kaisilver all our jewels can be custom made with gemstones of your choice, so you need not go hunting specifically for a citrine mens ring when browsing the website. Your mens citrine gemstone ring, can be made with the design of your choice. Since the price of this yellow gemstone is not very high, your choice of designs is substantially wide. You could for example consider a mens sterling silver citrine ring, with a citrine gem that is a hefty 5 to 6 carats too. This is something that most of us could not budget for IF, the yellow gem was a yellow sapphire and not a citrine. In this section we introduce you to some awesome citrine rings for men. Our support team at sales@kaisilver.com will be glad to answer any questions that you might have.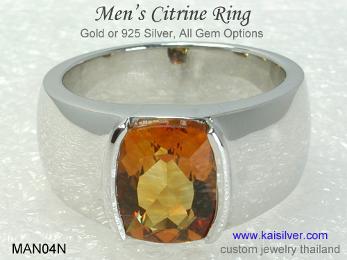 A custom men's citrine gemstone ring. A citrine gemstone set in a finely crafted men's gold or silver ring. Citrine is the birthstone for November, the gem was believed to attract wealth and prosperity. We can craft a men's citrine ring with a design provided by you. Requests for all ring sizes can be accommodated, get more details ... more.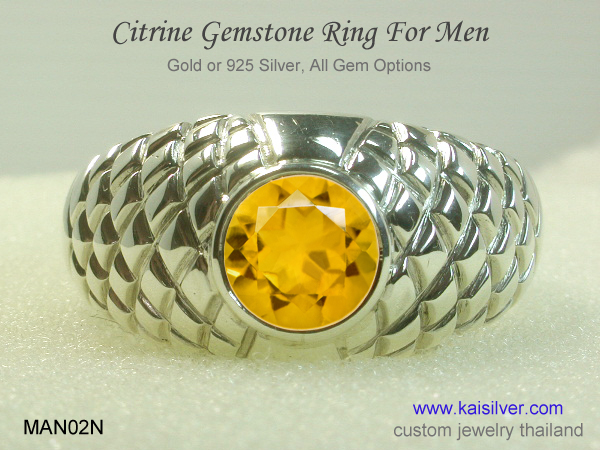 A hefty men's silver ring the MAN02N gemstone ring for men, can also be ordered in gold. A sturdy construction and robust design make this citrine men's ring suitable for both formal and informal wear. Often referred to as the 'merchants stone', citrine is believed to bring prosperity to businessmen. The yellow color of citrine has since ancient times, been related to brightness and wealth in life. Get full details .... more.