There is something very special about a men's moonstone silver ring. You could order a Kaisilver moonstone ring for men in gold or silver, pick the design from our website or send us your own design ideas to be custom. The subtle moonshine look on the moonstone is best seen when set in sterling silver or white gold. We can craft your men's ring with moonstone in all 3 gold colors (white, pink or yellow) and 925 silver. The floating glow that you see on a moonstone, which seems to exist just below the surface of the stone, has a technical reason behind it. The gemstone is naturally formed in layers, when light passes through the stone it is reflected at different degrees and this creates the mystical glow. You could choose any design from our websites and request for it to be crafted as a men's moonstone ring in gold or silver. Email our experts at sales@kaisilver.com with any questions and requests that you might have. We will be glad to help you even if, you plan to purchase nothing from Kaisilver.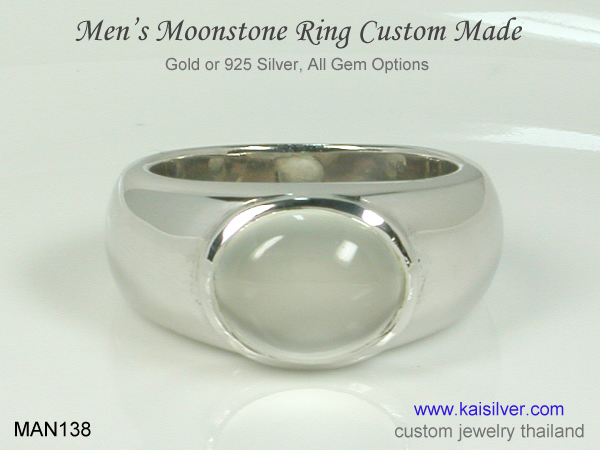 A hefty men's moonstone ring, the gemstone is firmly set and horizontally. You could request for a similar moonstone ring with the gem mounted vertically. Just remember that we can craft moonstone rings for men with a design concept provided by you ... more.
In ancient times the Romans believed that moonstone was born from moonlight. The belief that the gemstone was formed from frozen rays of moonlight has been recorded at many points in history. Men's rings are often worn for the 'protection' that they provide. This has its origins in a centuries old belief that, moonstone provides protection during a journey. The gemstone was often referred to as the 'travelers stone'. If you believe in the metaphysical properties of gems, the stone in your men's moonstone ring, would encourage inspiration, awareness and creativity.
So is a moonstone ring for men a birthstone ring. We will need to provide a brief explanation to fully answer this question. If you take a look at the modern birthstone charts, there is unlikely to be a mention of birthstone. But many jewelers recommend moonstone for the month of June, this is especially true when it comes to men's birthstone rings. Pearl is the birthstone for the month of June. It is no secret that not many men actually wear pearl rings. Jewelers and stylists often recommend moonstone for men's June birthstone rings. You might occasionally come across mother of pearl, as an alternate birthstone for June.