Kaisilver men's tanzanite ring are exotic, sturdy and crafted in both gold and sterling silver. Tanzanite is a rare gemstone and found on just one narrow stretch of land on the planet. The foothills of Mount Kilimanjaro in Tanzania, hold the only supply of tanzanite. Experts agree that tanzanite is at least 1,000 times rarer than diamond. You could order any men's ring from our websites and request for it to be crafted with a tanzanite gem, we can also craft your men's tanzanite ring with a design concept provided by you.
Wear a tanzanite ring and you reveal your refined taste for style and class. The gemstone is adored by both men and women, it looks awesome in any metal color. The best thing about a Kaisilver men's tanzanite ring in gold or sterling silver is that, both metal options are provided with the same superior quality of craftsmanship and gemstone. Tanzanite is the birthstone for the month of December.
You can email us with any questions or requirements that you might have related to gems and jewelry. Our support experts at sales@kaisilver.com will be glad to advice and guide you to make the right purchase. You can also send in your design sketches or images, we will discuss details together and provide a specific price quote.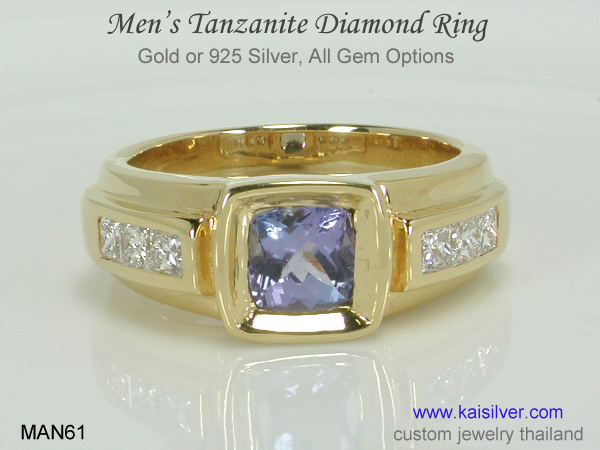 If you prefer your men's ring to have a sleek look and yet not appear to large and bulky, the MAN61 men's tanzanite diamond ring is for you. Crafted in gold and sterling silver, the ring has a row of 3 square diamonds on either side of the tanzanite gemstone ... more.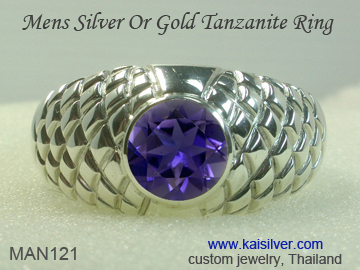 An interesting texture for this men's tanzanite ring in gold or sterling silver. Custom made in gold or 925 silver, the MAN121 is available with the gemstone of your choice. You can order the same men's ring with a different texture or no texture on the band ... more.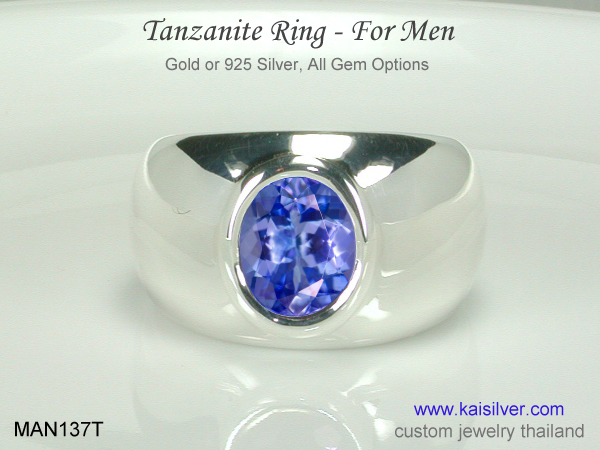 A timeless design concept for this men's tanzanite gemstone ring. You could choose silver, white gold, yellow gold or pink gold for your tanzanite ring for men. The ring has a broad band and a generously sized natural tanzanite gemstone in the center ... more.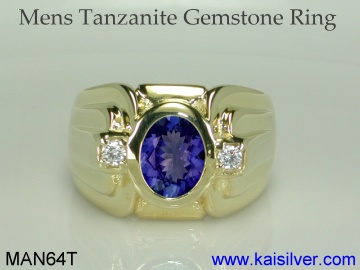 A durable and handsome men's tanzanite and diamond ring. An impressive design, heavy metal weight and a design concept that is perfect for daily or special occasion wear. The MAN64T tanzanite ring is perfect for a men's wedding or engagement ring ... more.