Kaisilver men's tanzanite ring are exotic, sturdy and crafted in both gold and sterling silver. Tanzanite is a rare gemstone and found on just one narrow stretch of land on the planet. The foothills of Mount Kilimanjaro in Tanzania, hold the only supply of tanzanite. Experts agree that tanzanite is at least 1,000 times rarer than diamond. You could order any men's ring from our websites and request for it to be crafted with a tanzanite gem, we can also craft your men's tanzanite ring with a design concept provided by you.
Wear a tanzanite ring and you reveal your refined taste for style and class. The gemstone is adored by both men and women, it looks awesome in any metal color. The best thing about a Kaisilver men's tanzanite ring in gold or sterling silver is that, both metal options are provided with the same superior quality of craftsmanship and gemstone. Tanzanite is the birthstone for the month of December.
You can email us with any questions or requirements that you might have related to gems and jewelry. Our support experts at sales@kaisilver.com will be glad to advice and guide you to make the right purchase. You can also send in your design sketches or images, we will discuss details together and provide a specific price quote.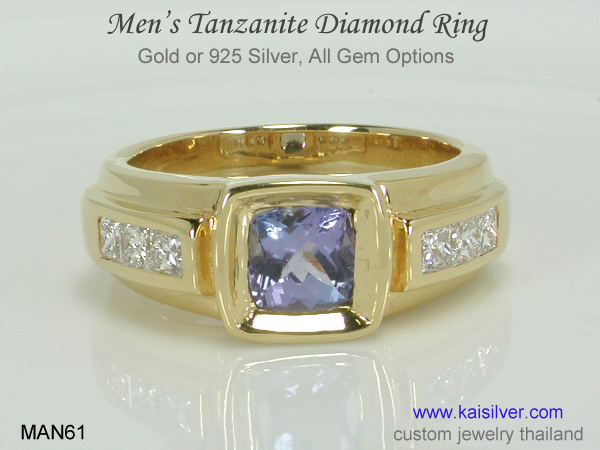 If you prefer your men's ring to have a sleek look and yet not appear to large and bulky, the MAN61 men's tanzanite diamond ring is for you. Crafted in gold and sterling silver, the ring has a row of 3 square diamonds on either side of the tanzanite gemstone ... more.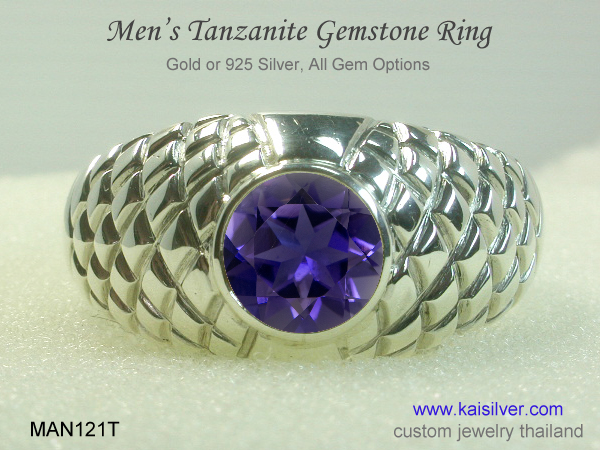 An interesting texture for this men's tanzanite ring in gold or sterling silver. Custom made in gold or 925 silver, the MAN121 is available with the gemstone of your choice. You can order the same men's ring with a different texture or no texture on the band ... more.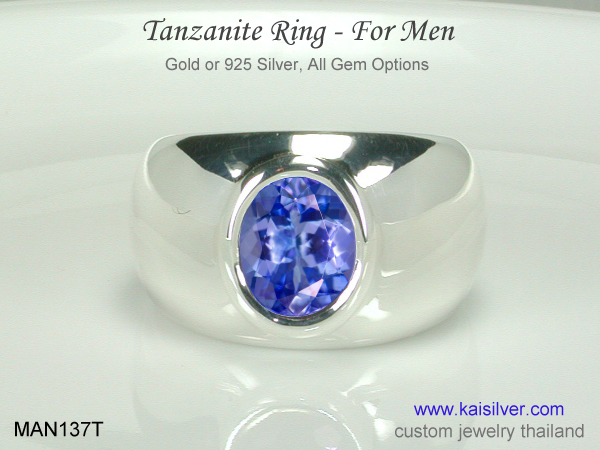 A timeless design concept for this men's tanzanite gemstone ring. You could choose silver, white gold, yellow gold or pink gold for your tanzanite ring for men. The ring has a broad band and a generously sized natural tanzanite gemstone in the center ... more.
A durable and handsome men's tanzanite and diamond ring. An impressive design, heavy metal weight and a design concept that is perfect for daily or special occasion wear. The MAN64T tanzanite ring is perfect for a men's wedding or engagement ring ... more.
In this entire report on tanzanite gemstone rings for men, we refer to natural tanzanite gems - not imitations or look-alikes. Kaisilver tanzanite gems are sourced directly from the mines in Tanzania. The gems are inspected and checked before, being custom cut in Thailand by our gem cutting experts. So when the gem that you get in your Kaisilver tanzanite men's ring, will be a natural gem - certified by an independent gem testing center. By sourcing tanzanite directly from the miners, we avoid the usual chain of middlemen and brokers. Without multiple profit margins and broker fees, you end up getting more value for the money that you pay.
Take a look at the tanzanite men's rings shown on this webpage, notice that the gem color varies from a lighter shade of tanzanite as seen in MAN61 to a more deeper color as seen in MAN121. Keep in mind that the color shade of the tanzanite is decided by you. You could for example order the MAN61 men's diamond and tanzanite ring and request for a tanzanite gem with a color shade seen in MAN121. Would like to talk about a very deep color saturated tanzanite gem, this color shade is so deep that the gem compromises on sparkle. Let us know if you wish to have such a gem set in your tanzanite ring for men and our team, will get back with details.
If you order a men's gemstone ring with tanzanite in gold, pick from 10k, 14k and 18k and specify - white, yellow or pink gold. It is true that men's tanzanite rings are generally ordered in yellow gold but, trends have been changing in recent years. So do not go by what is popular or trendy, just define your own style. When it comes to fine custom jewelry like that crafted by Kaisilver, we would recommend 14k gold. This because the 14k gold standard, provides the right combination of hardness and gold content.
We maintain the same premium standards for gold and silver tanzanite men's rings. If you prefer to choose silver for your men's ring, we would suggest that the ring be left un-plated. This because plating done on silver will wear off in patches over a period of time. Cleaning and polishing your tanzanite gemstone ring in this condition, would not be easy. On the other hand, an un-plated silver ring, could be cleaned quite easily if, the cleaning process is done at the first signs of tarnish. But if you still prefer to have your men's tanzanite ring in silver plated, let us know and will be glad to help.
Jewelry lovers love to hear about the history and folklore attached to the gems that they wear. Interestingly tanzanite with all its scintillating beauty, does not have much of folklore and tradition linked to it. But do not be demotivated to hear that, your men's gem ring with tanzanite does not have a long history. The fact is that there is - little tanzanite and it is all located in a narrow stretch of land. So though tanzanite would have been formed a few million years ago, it first came to the notice of humans in recent times - 1976. As compared to this time frame gems like diamonds, ruby, sapphire and emerald have been known for many centuries. So it is the rarity and single location of tanzanite, that has not enabled it to record a long history. Kaisilver experts have put together the comprehensive Tanzanite Information Report - gem and jewelry lovers, should make it a point to read the brief but highly useful report.
How To Order: Before you finalize the purchase of a men's gemstone ring with tanzanite or any other jewel, make sure that you communicate with our experts at sales@kaisilver.com We will be glad to help you even if, you plan to make no purchase from us. Let us have the item number of the jewel that interests you, we welcome your own design ideas and concepts. Gold and silver jewelry is crafted to the same superior standards, there is no limitation on gem selection. Each item shown on this report has a link to a complete report, you are welcome to contact us for clarifications or any additional information that might be required. If you would like our team to contact you on the phone, please email us with detailed requirements and include your phone number. Also let us know your location and mention, the time convenient for you to receive the call. Our English speaking expert will call you at your preferred time and we, will bear the expenses for the call. You will not be pressured into making a purchase - it is therefore a great idea to get in touch with us.
Who Is Kaisilver: Leading the online fine custom made jewelry sector for over 2 decades, Kaisilver today serves over 12,000 satisfied clients located in around 12 nations. A team of highly skilled jewelry artisans, gem cutters and production experts work on all Kaisilver jewelry orders. Networked to gem miners and cutting houses across the globe, we have preferential access to over 200 million carats of gemstones. This is the reason why, we always deliver the best gem at each price point. We craft all types of jewelry including rings, pendants, bracelets, bangles, earrings and cufflinks in gold or 925 silver. The design can be yours or ours and there is absolutely no limitation on gem selection. Your questions, ideas and comments are always welcome at sales@kaisilver.com the team will be glad to help without, pushing you to make a purchase.