Men's Diamond Ring, Gold Or Sterling Silver
In this section we introduce you to some impressive mens diamond rings. The overall demand for mens diamond rings in terms of numbers has not diminished, there has infact been a slight increase in this demand. However what is interesting is that, in the ratio of mens gold diamond rings and 925 silver diamond rings for men, silver as a metal option has shown a sharp increase. The rather stiff prices of gold that have been seen in the markets for the past 2 to 3 years has, pushed buyers to look at other metals. While you might find, jewelers making diamond gold rings for men with 'friendly' price tags, such jewels are little more than a bag of compromises. Neither gold nor diamonds are cheap, so if you wanted to make a cheap diamond gold ring - you would have to play some messy gimmicks. The urge to keep buyer interest in gold has made jewelers to craft, mens gold rings with increasingly lower weights. When this happen, you are actually reducing the longterm durability of the jewel. Talking more specifically about mens diamond rings with low price tags, the quality of the diamonds will fail to impress even the most modest and undemanding buyer. At Kaisivler we refer to these diamonds as, junk quality diamonds. They are so heavily included that they show no glitter at all and are very cloudy and transluscent (not transparent).

All the mens diamond rings in gold or 925 silver that we introduce you to in this section, have some features in common. Good metal weight is at the heart of longterm durability. The diamond rings seen here have a good metal weight, both in the silver or gold options. The diamonds used in these mens diamond rings look glittering and nice to the naked eye. While we can use top of the line diamonds for your mens diamond rings, most buyers look for modest price tags. The most important thing about all Kai Silver jewelry and not just, mens diamond rings is that, you get the same quality of design and craftsmanship for gold or 925 sterling silver diamond rings for men. You can always email our support team at sales@kaisilver.com with any questions or queries that you might have.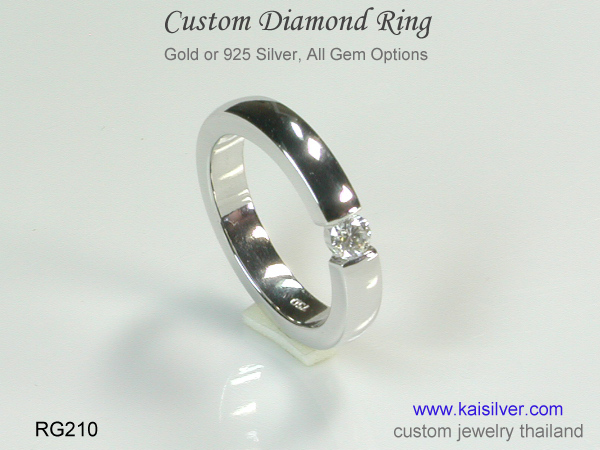 The design concept for the Kai Silver RG210 custom diamond band, is suitable for men and women. The ring has a classy look and is set with an authentic 4mm or 5mm round diamond. You can order the ring in 14k or 18k white, yellow or rose gold. We also provide an option for 925 sterling silver for the ring ... more.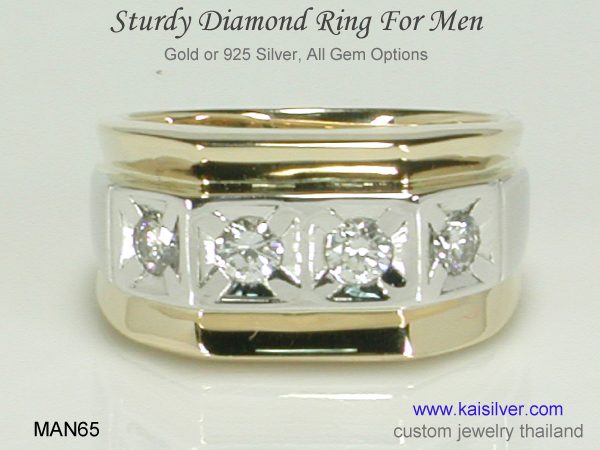 Men wish to wear big chunky rings, the high price of large diamonds can often put an end to this desire. Our report talks about men's diamond rings, we also provide suggestions to buy a diamond ring for men without spending a fortune. We can custom make a men's diamond ring with your design or ours ... more.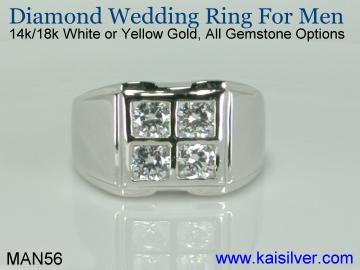 The MAN56 mens diamond ring is shown here in white gold, you can request for a yellow or white diamond men's ring. This diamond ring for men has a researched design that analyzed the diamond size and price equation well. By placing four diamonds in a close formation, we have given a luxury look and feel to the ring. The diamonds in this mens diamond gold or silver ring can be 3mm rounds or 4mm rounds. The price tag on this diamond ring would be far more higher, if we decided to use one single 5mm round diamond instead of 4 diamonds in the size options mentioned above. If you notice the band of this diamond ring, you will see that it tapers a bit as it moves to the portion behind the finger. You can request for your mens diamond ring to have a uniform band width instead, of a tapering band width ... more.