Green Gems, Suitability For Men
Men can really pick any green gemstone that they wish to for their jewelry, but certain designs and budgets might be more suited to specific gems. For example, if you wish to get a men's ring that requires little care and attention, emerald might not be the gemstone for you. Read this report and you will get an insight that no other jewelry website would reveal.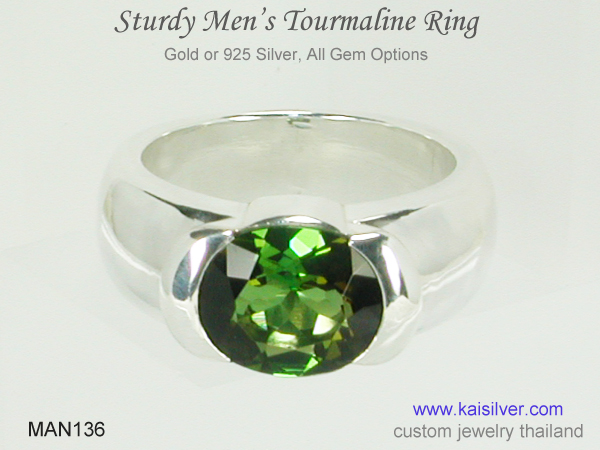 A handsome men's ring with green gemstone, a large oval green tourmaline gem is mounted in a sturdy ring - finely handcrafted in gold or 925 silver. While you need not limit your choice to green gems, we have some awesome green gem options for you. Order the MAN136 gem ring for men with jade, peridot, tourmaline, chrysoprase or emerald. The size of the center gem can be customized ... more.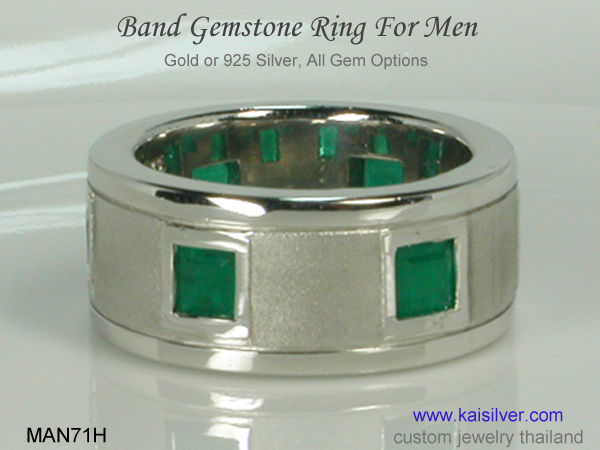 You could order any of these men's rings with emerald, choose any design from our websites or send us your own design concept. Having said that, it is important to keep the properties of emerald in mind when, picking a ring design. Emerald is gorgeous, rare and expensive and yet, not very durable. This green gem requires a fair amount of care. The ring design need to keep this in mind ... more.
Gemstone Price: If you had to line up the popular green gems based on prices from high to low, you are likely to end up with this summary. Emerald is undoubtedly expensive, this presuming that we are talking about very good to medium quality gems. Unless you go for a very low grade emerald, a men's green gem ring with emerald should be quite expensive. Green jade is an interest gem, you could get this stone in a wide range of prices. Jade consists of two broad varieties (jadeite and nephrite) while nephrite can be quite affordable, high quality jadeite can match or even exceed the price of emerald. Kaisilver by working directly at the jadeite mines in Burma, is in a position to pick natural jadeite in untreated form at attractive prices. While we can provide the highest quality jadeite if that is what you need, we do get jadeite that is modestly priced and would normally be put through various treatments including dyeing. Green tourmaline is an excellent gem, available in the darker shades of green, the gemstone is tough and generally requires no special attention when worn. Given its beauty and durability, green tourmaline is surely not expensive but, this gem was far more affordable just 4 to 5 years ago. Men's green gem rings with tourmaline are very popular, they could be worn for both formal and informal occasions. Peridot is one green gem that never ceases to amaze, it has a sparkling green and can be classified under two price groups. Peridot that is mined in Arizona or China is more budget friendly but, the same gem when mined in Burma or Pakistan commands a significantly higher price. In our opinion when choosing this green gem, men should give importance to gemstone size, color and clarity. But if you have the budget to match and the interest, specify a Burmese or Pakistani peridot by all means. Chrysoprase is another interesting green gem, translucent to opaque this green, yellowish green or bluish green gem, can be a good choice for men's rings. While these account for the popular green gems, Kaisilver can procure and custom cut just about any gem from any part of the world for your jewel.
Gemstone Size: Most gems are priced per carat (weight unit), so larger gems will obviously be more expensive as compared to the smaller ones. But this calculation is not so simple, the price per carat of gems generally goes up as the gem size increases. When you talk about the higher priced green gems like emerald and tourmaline, this price rise per carat can be quite steep. In general try to stay in the 2 to 3 carat size range for emeralds, tourmaline might fit your budget in sizes up to 6 carats. In terms of price, peridot will surely give you good value even when gem sizes are in the 4 to 7 carat range. Large jade gems can be cheaper when dyed and treated but, we would recommend that you aim for moderate quality jadeite in untreated form. If you buy your men's green gemstone jewelry from any other source, you might not have much choice but at Kaisilver, we offer a number of price options. Chrysoprase is not as expensive as jadeite, you can therefore aim for men's rings with much larger gem size when choosing this stone.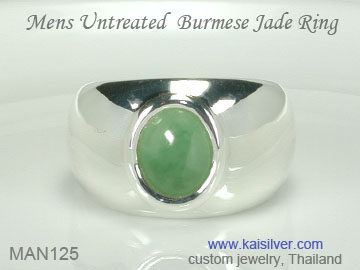 A tough and durable gem, jade describes two types of gems - nephrite and jadeite. Few buyers are aware that, jadeite which is commercially mined only in Myanmar (Burma) is considered to be more valuable. Kaisilver procures jadeite from the Kachin mines (Burma). While top jadeite can cost thousands of dollars, we handpick jadeite that is modestly priced and not treated in any way ... more.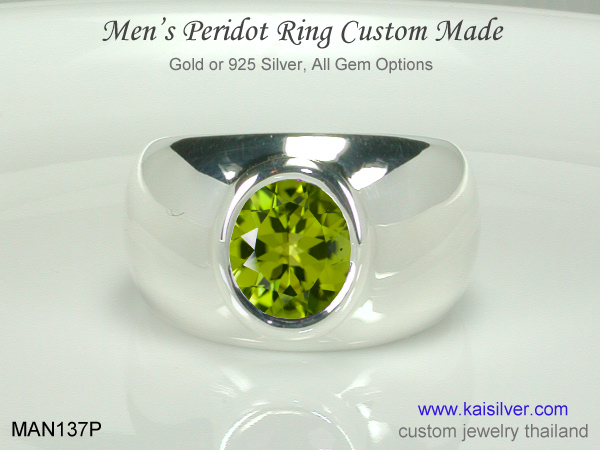 A very simple design with no distraction or clutter, a perfect men's green gem ring to showcase the scintillating peridot gemstone. This men's ring would appear equally appealing in gold or sterling silver. Pick yellow, white or pink gold if you prefer to have a peridot gold ring. Options for 10k, 14k and 18k men's rings are available. No limitation on gem selection, you pick any gem of your choice ... more.
Gemstone Toughness: Every gemstone is endowed with some specific characteristics. Emerald might be very expensive and yet, it is always found with visible eye inclusions and even some fine fissures. Green tourmaline might be priced more moderately as compared to emerald but, it also happens to be tougher than emerald. Before we say anything more, the main truth is that no gemstone should be allowed to strike against or struck by hard objects. Strong solvents and chemicals and high heat environments can also damage a gem. When picking a men's jewel with a green gemstone, ensure that the gem is mounted right and the cut is not too high above the surface of the jewel. Gemstones in men's rings are best mounted with a bezel type of setting where, the border of the stone is protected with metal. Smaller stones are less likely to get damaged, this is something that works well for men's emerald rings. If you wish to wear your green gemstone jewel often and for a long time, pick a tougher gem green jade and green tourmaline are good examples.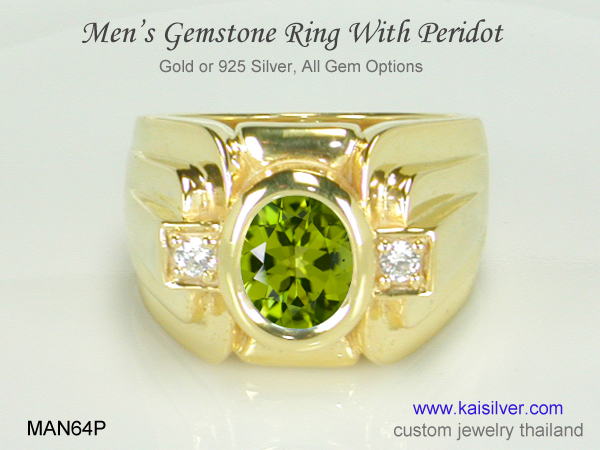 A heavy men's ring with a green peridot gemstone, as always you could choose or gold or silver and any gem for your men's gemstone ring. The August gem peridot, has a refreshing and lively look. The ring has a heavy gold or silver weight and can be ordered, with a smaller or larger gemstone. Design modifications allowed and all ring size requests can be accommodated ... more.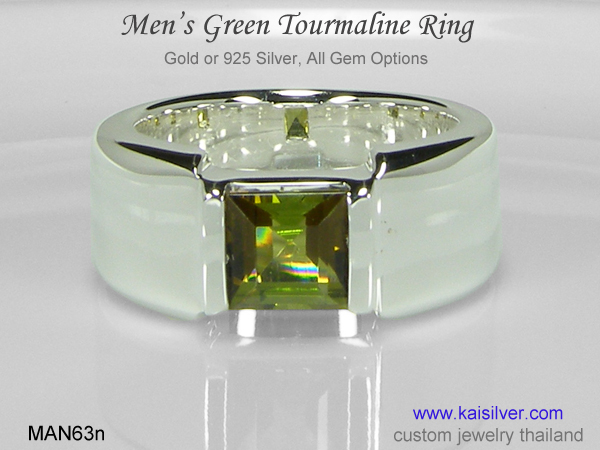 A sophisticated look for this square gemstone, men's band. For green gem options, you pick emerald, green tourmaline, peridot or green jade for your man green gemstone ring. Order as a men's band ring in gold or sterling silver. Just reminding you that, we place absolutely no restriction on your choice of gem or design. We can craft your green gem ring with your design or ours ... more.
Green Birthstones: If you are looking for a men's green gem ring as a birthstone jewel, the choice of gem is more or less fixed. You could still work on design and gem dimensions and buy a men's gold or 925 silver ring, that provides some protection for the gemstone. The well known green birthstones on the charts are, emerald for the month of May and peridot for the month of August. In the last decade, knowledge of gemstones has shown a sharp increase and gem lovers are making a more liberal interpretation of the birthstone charts. Blue sapphire is no longer the only birthstone for September, the gem is now worn in all its glorious colors. This opens up the opportunity to wear a green sapphire gem for the month. The same is true of January, birthdays in this month were traditionally marked by red garnets but, things have changed now. Two rare green garnets are now an option, demantoid and tsavorite. Something to note is that, both these gems are very rare and much more expensive than red garnets. Since almost 95% of the demantoid and tsavorite that is mined each year are in sizes below 1.5 to 1 carat, keep modest expectations if you plan to wear these green gemstones to celebrate your January birthday.
Customization: None of us invests in jewelry too often, it is therefore advisable to carefully select every piece that you buy. You obviously get the maximum satisfaction from wearing something that, matches all your preferences. The best way to achieve this would be to go for a men's green stone jewel that is custom made just for you. While most jewelers put some type of limitation when ordering a custom jewel at Kaisilver, we leave it all up to you. Pick any design from our website and request for it to be crafted in gold or 925 silver with gems of your choice. You can also send us images or ideas of your own design, we will gladly work the details and quote a price for the piece. With preferential access to more than 200 million carats of rough and cut and polished gems, we do not require you to limit your gem choice to what you see on our website. We will procure and custom cut just about any gem from any place on earth for your jewel. Our team of experts at sales@kaisilver.com will be glad to help you with any issue related to gems and jewelry. Since you are never under any obligation to make a purchase from us, it is a great idea to take advantage of the their expertise.