RG125u Aquamarine Diamond Ring From Kaisilver
The RG125u aquamarine ring from Kaisilver was launched almost a decade ago but, remains popular upto this day. The researched design for this aquamarine gold or silver ring packs a number of essential features into the jewel. There is a very positive balance of all the features that you will see in this ring. Since the concept was for an aquamarine diamond ring, our designing team wished to ensure that the diamonds got sufficient visibility. We really did not want the ring to be like one of those confused and compromised aquamarine gemstone rings that you normally find. Your gold or silver aquamarine ring with this design, will be elegant and durable at the same time. The healthy metal weight will ensure that the ring does not bend or deform easily. Firm rounded prongs secure the center aquamarine rectangular (baguette) shape gemstone. Notice the rounded prongs, this might seem unimportant but they have an important role to play in the longterm durability of the ring. Pointed and spindle like prongs tend to stick in pockets and other fabric, this gradually causes them to open up and loosen the gemstone. This Kaisilver aquamarine gem stone ring is packed with many more advanced feaures and we will highlight those in this web page.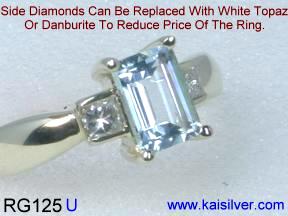 A gorgeous aquamarine gold ring, shown in yellow gold. The gem stone in this aquamarine gem stone ring is a
7x5mm baguette
(rectangular) stone. If you look at the overall dimensions of the ring you will notice that, the diamonds do not appear small and obscure. These are surely bigger diamonds than those tiny specks that you will find in many aquamarine diamond rings. While the square diamonds with a
3mm size
are not tiny by any stretch of imagination, the size of the aquamarine also gives a bolder appearance to the diamonds.
With a 7x5mm center gemstone, the 3mm diamonds are almost half as high as the gem. The overall impression created by this
14k or 18k
aquamarine gold ring is one of extravagance. The price tag surely does not create that impression and is really very modest. When you talk about gold rings with aquamarine gemstones, there is something very generous about the stone. Both
yellow and white gold
aquamarine rings look great. We have also crafted few rose gold jewels with aquamarine stones and the effect was really hypnotic.
We have invested a wholesome
10 to 12 grams
of gold in this aquamarine gem stone ring. Buyers often tell us that a reduction in gold weight could bring the ring within their limited budget but, there really is no option for us. At Kaisilver we wish to make jewelry that looks good and stays good, durability is something that we strive to build into every jewel that we made. We do know that many other jewelers would make a similar aquamarine diamond ring with a gold weight that is almost half of what we provide. However making such a jewel would mean that, the strength and durability of the jewel would be compromised. The inside of this ring has not been scooped, it is not hollow like most other rings are. This gives a toughness to the mounting despite, the sleek and streamlined appearance. A full and smooth finishing inside your aquamarine gold ring also makes it more comfortable to wear.
Keep in mind that all Kaisilver jewelry can be ordered in
gold or sterling silver
. So if you find the gold ring to be beyond your budget, consider getting the same ring in 925 sterling silver.
You should know that this aquamarine gold ring is
fully customizable
. You could ask for any feature to be modified to suit your preference. For example, the center aquamarine could be replaced by an oval or round gemstone. Many jewelry buyers do not fully understand the meaning of 'fully customizable' and jewelers take advantage of this. For example, if liked a particular gold ring with a size of 7, but wanted to have the same ring in a size 10 - most jewelers would take the size 7 ring and use heat or hammering (technical word) to expand the ring. What this does is to reduce the thickness of the gold on the portion of the ring that goes behind the finger. Such a sloppy resize would not really be a customizable feature. It does go without saying that, the same concept could be used to select gemstones other than aquamarine for the ring. You have
all gem options
to choose from, we can procure and custom cut any gem from our planet for you.
At Kaisilver each jewel is completely made to include all buyer preferences. We can therefore custom make your 14k or 18k aquamarine gold ring, in
all ring sizes
. When this is done, we can inform you if your ring size calls for an additional gold weight. Metal weight is at the heart of a durable jewel, and the best option is to maintain durability across all ring sizes. We therefore need not do any half hearted resizing of rings - your ring will be casted and crafted to the ring size that you request.
Jewelry buyers often want to know the suitability of a jewel for various ocassions. We can confidently say that the RG125u aquamarine gold ring is
suitable for all ocassions
. It can be worn for every day wear, and will look truly amazing as an aquamarine engagement or wedding ring too. It is also a good choice for a birth stone ring, aquamarine is the birth stone for the month of March.
The
diamonds are optional
in this Kaisilver aquamarine and diamond ring. What this means is that, leave out the diamonds from the design would also moderate the price of the ring. You can ofcourse choose
stones other than diamonds
for the side gemstones too. This could done based on some specific significance for the stones selected or, by matching gem colors. Some options for
matching gem colors
could be, a center pink tourmaline and blue sapphire or even blue topaz for the small square stones. You might be surpised to know that, red garnets look great when set next to yellow gems like citrine. The gem options are unlimited, the gem combinations are therefore unlimited too.
If you wish to buy this aquamarine gold ring or, get to know more about it access the comprehensive report at
http://www.kaisilver.com/aquamarine-engagement-ring-01.htm
and feel free to email our support executives at
sales@kaisilver.com
for any additional clarifications or information that you might need.