Onyx Rings And Jewelry
Onyx rings in gold or sterling silver are popular with ladies and men. An interesting thing about black onyx jewelry is that, it is timeless. The stark contrast between white metal and black onyx, or yellow metal and black onyx or even, rose gold color and black onyx gemstones is bound to impress even the casual jewelry buyer. There does seem to be some truth in the notion that, black onyx rings are more popular among men as compared to ladies. But considering the fact that, this is a black and opaque stone, it's popularity among ladies is also quite significant. Traditions and folklore attached to gems originated many centuries ago but, many of those still live on. It was believed that wearing black onyx gems or jewelry with black onyx gemstones, helped a person cope with tragedy or extreme sorrow. Keep in mind that, this is not something that we claim - we have mentioned it here in the context of ancient traditons and beliefs. In this brief report on onyx rings and other jewelry with onyx gemstones, we hope to give you some suggestions and constructive advice to help you choose the right onyx jewel.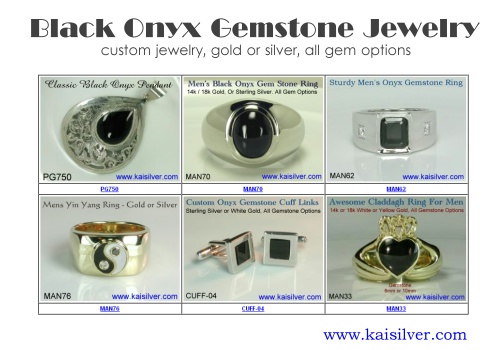 Onyx Gems

: There are many things about black onyx that make it suitable for all types of jewels. The gemstone is moderately priced, it is available in fairly large sizes. Since black onyx is an opaque gem, you need not get into issues like clarity and the pitch black color, has a calm but confident appearance. What you should know about black onyx gems is that, the stone in it's natural form is a mass of black and white bands. All the black onyx gems that you see in the market are dyed to make them completely black. Looking after onyx rings and other onyx jewelry is fairly easy, the normal care that you would take of most gemstone jewelry would apply here too.

If you had to talk about style and trend, this black gemstone is suitable for all metal colors. Despite the sharp color contrast between the gem and the metal, neither the stone nor the metal seems to be keen to overpower the other. Both exist confidently next to each other. This is the reason why appreciation of onyx gemstone jewelry is made on form, design and concept - something that is logical and balanced.



Onyx Rings

: Undoubtedly one of the most popular type of onyx jewelry. Black onyx gemstone rings can be made in gold or silver and few design limitations exist. The fact that large black onyx gemstones can be had in fine quality and at modest price, does make this gemstone very attractive for men's onyx rings. When it comes to metal color, onyx rings look great in gold, silver and even unique gold colors like pink. Ladies do wear onyx gemstone rings, and some of these have really big black onyx gemstones. As expected, mens onyx rings generally use rectangular (including square) or oval shaped black onyx gemstones. When it comes to onyx gemstone jewelry for ladies, the gem shapes and cuts get more innovative and fancy.



Onyx Pendants

: If you had to take a ver simplistic attitude, you might see nothing in a black onyx gemstone pendant. But take a look at some of the gorgeous black onyx pendants that have been designed, and you will quickly change your attitude. In our opinion, it is the classic and artistic pendant concepts from Asian countries like India, Thailand and even Indonesia that would do full justice to the beauty and appeal of onyx gem stone pendants. Pendants go through much lower wear and tear as compared to rings and probably even bangles. You could therefore experiment a lot when using onyx gems for pendants. Large onyx gemstones in fancy shapes and cuts, can all be used to make pendants. A simplest onyx gemstone pendant would be one where, the a hole is drilled into a piece of polished and shaped onyx gem, a gold or silver look can hold the chain or chord. You can ofcourse go for some very intricate onyx pendant concepts too. No matter what gem sizes, design, gem cut, metal or dimensions you choose for your onyx gemstone pendant - you can rest assured that the cost component of the gemstone will never burn your wallet.



Onyx Cufflinks
: With men looking for more style and class in their cufflinks, the strong demand for gemstone cufflinks was expected. Black cufflinks are in and have remained so for over half a decade. Not all black cufflinks use black onyx gemstones, the lower grade cufflinks rely on black paint, black enamel or even black resin or glass to get the black look. While there is nothing wrong in going for these cheaper options for your black cuff links, buyers who expect quality cufflinks are unlikely to be impressed by cheaper options like black color or black glass. Onyx cufflinks are great, the gems do not require too much fussing and care and they are affordable. While gold onyx cufflinks are not unheard of, high metal prices has worked in favor of 925 silver cufflinks with black onyx gems. Since the dimensions of cufflinks is generally in the 1.5cm to 2cm range, the availability of black onyx gems to suit cufflinks of this size would not be a problem.
Let us now give you some conctructive suggestions for onyx jewelry. The idea is not to sell you something but, to equip you with information that will guide you to make the right decision.
Onyx Dimensions
: In our discussion we will be talking about the depth (height) of the onyx stone. Since onyx is not very expensive, gem cutters like to give liberal dimensions to the stone. If this appears in the form of a very high cut gem, remember that the gemstone will protrude far above the onyx ring, onyx pendant or other jewel. This might not seem like a big issue but it really is, gems that protrude too much from their mountings are more likely to hit against hard objects or surfaces and get damaged.
Faceted Onyx
: With most onyx gems being cut in the smooth (cabachon) style, many jewelry lovers are not even aware that faceted black onyx gems exist. You can get conventionally faceted or even, multi faceted (checkerboard) cut black onyx stones. However what you need to know is that, faceted onyx can more clearly, show the wear and tear of the gemstone. The edges of the facets where the facets meet, are one location where wear and tear becomes very visible. Having said that, we would not like to reduce your enthusiasm for faceted black onyx stones. If you do plan to get some onyx jewelry with faceted onyx gems, just try to keep the jewelry away from hard objects. This would be a good idea even when, you just store the jewelry away - make sure that the onyx jewelry does not hit against other jewels.
No Glue
: This does seem a big confusing, who in the world would use glue to make jewelry! The answer is quite simple, hundreds of jewelers across the globe use glue to set gems like on yx, agate and even blue lapis. This gimmick might make the production of onyx gemstone jewelry a bit easier, it might also remove the need for skilled gem setters but - it really ruins the jewelry in the long term. Water, detergents, heat and other solvents can weaken the bond generated by the glue. It will then not be long before the gem falls off. If you are lucky enough to find the gem when it comes off the mounting, you will need to pay repair and 'sticking' charges. And the stone would ofcourse come out again in the future. What we would suggest for your onyx ring or jewel, is to border the entire gemstone with metal. If you must use prongs, make sure that they are sturdy, well rounded and unlikely to catch in pockets and fabrics. Prongs can open up when they get caught in cloth, this will gradually loosen the gemstone.
We do hope that you have found this report to be interesting and useful. Onyx gemstone jewelry is not very expensive but, you should keep a few things in mind before choosing your jewelry. This report should be your companion, and guide you in making the right purchase decision. More information related to onyx gem stone jewelry has been compiled for your reference and, you can access it at:
http://www.newsletter.kaijewels.com/black-onyx-jewelry-kj-info-090612.htm