Kaisilver Men's Rings With Sapphire
Men's sapphire rings have always been very popular, the darker shades of blue sapphire set in gold or silver never fail to impress men. Sapphire has for many centuries been associated with truth, loyalty and honesty. The beauty and rarity of sapphires puts it in the upper price range bracket, this has caused it to be linked to status and prosperity. The design concept for a sapphire ring for men, can very varied but it is necessary to keep a few essentials in mind. Keep your ambitions within control when thinking of sapphire gem size, we would recommend staying in the 2 carat to below 4 carat range. We do not mean to say that a men's sapphire ring with a 2-4 carat sapphire gem would be cheap but, sapphires beyond this size generally carry premium per carat price tags. At Kaisilver we offer a choice of medium to good grade sapphire gems, depending on the size and origin prices can vary significantly. Without complicating this information with technical jargon, we would recommend that you specify untreated or heated sapphire gems for your men's ring. Newer gem treatments applied to sapphires can compromise the toughness and value of the gemstone. Make sure that you choose a jeweler who can explain simple facts, honestly, sales hype and marketing campaigns generally end up giving lower importance to buyer interests.
Our sapphire gemstone rings can be crafted from your designs or, you can choose any design from our websites and request for it to be made with sapphire in gold or sterling silver. Sapphires are available in an array of colors and not just blue, men generally choose blue, green, white, yellow or orange for their rings. When ordering a sapphire men's ring you can request for any sapphire color and need not, restrict your selection to what is shown on our websites.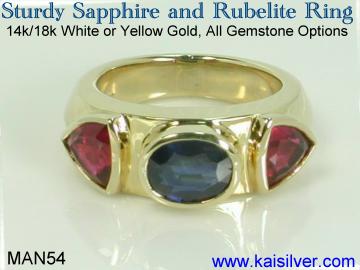 A men's sapphire gemstone ring with trillion shaped gems on the side. This sturdy men's ring is available in gold or 925 sterling silver. The quality of workmanship and gems remains the same for both, 925 silver or gold sapphire rings for men. The features of this gemstone ring can be customized to suit your preferences and we can also, craft your sapphire ring with a design provided by you ... more.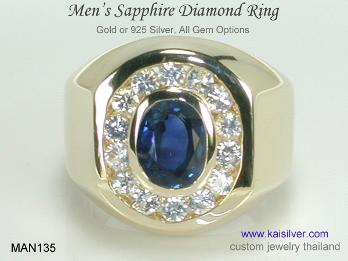 A stupendous sapphire and diamond ring for men, shown as a men's yellow gold sapphire ring, this handsome jewel can be ordered in 14k or 18k and 925 sterling silver. With no limitation on design and gems, Kaisilver men's rings can be crafted with your choice of gemstones. We offer a range of sapphire colors for you to choose from, white, blue, green, orange and yellow are some interesting ideas ... more.