Cufflinks - Combining Style And Utility

The utility value of cufflinks has never diminshed and yet, not many cuff link buyers give much thought to the utility of cufflinks! Substantial focus is today given to style and fashion. Gemstone cufflinks are worn with the intention of adding meaning to the cufflinks. This search for meaning is seen even in plain cufflinks where no gem stones or diamonds are set in the cufflinks. Your desire to express your personal preferences and reflect your personality through your cufflinks, is better accomplished by custom cufflinks. When we talk about personalized cufflinks, we imply complete customization of every aspect of the cufflinks. The design, metal, dimensions and ofcourse the gemstones for your made to order cufflinks should be within your control.

In this section we bring together some of the most interesting and useful articles related to cufflinks. The objective is to let you understand the trends and features of cufflinks today. There is no sales push here, we would rather educate you and leave you to make a logical purchasing decision than, fill you with sweet sales talk and get us sales orders. The fact is that, all the cufflinks that we make are fine jewels, each is fully custom made and involves a high degree of skilled craftsmanship. This does mean that we cannot handle too many orders at once. We therefore urge you to look around and try to find other providers for your cufflinks too.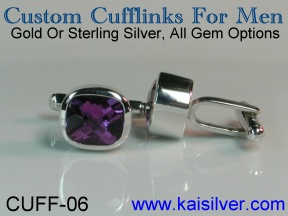 Gemstone cufflinks can enhance the meaning and appearance of your cufflinks. Custom gem cufflinks should give you an unlimited choice of gems, the only limitation should be your budget. Get more information and tips on choosing the right pair of gemstone cufflinks ...
more
.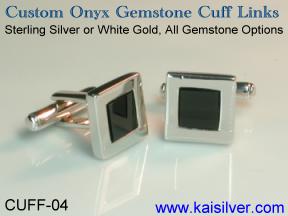 Black has always been a popular gem color for mens jewelry. This is apparent when it comes to gemstone cufflinks for men too. Keep in mind that we are talking about black gemstone cufflinks and not, black plastic, resin, enamel or black glass cufflinks ...
more
.