Men's Multi Gemstone Rings
Mens rings with gemstones are not very rare, however multi gemstone rings for men are an interesting concept for mens gemstone jewelry. While ladies generally choose gems based on their personal preference, men are generally influenced by two factors when choosing men's gem stone rings. Most men do not prefer gems that are loud or flashy, at the same time - they look for meaning or significance in the gems and jewelry that they choose. While this explains the choice of most gem stone rings for men, we still need to discuss about mens multi gem stone rings. What would be the thought process that goes through a man's mind when he chooses specific gems for his rings. We are not restricting our topic to gold or extravagantly priced mens rings with many gems. Let us include both gold and 925 sterling silver mens rings with many gems in our discussion.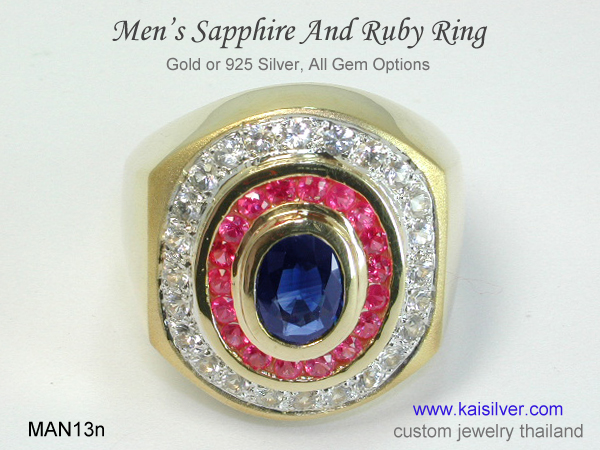 A lavish men's ring with multiple gemstones. Shown as a sapphire, ruby and white sapphire men's ring, the MAN13n can be ordered in gold or sterling silver with all gemstone combinations. The ring is perfect for both leisure and formal wear - all ring sizes ... more.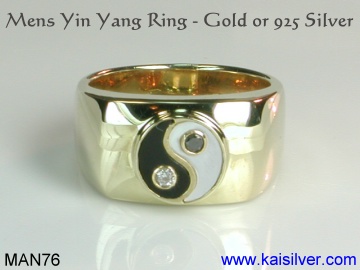 The highly meaningful yin yang ring, two gems and two diamonds. The ring carries a message that, there is hope in every situation, good in ever bad and vice versa. Wearing this men's multi gem ring will encourage you to lead a more balanced and harmonious life ... more.
When it comes to mens rings with multiple gems that includes precious stones like ruby, sapphire and diamond - you might find that most men choose the stones because they are rare and have some kind of status symbol. But what about a mens multi gem ring that combines modestly priced gems like black onyx and white mother of pearl. A little thought process could reveal that, the ring and the color choice in many cases, has a specific tradition and significance. While Kaisilver does get orders for mens rings with many gemstones that, combine birthstones of the husband and wife - such gem rings are generally more common among ladies. On this page, we will put together some fine men's gemstone rings with more than one gemstone. A brief description will highlight any specific meaning that might be applicable to the jewel.

When you go through the classic mens rings regularly updated on this resource, keep in mind that all Kaisilver jewelry is custom made with your choice of design, metal and gemstones. Our website jewelry is merely meant to give you an idea of what we offer and to inspire you to come up with your own suggestions and requirements. Support experts at sales@kaisilver.com will be glad to quide and advise you, and you will never be obliged to make a purchase from us to get the benefit of our expertise.