Kaisilver Made To Order Bracelets, Gold And Silver
A bracelet is an elaborate jewel, it is generally quite large and required skilled artisans to work on each process. Gemstone bracelets add the attraction of sparkling and colorful gems, the gemstones are often picked based on their meaning or deeper significance. If you wish to get a quality bracelet that includes your choice of gems and design and is sturdy for long term wear - your options will narrow down to, a custom made piece. Kaisilver custom makes bracelets and other jewels in gold and sterling silver, we can work with your design sketch or image, you could also pick one of our bracelet ideas and order the piece with gems and metal of your choice. Each bracelet is crafted by artisans with decades of jewel creation experience, trained gem experts help handpick gems for every jewel. This most important thing is that, the quality of design, workmanship and extreme dedication to crafting a classic bracelet, remains the same for both gold and 925 silver bracelets.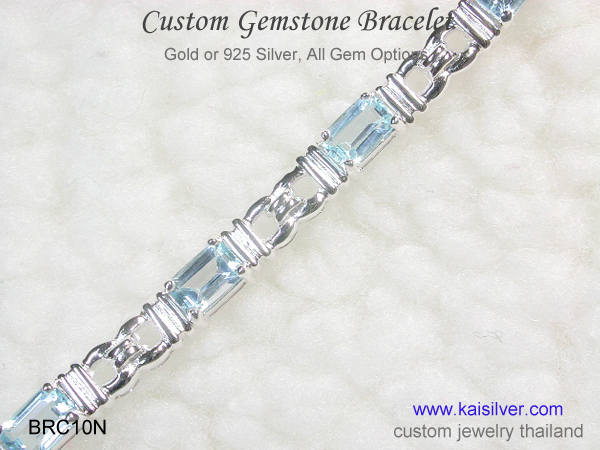 A stylish bracelet with a contemporary touch, this Kaisilver bracelet can be ordered with multiple gemstones in 925 silver or gold. You can therefore combine gems based on color combinations, your preference for color and even to create a lovely family birthstone jewel. The size and shape of the gems can be done to suit your liking ... more.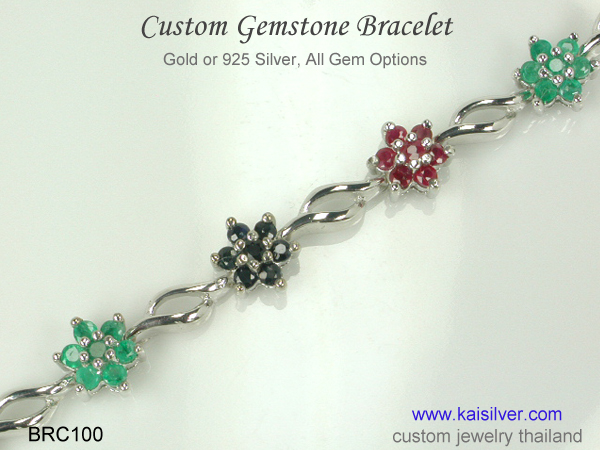 A gorgeous bracelet featuring the 'Big Three' gemstones ruby, sapphire and emerald. This custom bracelet provides some amazing opportunity for personalization, you could add some diamond glitter to the bracelet. And if your budget permits, order this made to order bracelet encrusted entirely with diamonds in gold or silver... more.
There are few critical elements in every bracelet, inexperienced craftsmen or insufficient metal weight can mean that, you get a bracelet that is not very durable, loose gems, broken links and shabby appearance is what you would be heading for. Kaisilver bracelets are generally 40-60% heavier as compared to what, other jewelers would provide for similar designs. Optimizing the gold or silver weight does mean that, our bracelets are not cheap but, the fact that you can wear them for a very long time into the future means that, you get good value for money paid. If you wish to get a bracelet that is to become an heirloom piece, talk to our support experts. Choosing the right gemstones, the perfect design and some amount of care can ensure that, your gold or 925 silver custom made bracelet lasts for decades. Our knowledgeable team can guide you with useful ideas and suggestions.
Kaisilver Bracelet Highlights:
All custom made bracelets can be crafted in 14k 18k gold or 925 sterling silver.
The same quality standards are maintained for silver or gold bracelets.
Gemstone bracelets can be ordered with gemstones of your choice.
There is no limitation on design or gemstones, we can work with your design ideas too.
A Kaisilver made to order bracelet, generally has 40-60% more metal weight.
Good metal weight, researched design elements and skilled craftsmanship enhance durability.
About Us: Widely rated as the leading online custom made jewelry provider, offer craft jewelry with your designs or yours. We prove our commitment to quality by, utilizing the skills if trained artisans for both gold and 925 silver jewelry. Gem experts with wide experience in procuring and cutting gemstones, spearhead our tremendous effort to source gems from across the globe. The Kaisilver Custom Bracelet Collection is frequently updated with new designs and information, make sure that you spend some time reading the reports and become acquainted with our quality standards. The support team at sales@kaisilver.com will be glad to provide you with any information or clarifications that you might need.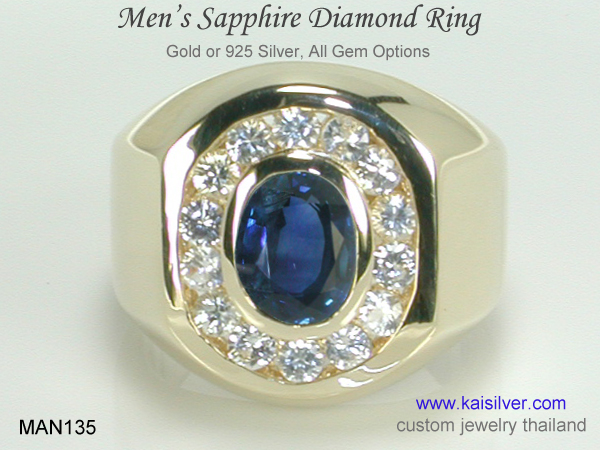 Sapphire rings for men from Kai Silver, gold and sterling silver men's rings set with natural sapphire gemstones. Shown here is a sapphire diamond ring with broad dimensions and impressive long term durability ... more.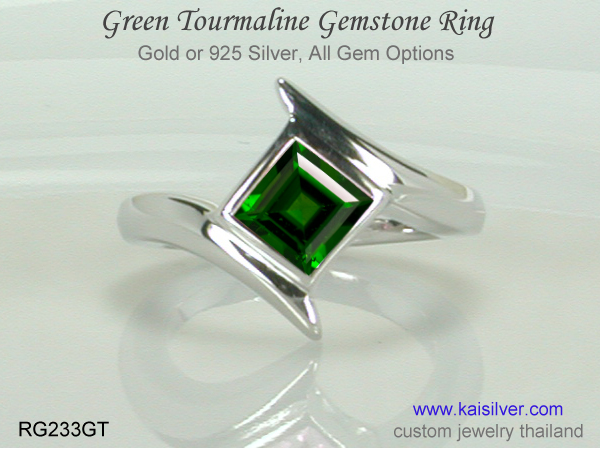 Tourmaline is a gorgeous gemstones and is found in a variety of colors, blue and pink tourmaline gems are the most popular colors. We present a sleek and elegant ring set with a handpicked green tourmaline gem ... more.