The general trend to look for style and quality in mens rings has, resulted in a substantial rise in the demand for gemstone rings. There are many factors that have worked together to make amethyst mens rings attractive to male jewelry buyers. Amethyst with an impressive hardness rating of 7 on the Mohs scale, can generally take care of itself. This is all the more welcome when it comes to mens amethyst gemstone rings because, men are not very careful when wearing or keeping jewelry safely. Birthstones have been a tradition for many centuries, amethyst with it's prominent presence as the birthstone for February drives a substantial demand for mens amethyst birthstone rings. With a generally purple color, the gemstone in your gold or silver amethyst ring for men can range from a light purple, move into the medium purple range and then get into the dark purple color shades too. So you get a chance to personalize your gem selection depending on what you really like. You can expect most mens amethyst rings to have fairly large gems, generally in the 3 carat and above size range. The truth about many natural gems is that, they are not easily found in large size and even if they are, premium price tags are assigned to large gems. Fortunately, this is not the case with amethyst - amethyst gems in the 3 to 5 carat per piece range, are still quite moderately priced.
Email our team of experts at sales@kaisilver.com with any questions or requirements that you might have. We will be glad to help even if, you plan to buy nothing from us.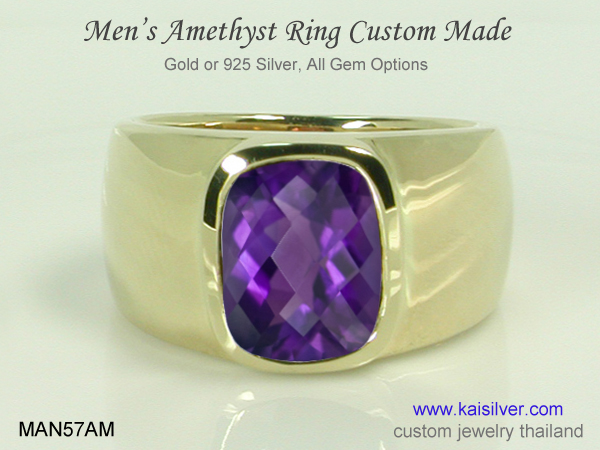 A sturdy amethyst gemstone ring for men, custom made in gold or 925 sterling silver. A men's gemstone ring that will look awesome for formal or informal wear. The ring is configured to be long lasting, the gemstone is handpicked and certified for authenticity ... more.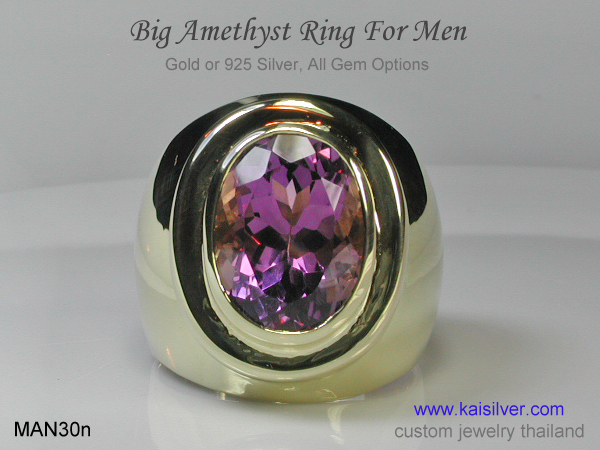 A big ring for men with a big amethyst gemstone. Custom made in gold and sterling silver, all design modifications can be accommodated. We can craft your men's amethyst ring with a design provided by you. Available with any gem of your choice ... more.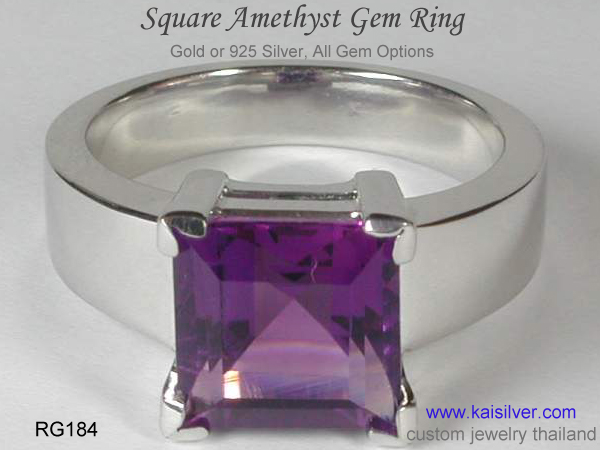 A very modern style for the RG184 amethyst gemstone ring for men. The gem can be selected from a size range of 6mm to 10mm square, you could choose amethyst or any other gemstone. A sturdy men's amethyst ring in gold or 925 silver, sturdy and stylish ... more.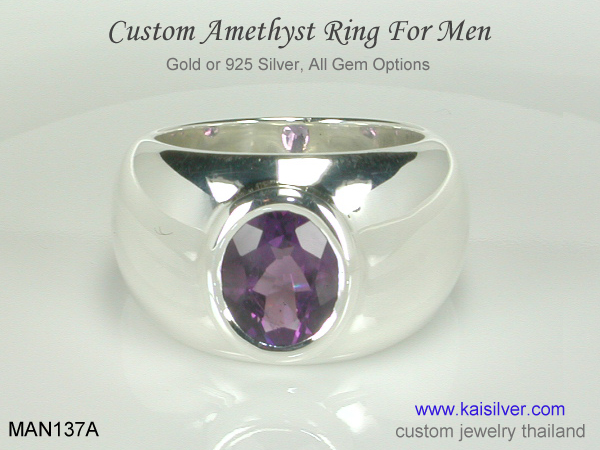 Amethyst has a long history and tremendous folklore attached to it. The MAN137A men's amethyst ring is available in gold or 925 silver. We can also craft an amethyst ring for men, with design provided by you. The heavy ring is built to last a lifetime ... more.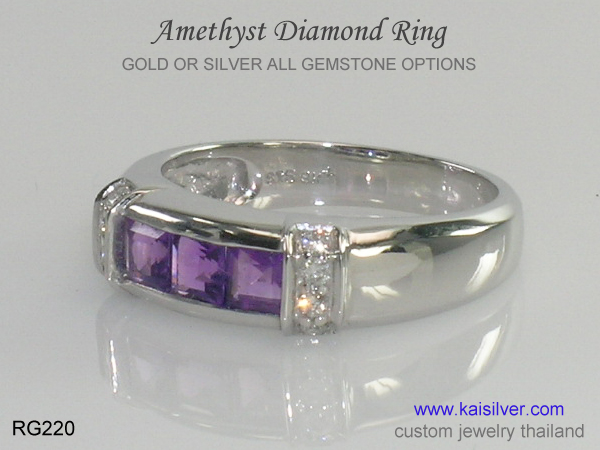 An excellent design for a men's band ring with amethyst or any other gemstone. Expertly crafted in Thailand by highly skilled artisans, the RG220 men's amethyst ring can be ordered in gold or silver. The gem size and ring band width can be selected by you ... more.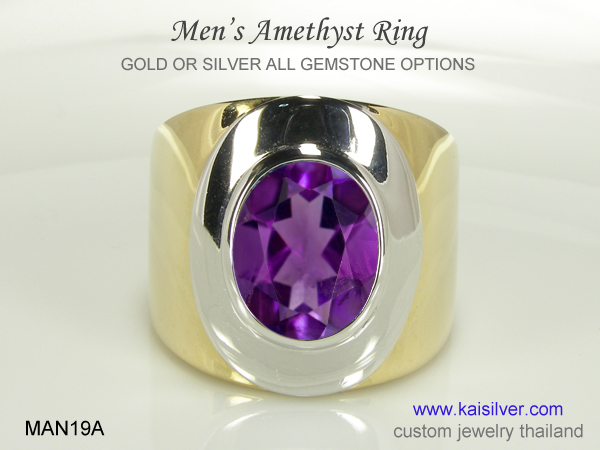 Amethyst men's gold ring, shown in a two tone gold color the MAN19A men's custom ring is fully custom made by expert artisans in Thailand. Maintaining the same high standards, for the gold or silver men's amethyst ring - we place no restriction on gemstone selection ... more.
The budget assigned to a mens amethyst ring would vary from buyer to buyer but, there is no doubt that the economy, durability and confident appearance of sterling silver has made the metal a hot favorite for mens jewelry. Amethyst is a natural gem that is modestly priced, making it an attractive proposition for both, gold and 925 silver amethyst rings. The well known fact that all silver jewelry would tarnish over time, poses no big problem when it comes to amethyst silver rings. Commercially available silver polish solutions can be conveniently used to take away any tarnish, that appears on a sterling silver men's amethyst ring. The gemstone will not get affected by silver polish lotions, cloth pieces or silver polish sprays. All you will need to do is to thoroughly rinse the ring in clean running water after the polishing operation is done. This will help take away any residue that might be stuck to the amethyst gem or mounting.

We present a collection of fine men's amethyst rings on this page. Each of the rings is custom made and can include all your preferences. The best thing is that, your gold or 925 silver amethyst men's ring will have the same fine craftsmanship and gem quality. With absolutely no limitations being placed on design, metal or gemstones for all the jewelry that we custom make, you could even send us images or sketches of your own designs to be custom made.
NOTES
MAN19A: A stunning men's amethyst ring, custom made in gold or sterling silver. The positive features of this mens ring are not limited to the fine design and craftsmanship. We have incorporated a number of advanced features that work silently in the background to enhance your long term experience of owning and wearing your amethyst mens ring.

Unlike other jewelers who have consistently reduced metal weights to, keep their prices attractive, we realize that this would always result in a compromise on durability. The gold or 925 silver amethyst men's ring is provided with a healthy metal weight, to ensure that the jewel does not bend or dent easily. We often repeat the fact that, two rings might look very similar externally but, differ widely in terms of long term durability. A wide difference in metal weight is one of the big reasons for this.

Still on the features of the MAN19A men's amethyst ring, let us tell you something about the gem mounting. We have kept prongs away as prongs, generally tend to open up when they get stuck in pockets and other places. The bezel setting that borders the entire gem with metal brings two benefits to the jewel. With the edges of the oval amethyst covered with metal, it is not possible for the edges of the gem to get damaged by side impact. The bezel also ensures that the gem is firmly held in place and stays that way.

Our design research team is aware that, a gemstone that protrudes too much above the surface of the ring is more likely to get damaged by hitting against hard objects and surfaces. The faceted gem cut provided for the gemstone in this amethyst mens ring, is mounted with a rather low profile, something that reduces the chances of the gem getting hit and damaged.

One of the major reasons why buyers prefer to source their jewelry from us is because, we provide the same degree of care and attention to custom make gold or 925 silver jewelry.
RG184: An amethyst ring for men that spells style and comfort. A substantial square or octagonal amethyst gem measuring 8mm. Most square gem rings with prong setting would leave the pointed corners of the gem exposed - this unfortunately makes the gem more prone to breaking and chipping. The RG184 Kaisilver men's ring, is equipped with four sturdy 'L' shaped prongs. this ensures a firm gem mount and provides good gem protection.
Amethyst is the birthstone for February and is also listed as, the 5th anniversary gemstone. Deriving it's name from the Greek word 'amethystos' the gem was once believed to protect a person from getting intoxicated even after consuming alcohol. While not many amethyst lovers believe this story today, it was something that added to the demand for amethyst in the past.
Coming back to the RG184 men's amethyst ring, the jewel is crafted in gold or sterling silver. High quality craftsmanship a carefully selected gem and a handsome metal weight are features that come with both gold and 925 silver rings. If you choose the gold amethyst ring, you will be the proud owner of a custom ring that, weighs 20-25 grams. Given the fact that silver is extremely popular when it comes to men's jewelry, we invest significant effort and attention into making each 925 silver amethyst ring too.
And if you have some specific preferences for your ring remember that this is a custom men's ring - we can personalize the gem dimensions or any other feature, as per your requirements. For those of who with a large ring size in the 11-15 range, we would suggest an increase in metal weight to maintain the overall impressive look and durability.
If you wish to follow the growing trend for wedding and engagement rings with colored gems - this design concept is great for a pair of wedding rings. You could choose a smaller gem size and narrower band for the lady's ring while retaining, the dimensions shown in the image for the men's ring.
HOW TO ORDER
Each item on this webpage has a link to a detailed report, check the options and pricing details on the full report. You are also welcome to ask for information or advice, from the Kaisilver expert team at sales@kaisilver.com. Take advantage of our expertise in all aspects related to gemstones and jewelry. All the designs on our websites can be modified to suit your own preferences. We can even craft men's amethyst gem rings, based on your own design. Though much of the talk in this report, has related to the amethyst gem, we place no restriction on your choice of gemstones. You can order these amethyst gemstone rings for men, with the gem size ranging from 6mm to 10mm. The band width will in general, be determined by the gem size selected. The gold and silver amethyst rings, will be crafted to the same superior standards.
WHO IS KAISILVER
The leading online fine custom jewelry provider, Kaisilver today serves over 12,000 quality conscious gem and jewelry lovers across 15 nations. Networked to all major gem mining and cutting operations, we have preferential access to over 200 million carats of gemstones. Your gem options are not restricted to what you see on our websites, we place no restriction on your gem selection. We happen to be one of the very few high end jewelry providers, to maintain the same superior standards for gold and silver jewelry.
KAISILVER REVIEWS
The cat ring is beautiful and elegant, and so so cute. I can't believe you got it to me before my girlfriends' birthday. I felt truly touched, at all the care you put into the product, and for the beautiful little bag it came with, and for your lovely card. Thank you for your understanding, care and expediency. God bless you for it! I have never been treated this way as a customer! THANK YOU! ... Mr.Eugene Iosilevich ... more.
The Kaisilver mailing list requires a double verification which means that, you enter your details below and then, reconfirm your desire to join the list - the reconfirmation happens when you click the mentioned link on the email automated email that you receive from us. Contact us at sales@kaisilver.com if you wish to unsubscribe from the list. We will not sell your email and contact details to any third party, you will not be spammed. The mailing list will be used to send new product developments to subscribers.