Mens bands are popular for more reasons than one. Both plain and gemstone band rings for men in varying widths can be custom made in gold or 925 sterling silver. With the preference of many men for simple and easy to maintain jewelry, gold or silver bands for men, have always been popular. The most common type of men's band rings are wedding bands, both gold and sterling silver have been in demand in recent years. We did mention that both plain and gem stone bands for men are common. You will notice that when diamonds, sapphires and rubies are set in a men's band, the ring is generally used for a special occasion like a wedding or engagement.
Kaisilver the leading online custom made jewelry provider from Thailand, crafts all types of jewels in gold and sterling silver. There is no limitation on metal (10k, 14k, 18k white, yellow or pink gold or sterling silver), gemstone or design. We can work with your design or ours. The team of experts at sales@kaisilver.com will be glad to assist you with, any queries or requirements that you might have.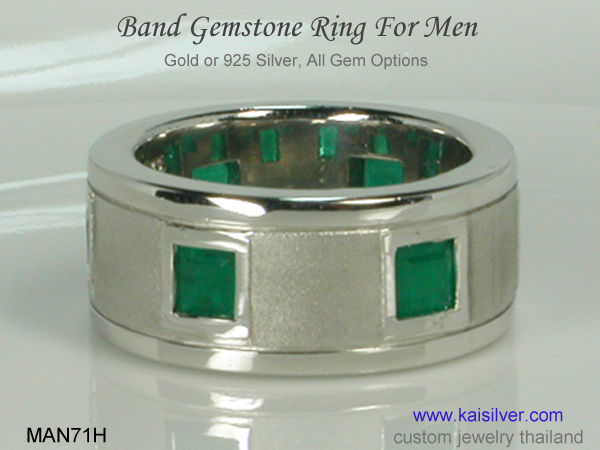 A tremendous men's band ring, the band width of this custom men's ring is around 9-10mm. Shown as an emerald band, this ring can be ordered in gold or 925 silver with the gemstones of your choice. You can also combine different gems in your band ring ... more.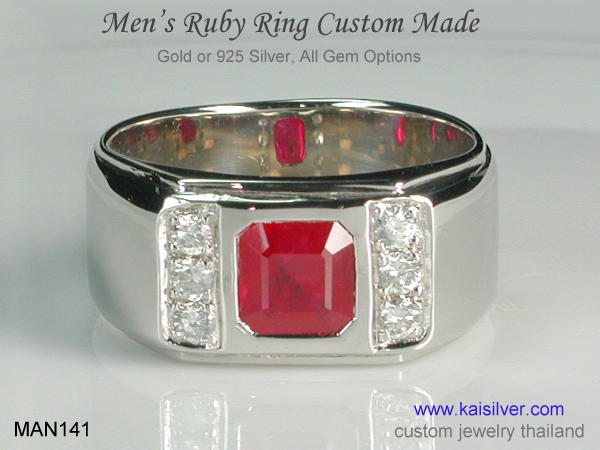 The MAN141 men's band is shown with a ruby in the center and a column of glittering diamonds on either side. The ring is made to order in both silver and gold and in all ring sizes. You choose the gem of your choice for this band ring. Read all details for the ring ... more.
Your choice of gem and metal (gold or silver). The MAN68n men's band can be ordered with a uniform band width all around or, with a slight taper behind the finger. The choice is yours, the ring is expertly crafted in silver or gold and available in all ring sizes ... more.
If you are thinking of a gold or 925 silver band ring for a man with a gem or diamond, the concept of the band works to your advantage. Given the fact that a band ring would have a uniform band width all around, the gem or diamond size can be limited without appearing too small or insignificant. An example will explain this concept better. A mens band ring would normally have a band width in the range of, 7mm to 10mm. If you wanted to get a diamond band ring for a man, keep the band with at around 7mm - you will then be fine with a diamond size of 4mm to 5mm. This could be a round or square (princess cut) diamond. On the other hand a mens gold or 925 sterling silver band ring with a gem (other than a diamond) could be made, with an 8mm to even 12mm band width. A corresponding gem size for this band width could be in the 6mm to 9mm range. You would ofcourse choose the band width based on the specific gem that you plan to set in your band ring. Remember that gem prices vary and some gems become very expensive when the gem size increases.
Now something about men's plain bands, no gems or no diamonds. When you think of a plain band ring, you will most probably visualize a clean piece of metal wrapped around the finger. The fact is that a mens plain band can be more interesting than that and we will show you how. A plain band ring can have various textures, symbols, objects and alphabets depicted around the band. This could be just on the front of the plain band or all around it. Popular symbols used on mens plain band rings are, the cross, the egyptian ankh, alphabets, numeric digits, the fleur-de-lis symbol, musical notes and other religious or traditional symbols. A simple band ring could have the symbol appear just once on the front of the ring, some men prefer the symbols to be done all around or at least half way down the front of the ring. You can ofcourse have other features to enhance interest in band rings for men too. The texture on a band ring is one way to do this - hammered finishes, natural textures like the bark of a tree or leaf or even an ethnic looking randon texture can be applied to the surface of a band ring. The finish of the metal on your gold or 925 silver mens band ring, also provides you with some interesting options. A dull finish or a high polished finish are the normal options but, if you go for a custom mens band you could do some interesting things like combine finishes in the same ring.

Before we wind up this brief report on mens bands, let us say something about the metal selection for a mens band ring. A few years ago it was only gold or silver but, rapid changes have come about in recent years. If you wish to have a gold or 925 silver mens band ring, first consider the band width and ring size - next set these against the available budget and make a choice. Both these precious metals have a tendency to show a price rise, and metal cost can be a significant component of the price tag. Keep an open mind, and remember that a light weight band ring is likely to dent and go out of shape. This can require frequent repairing and will surely add to the price of the ring in the future. While we do not suggest that you overshoot your budget, our suggestion would be to consider sterling silver bands if gold is out of your budget.

Various conditions in the past few years have resulted in the changes of metal choice for jewelry buyers. Mens band rings are today worn in metals like stainless steel, premium brass alloys, titanium and even tungsten. If you plan to get your mens band in any of these metals, here are some essential things that you should know. Steel, tintanium and tungsten band rings are generally mass produced - not much customization is possible with these metal options. In the case of jewelry grade stainless steel rings, you can use external lasering to get various symbols or text on the ring. There are some stainless steel factories that offer casted stainless steel jewelry. Though the properties of the metal cannot deliver exact casting features and options like brass, gold or silver jewelry - you do have some more scope in design features. The sad part is that, none of these steel jewelry factories will be willing to make a single piece of jewely in casted form. At time when the prices of precious metals and gems is moving up, the slow economic conditions in many nations has dampened jewelry buyer interest. Jewelry manufacturers have teamed up with various alloy makers to produce alternate metal options - the idea is to reign in the cost of the jewelry. Fine quality brass alloys are now moving into the mainstream, this metal can be caseted just like gold or silver and costs very much less than those metals.