Mens Fashion Rings
It is not easy to define what exactly constitutes a mens fashion ring. We all know that fashion or rather the concept of being fashionable is dynamic, it keeps changing and is not static. If we referred to a mens ring with multiple gemstone inlay as a mens fashion ring, this might not remain so after a few years. So to keep the content on this resource on mens fashion rings always relevant, we will draw a few parameters of what we feel could at loosely define a mens fashion jewelry. If you had to talk about a mens yin yang ring, that itself would not identify the jewel as being fashionable. But if we told you that, we could custom make a yin yang ring with black and white gemstones and colored diamonds being used to form the yin yang symbol, we might be tempted to classify it as a mens fashion ring. So does it mean that all mens fashions rings would be extravagantly priced - the answer is a big NO. Remember that we are talking about jewelry concepts being fashionable or trendy, price tags do not come in to the picture for such an evaluation.
If we took an example of a bold mens ring, with a broad band width and added multiple gemstones combining with a hammered metal finish. The jewel might carry a price tag of over 3,000 U.S$ depending on the metal option and the gemstones selected. The design concept does sound like a mens fashion ring but, the jewel need not always be expensive. You might choose the same mens ring concept, opt for sterling silver and select moderately priced gems - it would still be grouped in the category of mens fashion rings but might cost much less than 700 U.S$. Not all men like fashion jewelry but, if you are one of those who like it - consider custom jewelry to fulfill your needs. This is not meant to be a sale pitch for Kai Silver, the worlds leading online highend custom made jewelry provider. Custom jewelry allows you to customize everything, and this high degree fo customization can be harnessed to tame the price tag too. For example a 10,000 U.S$ dazzling diamond ring for men with lot's of flash and glamor, might not fit most of our budgets. But choose a custom jewel and you can, retain the same design concept but choose to have the ring made with natural white sapphires instead of diamonds. The price might then fall below 3,000 U.S$ or even below 2,000 U.S$. Just to mention something that you most likely are already aware of, the jeweler selling the 10,000 U.S$ is very unlikely to be interested in listening about your budgeted version that costs less than 3,000 U.S$! This is where a reputed custom jeweler will give you more respect and satisfaction.
Kaisilver can custom make all types of jewelry in gold or 925 sterling silver. Our support team at
sales@kaisilver.com
will be glad to help you with any queries or requirements that you might have. You can get the benefit of our expertise and skills without any obligation to make any purchase from us. There is therefore no reason why you should not talk to us before making any gem or jewelry related buying decision.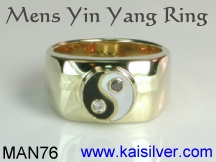 While the yin yang is nothing new and has a tremendous history and tradition, the MAN76 mens yin yang ring would surely classify as a mens fashion ring. It might have been easier to make a simple mens ring, with the symbol etched on the surface. The intricate gem cutting required to form the yin yang symbol using black onyx and mother of pearl, lift this jewel to a class of it's own. Add to this the fact that the small spots which are part of the symbol, are infact white and black diamonds and you know that you are seeing an impressive fashion ring for men. Check full details
here
.