Rings With Square Amethyst Gemstones
Amethyst the birthstone for the month of February has an impressive following among ladies and men. The tremendous folklore that wraps this historic gemstone might not be relevant to it's popularity today but gem lovers adore it for it's sheer beauty and grace. This is one moderately priced gemstone that, has a following in almost every age group. With bridal jewels turning to colored gemstones, extravagant amethyst diamond rings and platinum wedding rings with amethyst are not uncommon today. Most of the amethyst that is cut ends up being round or oval, but style conscious buyers have for some time demanding rectangular shapes for the stone - square and classic cushion cuts fulfill that desire.
It is true that a square amethyst ring displays elegance and confident style and fine custom jewelry is often ordered with this gem shape. Your preference for gemstone shape is personal and no logic needs to accompany that desire, however square gemstone rings need to have some refined design features to ensure durability. It is quite obvious that the gem in a ring with a square amethyst stone, would have four pointed corners. Amethyst with it's 7 (out of 10) hardness rating on the Mohs scale is not fragile but, the corners of a square stone could crack or break with physical pressure. To reduce the chances of the square amethyst hitting against hard surfaces or objects, it is necessary for the design concept to provide adequate gem protection. There are a few gem setting options that offer protection, bezel being one of them. But if you chose the square amethyst just to allow maximum gem exposure, you might not wish to have an amethyst ring that has a bezel setting for the gemstone. With most jewelry buyers opting for prong set square amethyst rings, it is important that the design structure of the ring incorporates the right type of prongs. Ideally look for prong set square amethyst stones that use right angled 'L' shaped prongs - these do a great job of covering and thereby protecting the pointed corners of the gem.
Those of you who believe in the metaphysical properties of gems might, hold the belief that the gem needs to touch the skin when the ring is worn. A custom Kaisilver ring can handle that requirement but, we would like to educate you a bit. A square gem would generally have a pointed tip at the bottom, if this is required to touch the skin it is important that it does so very lightly. You really don't want the point to scratch or injure your finger skin. And if the design concept for the ring is such that, the gem cannot touch the skin lightly we would suggest that, a custom cut gem be used and the bottom tip be a bit less sharp.
With amethyst being available in three shades of purple namely light, medium and dark you might want to get a tips on the shade that is best for you. Unless you have actually seen a light or pale purple amethyst and love it, we would suggest that you specifically request that this gem color not be used for your square amethyst ring. The pale color would more likely show more skin through the top than any attractive gem color. Our choice would be for a medium purple gem in a gold or 925 silver square amethyst ring. The medium color allows a clear display of light reflection on the internal facets of the gem, this is exactly what faceted gems are supposed to do. Gem traders refer to dark purple amethyst gems as 'African' amethyst - this irrespective of where the stones were actually mined. A square amethyst gem that has a dark and saturated color would absorb most light that entered through the top of the gem, this effect is unlikely to allow the internal facets to flaunt their real beauty. Having said that, there are some amethyst lovers (generally men) who love the rich purple color of dark amethyst. Custom amethyst rings from Kaisilver can be ordered with the color shade of amethyst that you wish.
Is it true that square amethyst rings are more popular among men? This is a question that is frequently heard - and the answer is 'no'. As mentioned above most amethyst gems are cut in round and oval shapes, these are the most common shapes for both ladies and men. When it comes to square amethyst gemstone rings we would say that, refined taste for such unique rings is seen in both men and ladies. Men's amethyst rings might be better identified by the overall design and dimensions of the rings rather than, by the shape of the gemstone. We would not go for the generalization that, most amethyst rings with large gems are made for men because, we have custom made amethyst rings for ladies with gems that go beyond the 5 to 6 carat size range. Another interesting thing about gender preference for rings with square amethyst gems is that, a significant number of these rings bear designs that are suitable for men and ladies!
Kaisilver Amethyst Rings: We custom make all jewelry and that includes amethyst rings too. When ordering your amethyst ring from us, you get to choose the design, metal and gem shape and size - we will gladly oblige if your custom ring requires a specific gem shape or cut. With complete control over the entire jewelry and gem cutting operation, we provide customization that no other jeweler can match. If you are impressed by an amethyst ring on our website but, require some design modifications, let us know and we will do it for you. Email our team of experts at sales@kaisilver.com and let us know how we can help you. Since you will never be under an obligation to purchase anything from us, there is little reason why you should not draw on our expertise.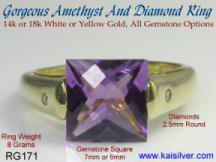 Given the fancy cut of the square amethyst stone in this amethyst ring we are inclined to label it as a 'cocktail' ring but, unfortunately the style critics stole that name for another type of ring. Custom made by us for a French hair stylist, this square gemstone ring gives full exposure to the gemstone. While this was how the buyer wanted it to be, the fact remains that the exposed corners need care and attention. A jewel that would surely attract a basket full of admirers but, ideally suited for that evening dinner date or a wine dining appointment with someone special. The subtle glitter from the side diamonds that peep just enough to be noticed has no intention of overpowering the brilliance of the square amethyst. You could request for a similar concept but, go for a bezel set gem for extra durability. Get to know more about this custom ring here.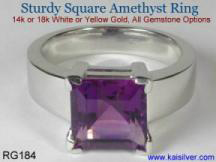 An elegant minimalist visual with toughness and stamina, the RG184 square amethyst ring, shows the ideal set of prongs to hold a square gemstone. The large square amethyst is securely mounted with four sturdy prongs, we refer to them as 'L' shaped prongs. With substantial metal weight invested in this square gemstone ring, you can rest assured that this jewel will serve you for years and decades. A good example of an amethyst ring that is suitable for men and ladies, you can choose the gem size to yield the band width that you wish. While the square amethyst in this ring is a shade darker than the stone in RG171 shown above, it still does not come near the very dark purple amethyst gems that we talked about. With a smooth and wholesome interior, this ring is open to suggestions for etchings inside the band. We've got the whole story for this stunning square ring here.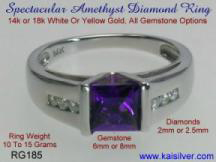 For those of you agree that a bezel setting offers good gem protection but, feel that it crowds the gemstone with metal - the partial-bezel (our terminology) applied on the RG185 square amethyst gem stone ring, brings a refreshing option. While the left and right edges of the square gem are wrapped with metal, the top and bottom edges are left free of metal. And what is important is that, the pointed corners of the square amethyst are well protected. We have slid three round diamonds on either side of the center amethyst but, you could request for those to be kept out of the design. We offer two gem size options for the gem in this square amethyst ring - this makes it suitable for men and ladies. The buyer in this case had specifically requested for a dark purple amethyst gem and that, is exactly what you see in the image. You can request for a light, medium or dark purple gem for your ring. More on this amethyst ring right here.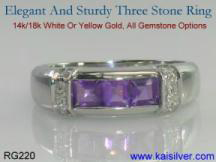 You wish to wear an amethyst ring but, don't have the time to fuss over it - the RG220 should be your destination. Three moderately sized square amethyst gems that can be 5mm or 6mm in size, expertly set in a channel mount. This amethyst square ring with it's flush gem mounting and modest gem size is unlikely to get any stone damage since, there is little gem protrusion from the surface of the ring. The line of small diamonds on either side of the square amethyst gemstones are optional, so you follow your fancy. A channel set gemstone has it's top and bottom edges firmly mounted in precisely cut slots, little chance of the gem shifting or dismounting. And if you wish to have a ring with many gems one of which is an amethyst, take advantage of the multi-gem aspect of this ring. You can request for just about any gem combination that you desire and we can even increase the size of the channel slot to accept more than three square gems. We have published comprehensive information on this amethyst ring here.