Gents Gold And Silver Amethyst Rings
Purple might not seem like a gem color that appeals to gents but, talk about purple amethyst and there is something truly interesting. The history of amethyst is so very ancient that, the purple gem has struck a universal note across nations, gender, religions and personalities. With experience in crafting fine custom jewelry for a couple of decades, we at Kai Silver have summarized a few interesting facts related to amethyst gents rings, we will share them right here with you. Amethyst is a purple variety of quartz and can be found in colors ranging from pale (light) purple to very saturated (dark) purple. Most gents ring in both gold and 925 silver are ordered with amethyst in the medium to dark-medium purple color range. We do get requests for gents amethyst rings that request for very dark purple gems, this is something that we can do without a problem since we handpick and custom cut every single gem. But if you wish to use such a gem for your amethyst ring please keep in mind that, a very dark purple gem can appear so very dark that you will not notice much of purple in normal light conditions.
Another interesting observation related to amethyst rings for gents is that, 925 sterling silver is preferred over gold. This is not very surprising because gents seem to be impressed by the calm and confident look of silver, the brightness of gold is often considered to be too loud and flashy. Besides the appearance of the metal, silver is also much more affordable as compared to gold. The fact is that the demand for gents silver rings would be far more impressive if, did not assign secondary importance to silver jewelry. But when you order your silver gents amethyst ring from Kaisilver rest assured that, there will be no compromise on quality just because you did not choose the more expensive gold option. The same team of skilled craftsmen, expert gem cutters and quality standards are applied to both gold and 925 silver jewelry. This clearly demonstrates our commitment to quality and our passion, to craft high end jewelry irrespective of the metal or gemstones selected.
Kaisilver amethyst gents rings can be crafted based on your designs or ours, you can select the gem size, cut, shape and also the metal for your ring. Since we can accommodate all requests for design customization, you can pick a design from our websites and request for it to be modified to suit your requirements. We present a few design ideas crafted by us on this page, use these to give you an idea of what you can expect from Kaisilver amethyst gents rings. Contact our experts at sales@kaisilver.com if you need any specific details or price quotes related to your requirements.
Highlights Of Our Gents Amethyst Rings:
The same quality assured for both gold and silver amethyst rings.
Send us your designs or pick a style from our website.
Custom made in all ring sizes.
Good metal weight ensures that your gents amethyst ring does not dent or deform easily.
The gents silver ring will weigh around 18 to 22 grams while the gold ring, weighs around 20-25 grams.
Your choice of gems and each gem is custom cut, you can choose the cut and shape.
Firm gem mounting with enhanced protection for the gemstone.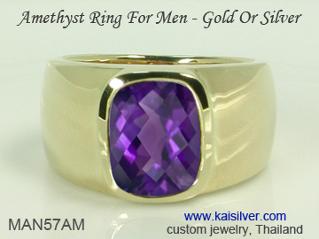 A handsome gents amethyst ring with a 11x9mm cushion cut amethyst gemstone. Metal options include white, yellow or pink gold and also sterling silver. Shown with a multi faceted checkerboard cut amethyst gem, the gents gold or 925 silver ring can also be ordered with a conventionally faceted or smooth cabochon cut stone. Find out all about this stylish gents amethyst gemstone ring ... here.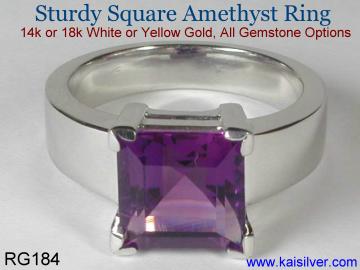 A square amethyst gents ring, the sturdy prongs for this ring are specially designed by the experts at Kaisilver. While the design provides maximum exposure to the square amethyst gem in the center, the 'L' shaped prongs protected the pointed corners of the gem from damage. The sturdy construction of this gents amethyst gemstone ring is supported with a healthy metal weight. Check full ring details ... here.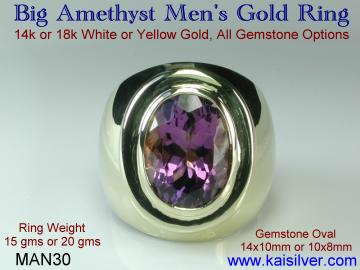 One of our best selling gents ring, this awesome ring shown as an amethyst gents ring here, holds a large gemstone and is supported with a minimum metal weight of 22 to 25 grams. The gem size can be selected by you and this is a great way to customize the dimensions of the ring. We provide the same quality standards for gents silver and gold rings. Get more details for the MAN30 gents amethyst ring ... here.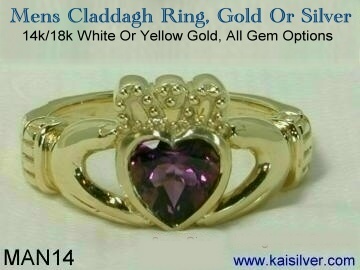 The legendary claddagh ring with a 4 century old tradition, is widely regarded as the most meaningful jewel in history. Kaisilver is credited with crafting the best rendition of this historic ring. The gent's claddagh ring is shown here with an amethyst gemstone. You can order a gent's amethyst claddagh ring in gold or silver or request, for the ring to be made with the gemstone of your choice ... here.
If you are looking for a gents gold or sterling silver amethyst ring with medium dimension format, give a close look to the RG220. This gents ring is custom made with three square amethyst gems, the gems are 6mm in size. You could order this ring with any mix of gemstones in gold or 925 silver. The size and number of gems in this amethyst ring, can also be customized. We have full details for the RG220 ... here.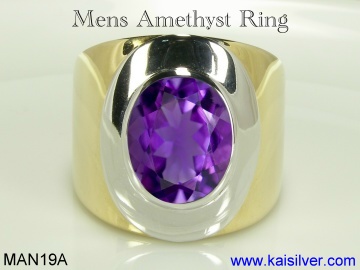 The growing interest for style and design in gents jewelry is clearly seen in the MAN19A, two tone amethyst gents ring. This ring offers more than a simple amethyst ring for gents, it makes a statement that would appeal to all style conscious gents. A very intricate production process seamlessly fuses separate components that have been crafted separately in two different gold colors. Review the full report ... here.