Kaisilver Aquamarine Rings
Aquamarine rings are popular for more reasons than one. It is widely known that blue, green and red gems have a consistent and steady market intrest. Few people do not like blue gems and the serene pastel blue shades of aquamarine gemstones makes it even more desirable. Another reason for the large number of gold and silver aquamarine rings ordered each years is the fact that, the color of the gem and it's impressive durability make it suitable for ladies and mens aquamarine gem stone rings. Aquamarine gems belong to the beryl mineral family, emerald, morganite and bixbite are also part of the beryl mineral family. Unlike emeralds aquamarine does not always have presence of natural inclusions and fissures. The Mohs scale reading of 8 gives aquamarine stones good strength and wearability.

When you talk about Kaisilver aquamarine rings, you are referring to some of the most widely worn and well researched aquamarine gemstone rings. We procure aquamarine stones directly from the mines and custom cut them to precisely, fit the gold or silver mountings that we craft. You can order both gold and sterling silver aquamarine rings, the choice of 14k or 18k aquamarine gold rings is always available. The color of aquamarine makes it a great choice for white and yellow gold aquamarine jewelry, choose the gold color according to your preference. As a birthstone aquamarine represents the month of March, and can be worn as an aquamarine pendant or ring. You can email our support experts at

sales@kaisilver.com

for any gem or jewelry related queries or requirements that you might have.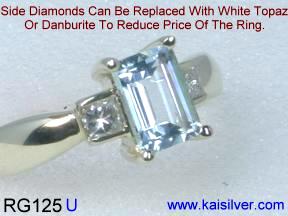 RG125u Aquamarine Ring: A gorgeous aquamarine gold or silver ring, custom made with a rectangular aquamarine gem and square diamonds. Great for casual wear or as an aquamarine engagement or ruby ring ... more.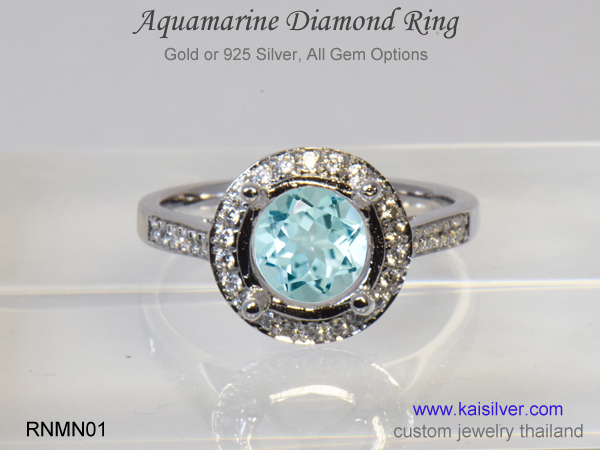 An awesome aquamarine and diamond ring, the 7mm round aquamarine gem in the center of the ring is surrounded by a row of glittering diamonds. A finely crafted aquamarine gem stone ring at a reasonable price ... more.