Men's Blue Sapphire Ring, MAN54
Blue sapphire is an awesome gem, both men and ladies love this tough gemstone. The belief that sapphires are always blue is very ancient, modern science has today proved beyond doubt that sapphires are found in a variety of colors. The availability of pink, white, orange, green, yellow sapphire gems, has not in any way diminished interest in blue sapphires. You can order a Kaisilver men's ring with the design and gemstone of your choice, in sterling silver or gold. Most men would like to wear a big carat sapphire gemstone ring but, economics will finally dictate what their budget can handle. Sapphire is gorgeous, it is very hard and tough and gem quality sapphire is very rare. A medium to high grade sapphire gem can never be cheap, the price per carat will rise sharply as the gemstone size increases. If you had to work an equation between price, quality and sapphire gem size it is a 9x7mm oval gem that will give optimize value. A men's sapphire ring with a 10x8mm oval gem might be an option of your budget can handle the price. Kaisilver men's rings are custom made with the design and gems of your size, this means that you can pick the gem size for your men's sapphire ring. Our men's sterling silver and gold rings will have the same quality standards, the choice of metal will depend on your preference.
Let us say a few things about the MAN54 Sapphire Ring For Men, the ring is shown here with trillion shaped rubelite gemstones. By investing substantial metal weight in this handsome men's ring, we ensure that the ring will be sturdy and keep looking good for a very long time. All the gems in this ring are bezel set, the entire edge of each gem is bordered with metal. Our experts agree that this is the most secure way to mount gems. The side gems as shown in the image are rubelite but, you can pick the gemstones of your choice. The substantial thickness assigned to the metal will keep the ring from bending or denting easily. When you evaluate the price tag for the MAN54 sapphire ring keep in mind that this ring, will serve you well for years and decades. A light weight men's sapphire ring with flimsy design and workmanship will be cheaper but, it is will most likely require frequent repairs and replacements.
Men's Sapphire Ring Highlights:
The design and gems for your ring can be selected by you, the design can be yours or ours.
You can request for a blue, white, yellow, green or pink sapphire gem for your ring.
Men's 925 silver and gold sapphire rings have the same quality of gems and artisanship.
Our rings generally have 40% to 60% more metal weight as compared to what others provide.
Every men's sapphire ring design is researched to have good looks and be long lasting.
We use natural sapphire gems, authentication certificates can be provided on request.
The side gems in the MAN54 ring can be selected by you, we place no limitations on your choice.
We provide two grades of sapphire gems, you can make a choice based on your budget.
Details And Buying The MAN54 Ring: Since all Kaisilver jewelry is made to order and given complete attention by highly skilled craftsmen, your men's sapphire ring can be crafted with our design or with design ideas provided by you. You could retain the basic concept of the MAN54 and request for modifications based on your preference. For example, the center 9x7mm oval blue sapphire could be upgraded to a 10x8mm gemstone or, the side gems could be left out of the design etc. Before you decide on these modifications, review full details at the MAN54 Men's Ring Report and discuss your requirements with our support experts. The report also gives pricing and payment details but, do not be in a rush to confirm your order. Make sure that all your questions are clearly answered before making a buying decision.
Kaisilver: As the leading online high end custom made jewelry provider, we craft all jewelry with no limitation on design or gemstones. Equal attention and quality standards are provided for sterling silver and gold jewelry. We encourage you to discuss all your gem and jewelry related queries and requirements, with our experts at sales@kaisilver.com The team consists of functional experts related to every aspect of gemstone and jewelry production and design. They are geared to educate and provide solutions rather than, to bring in sales revenue for our business.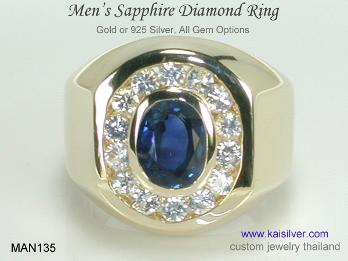 A men's sapphire diamond ring custom made in 925 silver or gold. The impressive ring has built in features to enhance its durability, a perfect jewel for casual or formal wear. The design features of this sapphire diamond ring for men can be customized to suit your requirements, based on your budget you can select either a medium or good grade sapphire gemstone. All sapphires are natural and not synthetic. Read more about this sapphire gem stone ring ... more.
Testimonials: Dear Kaisilver, Thank you to you and your wonderful sales team for the ring I received yesterday. It is beautifully weighted and faceted, husband says it feels wonderful,and it looks fabulous on his hand. Such craftmanship is hard to find! Look forward to more business with you in the future. Most sincerely ... Jeanette U.
I received the ring on Friday, December 21 at 3:14 PM. It looks gorgeous! The ring crafters did an excellent job with it. I highly commend all of the workers who were involved with the production of this ring. The band is very masculinely thick, yet the fit of the ring is buttery smooth. The cut amethyst looks wonderful in the setting - more so than I had expected. Your sales staff has been extremely professional throughout the past weeks since I ordered the ring. I am sure that I will speak highly of Kaisilver in the years to come. Merry Christmas, Happy New Year, and Great Job!I will be your best salesman here. Thank you ... Tony Elrod.
...more.