Men's Sapphire Ring With Diamonds - MAN135
Sapphire one of the best known gemstones has been highly sought after for many centuries. Folklore, customs, traditions and ancient beliefs combined with the beauty and rarity of this gem, have ensured a consistent demand for sapphires. The patronage that sapphire got from British Royalty did reinforce the gem's use in wedding and engagement rings but, some interesting folklore has also played an active role. Sapphire has through the centuries symbolized true love, truth, royalty and sincerity. This obviously make it a perfect gem to mark a wedding or engagement, few of us would not have heard of sapphire engagement rings. The MAN135 men's sapphire and diamond ring is a fine jewel that can be worn even for the most formal occasion but, it is also sturdy enough to withstand frequent and prolonged wear. When you review the price options for this sapphire gemstone ring keep in mind that, it adorns two of the most coveted and expensive gems ever used in jewelry - diamonds and sapphire. We have included a number of advanced features aimed at enhancing the long term durability of this men's sapphire ring. Nature has also helped us by blessing sapphire with a hardness rating of 9 (out of 10) on the Mohs scale and diamonds, are well known as the hardest natural stones to be used in jewelry. The truth however is that, toughness of gems alone cannot guarantee the durability of a jewel.
Durability Enhancing Features:
Both silver and gold men's sapphire rings have good metal weight, this prevents denting and deforming.
The 9x7mm oval sapphire in the center is bezel set, the metal around the stone also helps protect the gem.
The gems and diamonds do not protrude too much above the ring, this avoids damage by physical impact.
Large ring sizes will have additional metal weight, you will be informed accordingly if this is done.
Broad band width and even the portion behind the finger measures 6mm (0.6cm).
Customization Ideas: Each men's sapphire ring is custom made from start to finish, we can therefore include all your preferences. And if you wish to have a ring with a totally different design concept, just send us an image or sketch and we will work on a price quote for your ring. Here are some ideas that you could consider when ordering the MAN135 diamond and sapphire men's ring. Some of these modifications might involve an additional cost but, our team will email you a price estimate well before you finalize the order. The ring is shown with a 9x7mm oval sapphire gem, you might want to go for a 10x8mm oval gem and could then leave out the diamonds from the design. You could also go for the larger gem and retain the diamonds in the ring too. The halo of white diamonds around the center oval sapphire gem, gives the jewel a superior and lavish look. If you would like to lower the price point of your sapphire men's ring, you might want to request for the 2mm round diamonds to be replaced with white sapphires of the same size. We place no restrictions on your gemstone choice and if you wish to stay with sapphire, remember that this gem is found in a range of colors and not just blue. Sapphire colors suitable for men's rings could be white, blue, green, yellow and orange. We strongly suggest that you discuss your requirements with our support team before, finalizing the purchase.
Buying And Other Details: The MAN135 Sapphire Diamond Ring Report, will give you detailed information related to the features and pricing for this impressive ring. You can email our support team at sales@kaisilver.com and request for any information that you might need. The high degree of customization that we provide ensures that, you need not be restricted by what is written or presented on our websites.
Kaisilver: A strong commitment to quality combined with a team of experienced and dedicated designers, craftsmen and gem experts have put us far ahead of the competition. More than 7,000 jewelry and gem lovers spread over 17 nations proudly wear gems and jewelry sourced and crafted by Kaisilver. Discuss your gem and jewelry interests with our team at sales@kaisilver.com and learn, how we can deliver optimum value for the money that you spend.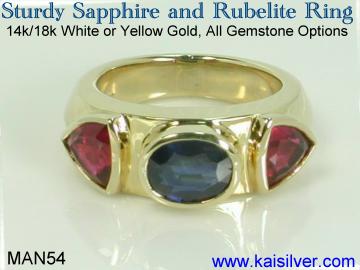 A tremendous sapphire ring for men, crafted by skilled artisans in 14k or 18k gold and 925 sterling silver. Shown here with rubelite gems on the sides but, you can pick the gemstones of your choice. You could pick a blue, yellow, green, orange or white sapphire for your ring. We place no restrictions on your choice of design or gemstones. A stylish, tough and long lasting custom men's ring ... more.
Testimonials: Dear Kaisilver: Just a note to say "Thank You" to you and your company. The Emerald Claddagh Ring that I ordered for my wife's birthday arrived today, in time for her surprise birthday party this coming Saturday. The ring is beautiful, more than I expected. And you have provided excellent service. I would definitely consider using your company again if I'm in the market or jewelry, and would recommend you to others. Thanks again for your excellent service ... Daniel R, CFP
I just received my ring and I had to send you a note of thanks. It is as beautiful as I expected it would be. Your patience with my questions was always gracious and the answers prompt and courteous. Please extend my thanks to the entire company and the artists who created this piece of art during extremely trying times for you. Feel free to use my endorsement of your company on your website, and I will be sure to tell everyone about your company. Thank you and God bless all of you ... Lynn St. Martin
... more.