Mens Yin Yang Ring, Kaisilver Highend Jewelry
The MAN76 mens yin yang ring is special in more than one way. The concept for the gold or 925 silver mens yin yang ring makes it a classic jewel. The intricate gem cutting used to cut the black onyx and white mother of pearl is not something that many jewelers can handle. Most mens yin yang rings that you come across would have a simple design and construction, few would attempt something so elaborate and exacting. It would surely be easier to make a simple men's band and have the yin yang symbol etched on the jewel. Kaisilver would ofcourse be glad to custom make such a ring for you, we can infact custom make all jewelry in gold or 925 silver with the design and gemstones of your choice. In this report we will talk about the features of this men's yin yang ring and also try to briefly explain the meaning and significance of the yin yang symbol.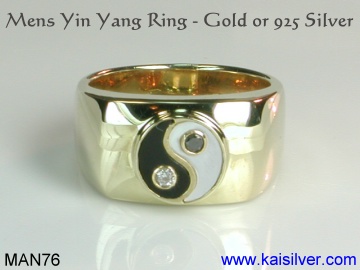 The MAN76 mens yin yang ring from Kaisilver is more than a simple yin yang ring. It is a highend jewel that is crafted to suit a prince. Backed by a team of some of the finest jewelry craftsmen and artisans, our designers have confidently accomplished something that few jewelers would have even attempted. The meaning of yin yang jewelry is in the meaning and significance of the yin yang symbol itself. Having said that it is no secret that, we really need not have put in efforts to make such an elaborate men's yin yang ring. Let us talk about some prominent
features
of this Kaisilver mens ring. You will first of all be pleased to know that the MAN76 is provided with the same quality of design, gems and craftsmanship for the
silver or gold
version. What you see here is a 14k mens yin yang ring in yellow gold. When you order your 14k mens ring, the choice of a yellow or white gold yin yang ring is yours. We ofcourse offer 18k gold as an option too but keep in mind that, 14k is a bit harder than 18k and is therefore much stronger. We must mention here that, the healthy metal weight of
20 to 25 grams
ensures that, neither 14k nor 18k mens yin yang rings are fragile or flimsy.
One of the very unique and interesting features of this yin yang ring for men is the way in which the yin yang symbol is depicted on the ring. Skilled gem cutters intricately cut

black onyx and mother of pearl

to precisely fit the metal mounting. This is not an easy task, as our objective was to avoid the use of glue to fix the gems in place. The gems are firmly held in place with a

metal border

, much tougher than using glue but surely more sturdy and firm. When the MAN76 mens yin yang ring was released by Kaisilver, few 'reputed' jewelry houses in the U.S and Europe ridiculed our efforts at firmly setting the gemstones. They claimed that a simple gem inlay process would give faster results. While we do not have the inclination or the resources to broadcast the rubbish in these claims, we will educate you regarding gemstone inlay in a few sentences. Gemstone inlay rings rely completely on glue to fix the gemstone to the metal mounting. This is NOT how we wanted to mount the gemstones in the MAN76 mens yin yang ring in gold or 925 silver. The glue used to stick gems is a special type BUT, is prone to weakening over time. Heated conditions, severe humidity, or even soaking in water can weaken the glue - this obviously results in the gemstones loosening and even dropping off the mounting. Kaisilver can make gemstone inlay rings but we make sure that, buyers understand the implications of gems mounted in that process. We will once again repeat that, the onyx and mother of pearl used in this yin yang ring have NOT been mounted using glue.

If you are impressed with the gemstone setting in this Kaisilver men's ring, what you hear now will amaze you. Notice the

two small spots

that are part of the yin yang design in the ring. We will talk about the yin yang meaning later in this report but, for the moment suffice it to know that the small spots have immense meaning. The white stone that you see set in the black portion of the yin yang symbol in this ring, is a white diamond. And the black stone that you see mounted in the white portion is a black diamond. The mounting of the

black and white diamonds

, is once again a great accomplishment by our skilled craftsmen. Each diamond is first set in a metal mount and then set through holes mounted in the onyx and mother of pearl. We did say that it really is not necessary to go to such great lengths to make a yin yang ring. A simple band ring with a yin yang symbol etched could also be referred to as a mens yin yang ring. The fact is that at Kaisilver, we make all types of jewelry and can even custom make a simple straightforward yin yang ring for you. But since we are talking about this unique and very impressive yin yang mens ring, it is quite relevant to disclose it's amazing features.

We mentioned above that, the MAN76 mens yin yang ring can be ordered in

gold or 925 silver

. You might wonder whether the mens sterling silver yin yang ring would be as impressive as the gold ring shown here. Lay to rest any doubts that you might have about the quality of the gold or silver yin yang ring. We utilize the same talented team of designers, craftsmen and gem experts to produce gold and sterling silver jewelry. Our strict quality standards are equally applied to all jewelry irrespective of the metal selected by the buyer. This means that, your mens 925 silver yin yang ring will have the same quality as the gold ring. The hefty

metal weight

does two good things for your men's gemstone ring. While it surely increases the durability of the jewel, it also makes the ring more comfortable to wear. So if you feel that your budget cannot cope with a gold yin yang ring, a good choice would be to request for a custom mens silver yin yang ring. The point is that a highend custom silver mens ring that is durable and long lasting is better than, a light weight flimsy gold ring that will bend and deform at the slightest impact. Many jewelers might still talk you into accepting a lower weight yin yang ring but, that is only because gold brings them more margins as compared to silver.
We did say that many men wear a yin yang ring because of it's meaning and significance. So what exactly is the
meaning of the yin yang
, we will talk about that right now. The important thing is that the significance of the yin yang symbol is relevant to all of us irrespective of religion, nationality, gender, profession or age - read this sentence over and over again until you have fully comprehended it's meaning and implication. The yin yang ring represents
two opposite forces
, sitting next to each other. The deeper meaning is that, any two people, ideas, nations, religions or ideologies can live together in
harmony
. This is perhaps the biggest interpretation of the yin yang ring, or any type of yin yang jewelry. At home a husband and wife can have their own likes and dislikes and yet, stay happily together. At work collegues might differ on political or religious and work related issues but, can still work together to constructively achieve the department and organization goals. At school children must be taught to accept and adjust to classmates with differences that could be physical or mental. The
shape of the black and white
portions of the yin yang is interesting too, notice that there is no straight line running through that divides the circle into two exact halves. This would have been easier to design but, the meaning of the symbol would either diminish or be incomplete. The symbol as you can see on the MAN76 Kai Silver yin yang ring for men, now appears as if the black and white portions are
fluid and flowing
into each other. The implication of this is that, the to opposing forces represented by the black and white portions are not static - they are dynamic and keep interchanging. Relate this to your life, and it would imply that neither good times nor the bad times last forever. It is important to keep a balanced mind and a positive attitude during all times. Another feature that is small in size but large in meaning, is represented by the white and black diamonds in the above mens yin yang ring. The
spots in the white and black portions
have opposite color to their respective backgrounds. These are to remind us that nothing is all good or all bad, there is always a little of the opposite in each of them. Kaisilver researchers have given a
birlliant interpretation
that will help in today's world. When things are going well and everything seems to be going your way - do not forget the less fortunate. Also do not forget that you should keep things within limits and excercise self restraint, as there is always a possibility of things going the other way. Equally important is when 'every' thing seems to be going wrong. Do not get depressed and get into a negative mood - you run the danger of not noticing some good opportunities when they come your way.
We do hope that you have had a good time reading this report on mens yin yang rings. We would like to add that, not all believers of the yin yang concept buy or wear yin yang jewelry. You can just believe in the concept and include it's interpretations into your lifestyle. Some people hang a poster of the yin yang symbol on their wall, others save it as a wallpaper on their computers.
If you wish to order the MAN76 mens yin yang ring in gold or silver or, need more information on any issue related to gemstones or jewelry - we urge you to contact our support experts at
sales@kaisilver.com
They will be glad to guide you without pushing you to make any kind of purchase. We believe in educating buyers and allowing them to make well informed buying decisions. Impulse purchases are good neither for you nor us in the long term. We have provided the price chart for this yin yang gold or silver ring below. You can check more details or
order the jewel
from our regular website at
http://www.jewelry.kaijewels.com/yin-yang-ring-for-men-man76-kj.htm
You will also see some
other yin yang ring suggestions
on the same web page.
Pricing For The MAN76 Gold or Silver Yin Yang Ring For Men