Mens Diamond and Garnet Ring [MAN25]
The men's garnet and diamond ring from Kai Silver has brought in two sets of reviews. While a large number of fashion experts and jewelry lovers love the jewel, other interesting views have also been expressed. Some people who believe that diamonds should be worn only by the rich and famous, question the idea of including diamonds in a men's ring that has an 'ordinary' gem stone such as a red garnet! While we always welcome criticism and differing opinions to the highend custom jewelry that we craft, we cannot agree with the term 'ordinary' being used to describe a red garnet. This is an awesome gem stone, with Kaisilver procuring all red garnets directly from the mines - we ensure that no enhancing treatment is applied to the gemstone. This means that the red garnet in your mens silver or gold garnet ring is
untreated and natural.
If you had to compare the features and prices of red gems, red garnet would come out a clear winner. It is modestly priced, not treated and available in fairly large sizes.
We might also mention here that
garnet is the January birthstone
. You might not be aware that garnets are available in a few other colors too. Green garnets can be found as tsavorite and demantoid garnet, a yellowish brown variety of hessonite garnets is also found in natural form. Mandarin and spessartite garnets can have a little or lot of orange to them too. Having said that the fact is that, red garnets are the most popular garnet colors to be used in jewelry. You can get more information on any issue related to gems and jewelry by contacting our experts at
sales@kaisilver.com
We are always glad to hear from you even if, you plan to buy nothing from us.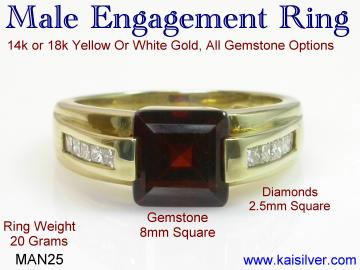 The
MAN25 mens garnet and diamond ring
is impressive and sturdy. The diamonds that line up on the side of this gold or silver garnet gem stone ring for men are optional. The design and appearance of this custom garnet ring look far more expensive than the price tag would suggest. Red garnets are very popular with men, the modest price and the deep red color that is not flashy or loud impresses men. The researched designs at Kaisilver ensure that you get good looks and durability in every jewel, some of the features are so advanced that many jewelers are not even aware of them. However they will all add to the longterm durability of your mens red garnet gem stone ring. In this report, we will talk about the features of the ring rather than push you into making a purchase. Once you have studied the features, make an evaluation between our garnet mens rings and those provided by others. That should be the input used to guide you into making a well informed buying decision. Just keep in mind that every jewel made at Kaisilver is customizable to include all your preferences. Your imagination and budget are the only constraints that you need to work with.
Let us now study the essential features of this mens garnet ring. You will realize that many of these features are not clearly visible at the first glance but, quietly play a background role to enhance the durability and strength of the jewel. Let us begin with the

gemstone

, a nartural red garnet cut by some of the most experienced gem cutters. The fact that we source the garnets at the mining sites mean that, we need not settle for second best - after all that is the starting point for sending garnets across the world. We pick the finest pieces and bring them to our skilled gem cutters. By keeping a keen check on the procurement and cutting phases, we can confidently say that the gemstone in your gold or silver garnet and diamond ring is

not treated

in any way. Since the gems are cut after the gold or silver casting is made, there are no adjustments or quick fix jobs performed by the gem setters. The custom cutting also means that, we need not limit our gem selection to fixed inventories. Now move to the shape of the red garnet gem in this men's ring, notice that the top of the stone is

almost flat

. It would not have been tough for us, to custom cut a high gemstone with multi facets (checkerboard) on the surface. The point is that, a higher profile gem is more likely to get damaged, scratched or cracked when it comes in contact with hard objects and surfaces. We would like to mention that the gem stone for your mens ring, could be any gem of your choice.


The
diamonds
in this mens garnet and diamond ring are an interesting feature to comment about. Fashion experts who praised this garnet ring, loved the line of glitter added by the side diamonds. At the same time some of experts, did not agree with the idea of using diamonds along with a 'simple' garnet. The fact is that, we at Kaisilver believe that diamonds need not be a reserved species for the rich and famous alone. The pride of owning a gem stone and diamond ring can be for all of us, at a price that does not make headline news! In any case, the diamonds have been incorporated into the design, so we will talk about them. If you really feel that the diamonds should be kept out of this garnet ring for men, then you will be glad to know that - the
diamonds are optional
. If you decide to leave out the diamonds from your gold or 925 silver mens garnet ring, you can request for a single gemstone ring (only center gem) or have the diamonds replaced with
other gems
of your choice. There is an interesting reason for including the diamonds in this garnet mens ring. The first dozen rings that were ordered in this design were to be used as men's engagement or wedding rings, the diamonds added glitter and made the ring look very special. You could ofcourse wear your Kaisilver men's garnet ring as a casual wear jewel too.
Now to the setting of the diamonds, the imge will make a few things very clear. You will notice that the diamonds are recessed into the ring. This was done with a specific objective, and here are the designers notes. If the diamonds used prong settings, the prongs would most likely get caught in pockets and other places. In the longterm this problem leads to open prongs and loose stones. We therefore decide to make sure that the diamonds did not protrude from the surface of the ring. A smal but very important detail that most jewelers would not even care to think about.
The
metal options
for your mens garnet and diamond ring are important too, we have made sure that the ring is suitable for a wide range of personal preferences and budgets. The MAN25 mens ring with garnet gemstone can be custom made in
gold or 925 silver
. What is very important and unique is that, we give the same attention to quality and craftsmanship for the gold or 925 silver garnet ring. Very few jewelers can make this claim, but at Kaisilver it is true of all the jewelry that we make. When ordering the mens gold garnet ring you can choose from an 18k or 14k gold ring. There was a time when men believed that a mens white gold ring would appear dainty and feminine, the Kaisilver
mens white gold ring
collections have now wiped out that wrong notion. When it comes to choosing an
18k or 14k
mens ring, there is a technical issue that you should know. The composition of 14k gold makes it a bit harder than 18k gold, this would mean that a 14k mens garnet and diamond ring would be stronger than a similar ring made in 18k gold. When it comes to yellow or white gold mens rings, let your personal preference make the selection.
It is necessary to check the
metal weight
of your mens gold garnet ring to ensure that durability has not been compromised. Rising gold prices in recent years, have pushed jewelers to design and craft jewels with increasingly lower gold weight. While this gimmick might initially result in lower price tags, it is well known that insufficient metal weight can drastically cut the longterm durability of the jewel. Your Kaisilver mens garnet and diamond ring in 14k or 18k gold will have a minimum weight of 20 grams - this is around 40% to 60% more as compared to what other jewelers would provide for a similar ring. Healthy metal weight is provided for the gold or 925 sterling silver garnet ring for men.
When talking about a
sterling silver
mens ring, there are a few important things to note. Firstly, we would suggest that you avoid choosing a gold, rhodium or platinum plating for your mens silver garnet and diamond ring. Leave the ring
unplated
because, any type of plating done on silver jewelry will wear off after a while. When your ring does tarnish, you can use any commercially available silver polish lotion or cloth, to polish the tarnish away. We have already mention this above but will mention it again here, the gold or silver mens garnet and diamond ring will have the same quality of design, gemstone and craftsmanship.
Craftsmanship
: When you purchase a jewel from Kaisilver, you are not limited to a fixed set of designs, dimensions or gemstones. This is because we control the entire production process and custom make every single jewel. Some of the finest craftsmen and artisans will work on your mens garnet and diamond ring, complete attention and concentration is given to every single detail. Our craftsmen are encouraged to deliver quality irrespective of the price tag or the metal selected. If you have followed the mens jewelry market segment before Kaisilver entered the scene, you might remember the gimmicks that jewelers played. Buyers were given to believe that good craftsmanship for a mens jewel would make it appear feminine and fragile. Fortunately, that selfish talk has been stopped now and buyers realize that they can demand durability and looks. We would also like to say that, craftsmanship is not just about external beauty. Firm mounting of gems and diamonds, keeping away sharp and pointed edges and corners are all influenced by the level of craftsmanship provided for a jewel. At Kaisilver each gem is handpicked and custom cut to precisely fit the finely crafted gold and silver mountings - this is also something that requires the services of crafsmen with excellent gem cutting skills, a resource that we always have had.
Ring Pricing
: If you wish
to order this ring
, we would suggest that you visit our main website at
http://www.jewellery.kaijewels.com/man-engagement-ring.htm
and check complete details for the ring. The price charts below will give you an idea of the pricing based on gem and metal selection. You can also see the effect on price if, the diamonds are taken off the design or other gems are used instead of the side diamonds. Our support experts at
sales@kaisilver.com
will be glad to provide any clarifications or specific price quotes that you might need.
Kaisilver is the world's leading online custom jewelry provider from Thailand. All our custom jewelry can be made in gold or 925 silver with design and gemstones of your choice. We provide the same quality of design, craftsmanhip and gemstones for gold and 925 silver jewelry. With direct contacts at all leading mining and gem cutting locations, we have preferential access to over 200 million carats of gems. We can procure and custom cut just about any gem stone as per your requirements. Our support experts at
sales@kaisilver.com
will be glad to guide and advice you on any issue related to gems and jewelry.