Custom Garnet Rings For Men
A true custom made garnet men's ring would mean that, you choose the gemstone, the design and the dimensions of the gem and jewel. Kaisilver offers custom made jewelry services with virtually no limitations, all that you will need to take care of is your budget. Men's rings have some typical features or rather preferences, that need to be taken care of. For example men prefer to wear jewelry that is durable and sturdy, you cannot expect them to fuss and worry over their accessories. Though the metal weight is not the sole factor that will influence the durability of your garnet men's ring, it does clearly affect the condition of the ring in the short and long term. The design structure of a ring will decide how the gem is going to be mounted in the ring. From our experience we would recommend, a bezel setting for your men's garnet gemstone ring. In a bezel setting, the entire stone is bordered with metal. This keeps the stone firmly in place and also prevents side impact from damaging the stone.
In this report we are going to talk about some very specific examples of garnet gemstone rings for men and try to explain, ways in which they could be personalized to meet your preference or requirements. Once you have got an idea of this content, you could communicate with the support team at Kaisilver at sales@kaisilver.com or, work with any jeweler of your choice to have your favorite men's garnet ring custom made.
CUSTOMIZATION IDEAS FOR THESE GARNET RINGS FOR MEN.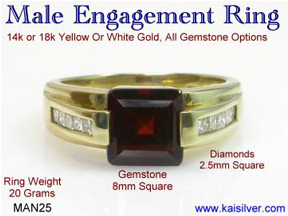 It is not very often that you come across a red garnet gemstone ring for men with, natural diamonds set in the jewel. The MAN25 men's garnet diamond ring was first designed and crafted by us, for a client who wished to wear it as an engagement ring. You could surely wear the jewel for just about any occasion including, a casual wear ring. This garnet ring for men is shown in 14k yellow gold with an 8mm square red garnet stone. The diamonds in the ring are 2.5mm princess cut stones, there are 5 such diamonds on either side of the square garnet in the center. The cost of the diamonds adds a significant component to the price tag. One of the features that could be personalized is the, choice of gems other than diamonds for the side stones in this men's garnet gemstone ring. When choosing the side stones keep two things in mind, hardness of the stones and the color element. Rubies and sapphires would be the best choice as, the gems are durable and can hold color even when the gem size is as small as 2.5mm square. While ruby gems would be red, sapphires can be picked in a range of colors and not just blue. Sapphires could be white, yellow, pink, blue, black and green. Don't forget that replacing the diamonds with gems would also, cut the diamond cost off the price tag. It is true for all Kaisilver jewelry and not just this men's garnet ring that, your metal choice will include 14k or 18k white, yellow or rose gold, sterling silver and platinum. Begin your journey into the world of this mens diamond garnet ring here.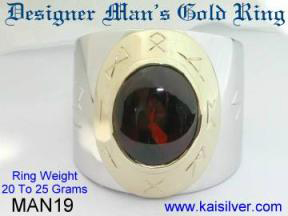 If there ever was anything like a men's designer ring, the title would go to the MAN19 men's garnet ring in gold or sterling silver. A hand cut smooth cabochon oval red garnet gem is set, in a two tone gold ring. You could select a 9x7mm or 12x10mm oval red garnet for this ring. The first possibility for customizing this big garnet men's ring is in the gem cut itself. Although the ring is shown with an oval cabochon gem with no facets, you can request for a faceted red garnet instead of the smooth cut. Now let's turn our attention to the gold or 925 silver mount for the ring. This is a two tone gold garnet men's ring. While the entire ring is crafted in white gold, the portion surrounding the center garnet gem is done in yellow gold. If you choose a men's garnet ring with this design concept, you can request for the ring to be made in a single gold color or even, reverse the two metal colors on the ring. We provide the same quality of gemstone and workmanship for the gold or 925 silver garnet ring for men. And if you wish to have your men's silver ring plated, we offer options for white rhodium, yellow gold and rose gold. But before you take a decision to plate your silver men's ring keep in mind that, no plating on sterling silver is permanent - it will wear off after some degree of wear and tear. The symbols etched around the border of the gemstone had some specific meaning for a Kaisilver client. You could leave the portion around the gemstone empty or, request for some symbol or text to be accommodated there. The two gem size options mentioned above, will obviously provide for two different ring dimensions, so if you are looking for a smaller ring, pick the 9x7mm oval garnet gem. Spend some time reading the details for this custom men's garnet ring here.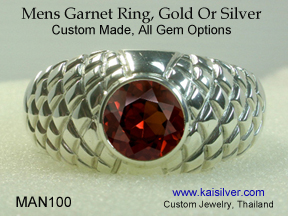 Men's rings with textures on the band are the trend so, let us review the options that the MAN100 men's garnet ring can provide. Starting with the metal and the most popular choices being, gold or 925 sterling silver. For this specific custom garnet ring for men, we would do feel that sterling silver will be more impressive than, gold. If you leave your custom made silver men's garnet ring un-plated it will tarnish after a while. Cleaning the jewel and removing the tarnish will be quite easy but, you should leave some amount of tarnish on the jewel. This tarnish will gather in the criss-cross grooves that form the texture on the ring, and this will help enhance the visibility of the texture. We can surely craft this men's custom ring with red garnet in 14k or 18k gold, so let us know what you prefer. Another feature of the custom gold or silver garnet men's ring that can be personalized, is the texture on the ring. Shown with a criss-cross texture but crafted with the texture of your choice. You can request for a hammered texture, a pebble texture or even a (tree) bark texture. Let us know if you have any more texture ideas and we can do one of those for your garnet men's ring. And if you would prefer a plain men's garnet ring with no texture on the metal, let us know and that is exactly how we will craft your jewel. Other options might include the request for an oval or square garnet gem instead of the round stone, we can do this too but feel that the design concept of the ring is best suited for a round gemstone. Get a closer look at the MAN100 men's custom made ring with garnet, and discuss your requirements with our experts here.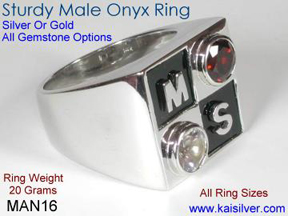 Probably one of the most versatile custom men's garnet rings that you will find. The MAN16 mens garnet initial ring symbolizes individuality. There are two gems in this ring, and two initials set on black onyx. The initials can be selected by you, and you could request for a change in the design concept to accommodate, a single gem and a single initial. With that configuration, you would get a terrific father's ring which would include the initial from your father's name and his birthstone. The selection of a single initial and a gem next to it, would also provide a more compact format for this custom men's ring. The casting of the initial happens separately, the alphabet is then polished and finished to perfection. A black onyx stone forms the base for the initials, no glue is used to set the black onyx gem or to set, the initial on the onyx. It would have been easier to cast the initials along with the rest of the ring and use, black enamel to form the background for each initial. But that would not constitute a finely crafted jewel, so we avoided the use of enamel. Each custom made jewel from Kaisilver packs, features that promise both style and durability. If you plan on getting a men's gold garnet ring with this concept, consider the option for a two tone ring. The entire ring could be made in white gold with the initials being done in yellow gold or vice-versa. On the other hand you could order this jewel as a men's 925 silver garnet ring, this would enable you to customize the price tag to a mode moderate level. Understanding the details for this custom garnet men's ring would inspire you with more ideas for personalizing the jewel, so get to know the ring here.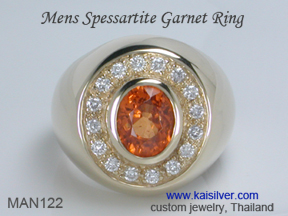 Get off the beaten track and wear a tremendous spessartite garnet men's ring with a natural reddish orange spessartine gem. This is a rare variety of garnet with good sparkle and beauty. Kaisilver custom spessartite garnet rings for men are set with a carefully selected natural untreated gem. Science has now proved that garnets are available in an array of colors and not just red. Spessartite garnet is a sparkling gem and would have surely enjoyed a higher popularity if, it was not for its extreme scarcity. Natural spessartite garnets mined today will almost always, show visible inclusions inside the gem. Our experts recommend choosing a gem with a fair amount of color saturation, this will best bring out the color and sparkle of the gem. When this happens, the focus shifts to the exotic color of the gem, the internal inclusions and fissures get softened. The MAN122 is a custom made men's spessartine garnet ring and can be ordered in gold or 925 sterling silver. The ring has a row of glittering diamonds around the center gemstone, you can choose to have white sapphires instead of diamonds. If you prefer to have this spessartite ring for men with a red garnet, we can surely do that for you since each ring is made to order. The color range of spessartine garnets ranges from orange to a saturated reddish-orange. Just remember that, a light gem color will make the internal inclusions appear even more glaring. Read all about this handsome spessartite men's ring ... here.
Kaisilver: With the high degree of customization that we provide, there is nothing that we cannot feature into your jewel. Don't forget that, your custom man garnet ring, can be crafted with your own design too. Our Men's Garnet Ring Collection, features some amazing jewels that can be crafted in gold or 925 sterling silver. We can modify the features of these men's gemstone rings to cover your preferences. It is not only the metal castings that we custom make, every gem that goes into these rings is picked by experts and custom cut by extremely skilled cutters in Thailand. Our support team at sales@kaisilver.com would be glad to help you with any requirements or questions that you might have. And since you will never be under an obligation to make a purchase from us, there is no reason for not getting the benefit of our expertise in gems and jewelry.