Wedding Ring For Men With Diamonds
Diamonds are all about glitter and fire, historically they have symbolized sincerity and purity. The beauty of diamonds, combined with their high price and traditional beliefs, make the stone a highly favored option for wedding rings. Most of us allocate a fairly high budget for special occasion jewels. Men's diamond wedding rings are very popular, you would be seeing much more of them had it not been for the significant price tags that they wear. Kaisilver experts reveal that, the appeal of diamonds is universal, it cuts across religions, gender and age groups. There are some very typical features that should ideally be incorporated into every men's ring. And some of these features pose a challenge when it comes to wedding rings for men with diamonds.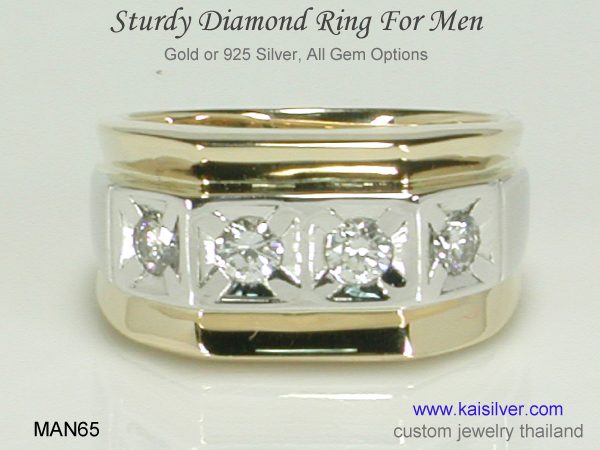 An impressive diamond wedding ring for men, can be ordered with a uniform or tapered band width. The ring is available in gold or silver. You can choose a single or dual gold color for your 14k / 10k diamond ring ... more.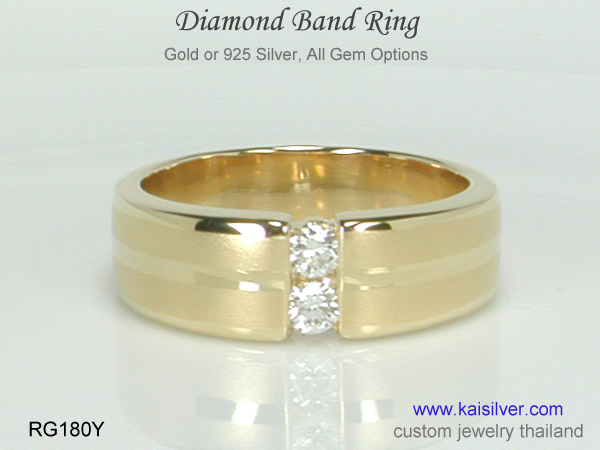 The RG180 is a custom diamond ring, perfect for a men's wedding ring. The band width of this made to order ring could be increased by adding more diamonds to the ring. You could select round or square diamonds ... more.
Typical Features Of Men's Wedding Rings:
Men prefer rings with large dimensions, ring sizes are also big.
Gemstones and diamonds generally have a bold look.
14k men's wedding rings are extremely popular.
There is a growing demand for men's 925 silver wedding rings.
Men's rings with ruby, sapphire and emerald are expensive.
Sufficient metal weight is required to maintain durability.
Some men prefer wearing wedding band rings.
When we specifically refer to diamond wedding rings for men, the issue of diamond size and overall look takes center stage. After all, diamonds are expensive and even sizes in the 3mm to 4mm range are not considered to be small or tiny. It is fine if you have a 10,000$ + budget to order a men's diamond ring with a 3+ carat chunky diamond but, for most of us this is not an option. On this web page we show two awesome diamond rings from Kaisilver. Since each of these rings is fully custom made, you could personalize the design to deliver a sturdy men's diamond wedding ring.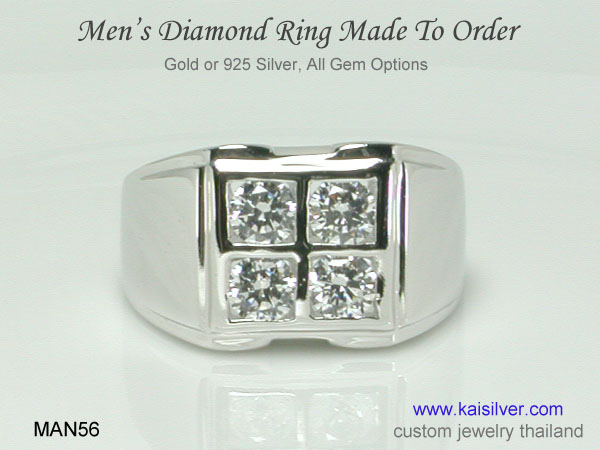 An extravagant look at a reasonable price. A yellow, white or pink gold men's diamond wedding ring in 14k or 18k gold. Sterling silver is also an option, you can choose to combine gems and diamonds in the ring ... more.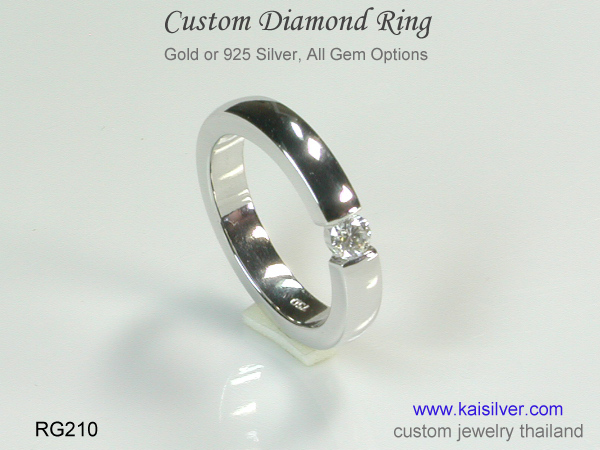 A classy men's diamond ring perfect for a wedding or engagement ring. The diamond size decides the bandwidth of the ring. Design perfectly suited for men or women - the perfect pair of 'his and hers' wedding band ... more.
The design concept for a men's wedding ring with diamonds, can have more than one modestly sized diamond. The idea is to set the diamonds close to each other, this creates a bright look and also has a 'big' appeal. Diamonds in the 3mm to 4mm size range, provide a good balance between the glitter and price. So why did we mention 4mm and not 5mm, a small dose of technical details will have to be understood. The size difference between a 4mm and 5mm round diamond is just 1mm. However this small increment in size, almost doubles the weight of the 5mm diamond, as compared to a 4mm round stone.
The metal weight for a men's diamond wedding ring should be optimized for the ring size and dimensions. This is easier said than done, most jewelers try to save on metal costs. The hope is that, the price tag can be brought down and attract more prospective customers. The fact is that, good metal weight is one of the most important requirements to configure a long lasting jewel. Kaisilver jewelry is generally provided with metal weight that is about 30% to 40% more than, what other jewelers would provide. We would suggest that you aim for a metal weight of around 20 to 30 grams, for a sturdy men's diamond ring. The exact weight would depend on the specific design being considered. The requirement, for a ring with no metal scooping done inside band, could raise the metal weight to be assigned.
So what is the best metal to choose for a diamond wedding ring for men. It all depends on personal preference and budget allocation. What is more important than the metal is the workmanship and authenticity of the ring. A men's gold diamond ring would generally be crafted in 18k or 14k gold. We would recommend a 14k men's wedding ring, the metal provides impressive hardness and is very long lasting. Picking white, yellow or rose gold will be entirely up to you. Men do seem to admire that solid and wholesome look of sterling silver, it is also true that the metal provides a budget friendly price point. If you are looking to buy a silver diamond wedding ring for men just because, it would be cheaper than its gold counterpart, here is an important issue to be considered. The effect of the choice of metal will have a significant influence on the price tag of the ring only when, the metal cost forms a significant component of the price calculation.
Custom Ring: Kaisilver experts would strongly recommend a custom diamond wedding ring for men. This jewel would be designed and crafted just for you, durability features can be customized based on the dimensions and size of the ring. Most jewelers push over priced diamond rings, buyers are hurried into making a buying decision without being completely informed. We would encourage you to communicate with our team of experts at sales@kaisilver.com They will guide you and provide complete information without, expecting you to make any purchase. The best thing is that we can craft a men's diamond ring in gold or silver for you with, your own design concept.