Sapphire Rings, Balancing Quality And Price
There has always been a belief in the fact that, good sapphire rings need to be expensive. It was probably started by jewelers who wanted jewelry buyers be more willing to purchase high bill sapphire gemstone rings. But the fact is that very few of us have budgets that can match those of movie stars and rock musicians. Kaisilver the world's leading online custom jewelry provider worked on a project related to sapphire rings. The challenge was to create a set of sapphire rings that were not very expensive, this would not have been very challenging without the other conditions that followed. We wanted to make these jewels, with natural sapphire gems that had good quality. Basically we had to do everything that, other jewelers would never do when, making affordable sapphire gemstone rings. In this report we will talk about this very interesting project, you will also learn how to select gold or 925 sterling silver sapphire rings that are of a high standard without, burning your wallet. None of the information provided here is sales talk, the report is therefore an invaluable tool for those of you who are thinking of buying a sapphire ring. Discuss your requirements or clarify your doubts at sales@kaisilver.com - get useful information and suggestions, not plain sales talk!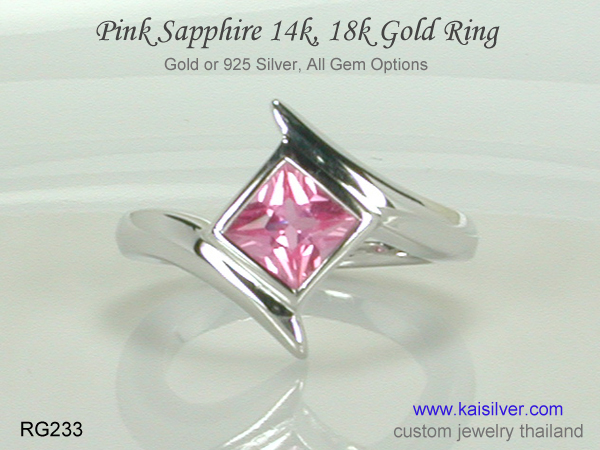 A high end sapphire gemstone ring with a sophisticated look. Sleek and yet durable, the RG233 custom sapphire ring from Kaisilver Thailand, can be ordered in gold or 925silver - all ring sizes and all gem options available. For the sapphire ring, you could request for pink, blue, green, orange or yellow sapphire. Moderately priced sapphire ring, read the full report ... more.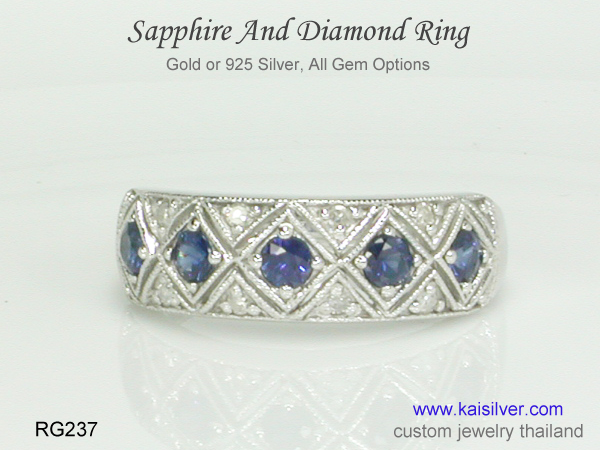 Shown as a white gold diamond ring with blue sapphires, the RG237 sapphire ring is custom made in gold or silver, the ring can be ordered as a regular band ring or with a tapered band. While you could pick the gemstones of your choice, it is also a nice idea to mix different sapphire colors in the same ring. A surprisingly reasonable price for this awesome ring ... more.
NATURAL SAPPHIRE GEMS
In this report we talk about good sapphire rings with, natural sapphire gems, good craftsmanship, in gold or silver and natural certified sapphire gemstones. Sapphires could be blue, green, yellow, orange or pink - prices vary and Kaisilver support team, would be glad to provide a price quote based on your specific requirement. The quality of the sapphire gems would be good, not the lower grade gems that are used in mass produced jewelry. Having said that we would like to explain that, Kaisilver has preferential access to over 10 million carats of natural sapphire gems. This allows us to provide the best sapphire gem for your ring, at every price point. While the rings shown on this web page would be priced in the $2,000 to $3,000 range, we can craft exotic sapphire rings that carry a price tag in the $5,000 to $50,000 range.
Sapphires have been heated to improve color and clarity for over a century. This process that we refer to as the 'old heat' treatment, does not reduce the value of toughness of sapphires. Gem experts have come to accept this form of sapphire treatment so, it is perfectly okay if your sapphire gem ring has a gem that is treated by the old heat process. Most jewelers would not care to reveal that, many of newer sapphire treatment processes, significantly reduce the durability and value of the gemstone. We will exclude such sapphire gems in our discussion, so you can order a Kaisilver sapphire gemstone ring with no stress.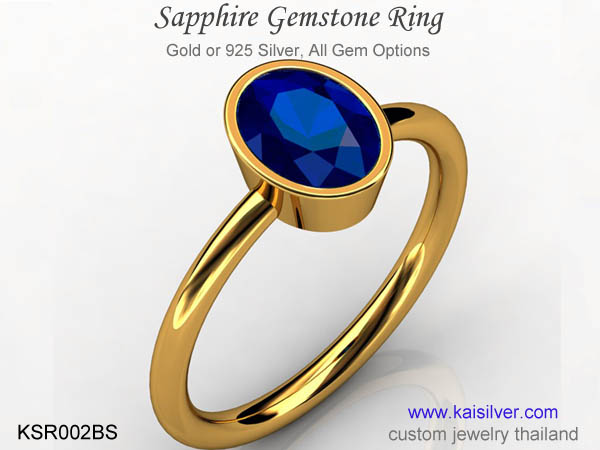 The classic oval sapphire ring design concept, that never goes out of trend and never appears outdated. Awesome sapphire gemstone ring for daily or very frequent wear. The gold band is solid and not hollow inside, this makes the ring sturdy while delivering a gentle and elegant look. All sapphire colors and all gem options, finely handcrafted in silver or gold all ring sizes ... more.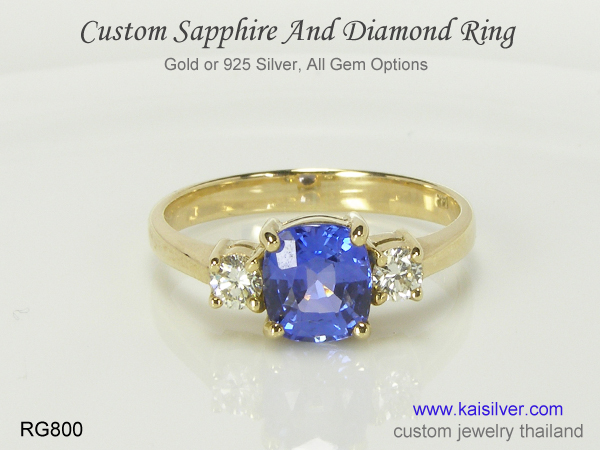 If you are looking for a luxury look for your sapphire diamond ring without burning your wallet, go for the RG800 sapphire diamond ring - one of the most ordered sapphire engagement ring at Kaisilver - the expensive look combined with a moderate price tag, make it a must have for every jewelry collection. All sapphire colors, all gem options, all sizes like always ... more.
AFFORDABLE NOT CHEAP
Should mention here that we are not trying to offer 'cheap' sapphire gemstone rings. Good sapphire rings cannot be cheap but, they can be modestly priced. When you order jewelry from Kaisilver you end up getting more value and this is not, a hollow statement. Most jewelers work through subcontractors and brokers, these middlemen add their own profit margins to the material or service that they provide. The jeweler then adds a substantial profit margin to the price tag, this to cover rents and other office expenses. And that is the price that you will pay for your jewelry. Kaisilver handles the entire production process, this includes procuring gems from the mines, doing the cutting and polishing - finally the complete crafting of the jewel. We serve over 12,000 jewelry lovers across 15 nations without, any high pitched marketing noise. Our profit margins are very reasonable and we rely completely, on satisfied clients to recommend us to their family and friends. So the price that you pay for your sapphire ring, will include just a modest element of profit - no middlemen agents fees and commissions.
A team of super skilled artisans, gem cutters, designers and production experts in Thailand - work on each sapphire ring, this irrespective of the ring being ordered in gold or silver. Strict quality checks are applied at each stage of production, most jewelry crafters perform just one hurried quality test at the end of the production process. Since each sapphire ring is a high end jewel, we do not hesitate to redo any portion of the ring, to comply to our superior quality standards.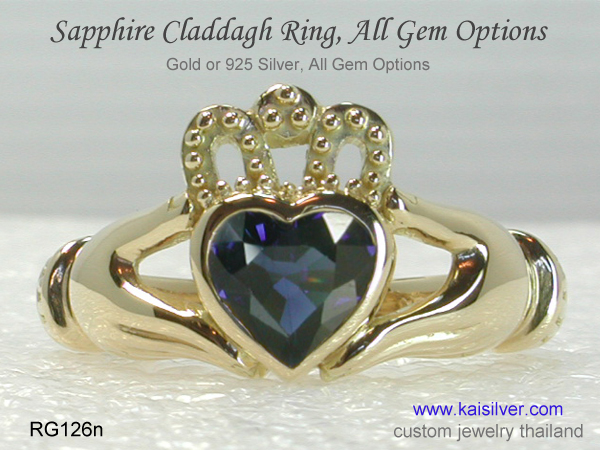 Kaisilver happens to be the most sought after fine jewelry provider, when it comes to the historic claddagh ring. One of the most meaningful jewels in history, the ring was first made about 4 centuries ago. Suitable for all occasions, the sapphire heart ring can be finely crafted in gold or silver with all gem options. Check details and read more about the cladagh ring at ... more.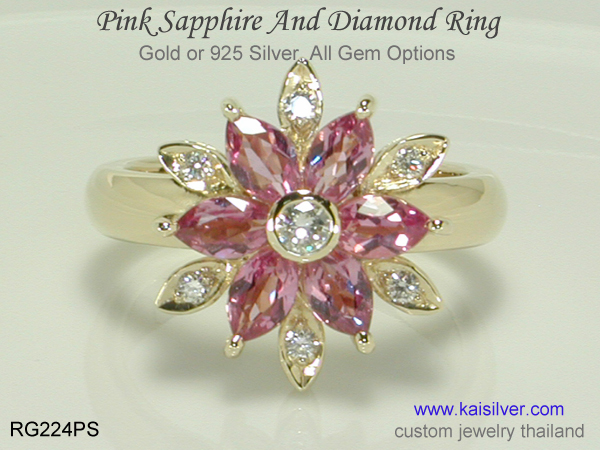 Inspired by nature the concept for this sapphire gemstone ring, delivers a high style statement. Available with your gem preference, recommended is a combination of different sapphire colors in the same ring. Consider alternating pink and blue sapphires, or yellow and blue sapphires in the ring. Just enough diamond glitter to add an extravagant look ... more.
THE DESIGN
Choosing the right design to deliver an affordable and yet good, sapphire ring is extremely important. As a simple rule sapphires are more expensive than gold, if you consider weight per gram. True that gemstone weights are measured in carats and that, 5 carats make a gram. Designs that require moderate gem sizes are, ideally suited for crafting sapphire gemstone rings that, fit a wider range of budgets. Sapphires, rubies, diamonds, emeralds, spinel and even tanzanite - show a sharp increase in price (per carat), as the gemstone size increases. As an example a 1 carat sapphire of a specific grade could cost around $500 per carat but, the same sapphire grade in a 3 to 4 carat gem could shoot up to $1,500 per carat.
If you happen to be on a tight budget and desire to buy a ring with a sapphire gemstone, a good idea is to pick a design that requires sapphires in the 0.5 to below 2 carat size. You could have a gemstone ring design that, has a few sapphires set close together - this would create a more expensive look to the sapphire ring. Just repeating that, Kaisilver can deliver medium to very high priced sapphire gemstone ring. This report highlights the possibility of getting a good sapphire gem at an affordable (but not cheap) price.
GOLD OR SILVER
The choice of metal can also influence the price of a sapphire ring. True that sapphire silver rings are generally offered with low quality standards, this to please mass markets. Fortunately things are different at Kaisilver where, the same team of expert artisans is assigned the task of crafting silver and gold jewelry. So you get the same fine quality for a silver gemstone ring in gold or silver - you can choose the metal that makes you feel good. A sapphire gold ring could be ordered in 10k, 18k or 14k gold and you can also specify, yellow, white or pink gold.
When it comes to a silver ring with sapphire, we would suggest that you keep the ring un-plated. This because any plating done on silver is temporary, the plating will wear off in patches after a while - the ring can then appear quite dull and also pose some challenges when it comes to being polished and cleaned.
SAPPHIRE COLORS
No doubt that blue sapphire rings have a large following. Though sapphires have been known for many centuries, it was believed until a few decades ago that, blue was the only color in which sapphires were found. The good news now is that, your sapphire ring can pick a gem from a spectrum of sapphire colors. Since Kaisilver places absolutely no limitation on your choice of gems, you could request for a blue, green, pink, purple, yellow, orange sapphire - this for a gold or 925 silver ring. All gems are natural and certified by an independent gem testing office.
In the case of multi gemstone rings, you could consider going for different sapphire colors in the same ring. The options are endless since all gem combinations would be possible.
RING DURABILITY
Lowering the price tag of a sapphire gem ring by cutting on metal (gold or silver) weight, might sound like a smart idea - but things really don't happen that way. Jewelers seem to be take pride in crafting light weight gold jewelry, delivering the big bold look with low gold usage - is something that you will hear often. The truth is that a light weight sapphire ring, would be flimsy and could bend or deform easily. Problems like loose gemstones and sharp prongs that could hurt delicate skin, often have their origins in low metal weight. Kaisilver jewelry generally weighs around 40% to 50% more, than similar jewelry provided by other jewelers. While insisting on optimal metal weight based on design and dimensions, does add to the price tag - there is really no point in wasting your money that could dent or deform easily.
There a few factors that together determine just how sturdy your sapphire gem ring, metal weight is one of them. In the case of sapphire, we are referring to one of the hardest gems to be used in jewelry crafting. While diamond is the hardest stone to be set in jewelry, sapphire and ruby come a close second. The right design and configuration including, the type of gemstone mounting, will also help increase the lifespan of a jewel. Fortunately these are not things that you need to worry about, when you order a Kaisilver sapphire gemstone ring. All Kaisilver jewelry is based on researched designs, equal importance is given to good looks and durability.
SUMMARY
While this report focuses on sapphire rings with a moderate price tag, Kaisilver can handle custom jewelry orders for all gemstone jewelry including rings, with sapphires or any other gemstone in all sizes and shapes.
Ring Parameters:
- Only natural sapphire gemstones used.
- Conventional heat treatment applied to gems.
- All rings have a good metal weight.
- Good craftsmanship for gold and silver sapphire rings.
- Good quality sapphire gems used in the rings.
- Flexibility and customization of design.
- Rings are priced at an affordable level.
WHO IS KAISILVER
As the leading online high end custom jewelry provider, Kaisilver today serves over 12,000 quality and style conscious jewelry lovers across 15 nations. A professional team of highly skilled artisans, gem cutters, designers and production experts in Thailand - work on all Kaisilver jewelry orders. Gold and silver jewelry are crafted to the same superior standards. By staying closely networked to leading gem mining and cutting operators across the globe, we get preferential access to over 200 million carats of gemstones. Contact our experts at sales@kaisilver.com if you have any questions or requirements. We will be glad to help and you will not be, obligated to make any purchase from us..
HOW TO ORDER
Each item shown on this web page has a link to a detailed report. You will find details of options, prices and other features in the report. The ordering process will also be explained on the detailed item report page. You can always contact us for any more information that you need at sales@kaisilver.com and the team will be glad to answer your questions. Since we can custom make a jewel for you, based on your own design concept, you are welcome to attach images or concept descriptions in your email.
You have a choice of 10k, 14k and 18k gold to choose from, you could also specify yellow, white or pink gold. We place absolutely no restriction on your choice of gemstones, your gem choice is not restricted to what is shown or mentioned on our websites. We can work with your designs or ours, all the jewelry on our websites can be ordered in gold or silver with your choice of gemstones. All requests for design modification can be accommodated.
KAISILVER REVIEWS
Thank you for the ring..it is awsome and the birthday card was a special touch..much appreciated. Much respect ... Neil Heron. ... more.