Cufflinks Custom, Gold Or Silver
Cufflinks took shape with the dawn of the era when full sleeves shirt made an appearance. Kaisilver custom made cufflinks are finely crafted jewels made in gold or silver, with natural gemstones of your choice. The initial objective for wearing a pair of cufflinks was to, keep the ends of the sleeve together. This has shifted to more than that as time passed by, men often wear cufflinks to match their mood and style, efforts are made to pick natural colored gemstones that pair well, with the color and design elements of the full sleeves shirts that they wear. True that cufflinks made from plastic, wood and similar materials have faded away. The desire to wear fine cufflinks that, exude style and confidence is the present trend. Kaisilver handcrafts fine cufflinks in gold or silver, no limitation on design or gem selection. Like all other Kaisilver custom made jewelry, custom cufflinks are shipped across the globe. You can email the expert team at sales@kaisilver.com if you have any queries.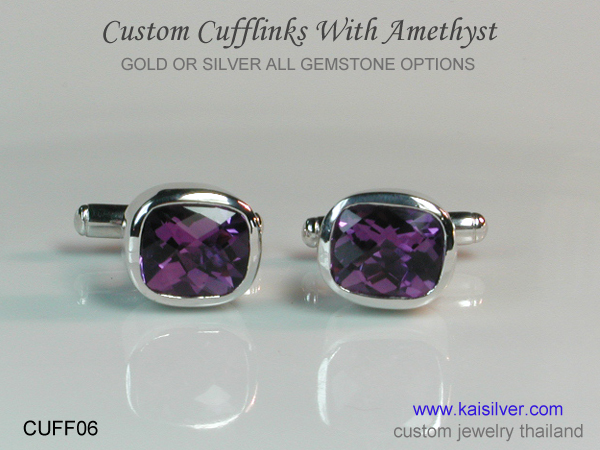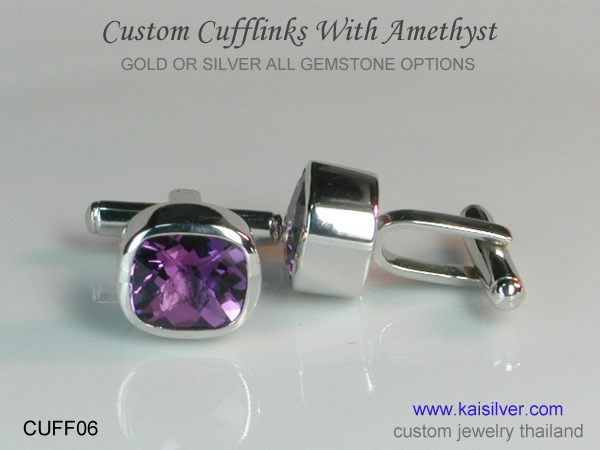 CUFFLINKS AS GIFTS
Cufflinks as gifts are also growing popular and there are many occasions when, gifting a pair of finely handcrafted Kaisilver cufflinks as a gift - to someone special or someone deserving those fine pieces of jewelry.
Cufflinks Custom, Gold Or Silver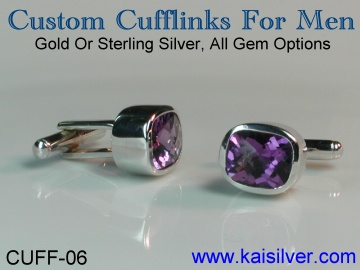 It was the full sleeves shirt that resulted in the introduction of cufflinks. The story of cuff links began with their utility value, but things are different today. Men today look at both style and utility in cufflinks, plastic, copper and even wooden cufflinks have given way to cufflinks crafted in precious metals like gold and 925 silver. Gemstones and diamonds can be seen in many cuff links and the changes, are coming at a rapid pace. An interesting thing is that cufflinks are often ordered to be given as gifts. This is not only at the personal level but also in corporate circles. Many men who really do not care much about jewelry, wear cufflinks. A wife could gift a pair of cufflinks to her husband, a young lady could do the same for her fiancee. Cufflinks would also be a good idea for gifts to be given to fathers. A close collegue or business associate could also be gifted a pair of gold or silver cufflinks. When you talk about giving cufflinks as corporate gifts remember that, the gifts would also reflect the reputation and nature of your business. We would therefore suggest that you resist the temptation to hunt for 'cheap' cufflinks to select such gifts. Badly designed or crafted cufflinks can bend or deform, they might even fall apart. If this happens to the corporate cufflinks that you gift your business associates, you risk ruining your business reputation. If you are on a limited budget for corporate gifts, try to reduce the number of people who you need to give gifts too. If even that does not help, look for some other options and keep cufflinks out of the agenda. There are many ways in which a pair of cufflinks can be made flimsy and substandard. Sharp corners or edges, use of glue to stick gems, low quality glass pieces used instead of gems etc, are some things that should not happen with your cufflinks.

In this report we will discuss the current trends in cufflinks. What are the metals used, why are some gems popular for gemstone cufflinks and why are some not so popular. What are the suitable dimensions for mens cufflinks. Is it okay to use artificial (man made) gems for your cufflinks. Does the choice of gemstone influence the design concept for your cufflinks. If you plan to get a pair of plain cufflinks, will they appear dull and boring. We will cover all this and more in this report on cufflinks so, sit back and read the details.
Design

: The concepts used for gold or 925 silver cufflinks can vary widely. The increased use of precious metals to make plain or gem stone cufflinks has, sharply increased the number of designs that can be had today. Highend jewelers have today entered this market segment and given a 'fine jewelry' status to cufflinks. Before you start your search for a pair of cufflinks, have a basic idea of the design that you prefer. For example, do you like a streamlined modern design better than an antique and classic look. Do you want your cufflinks to 'say' something, is there a message, symbol or logo that you would like represented on the cufflinks. Once you have finalized the concept that interests you the most, take sufficient time to survey, research and evaluate. Do not be in a hurry to make a purchase, remember that custom cufflinks will give you more leverage in including your personalized features.




Metal

: The introduction of gold and silver cufflinks in many price ranges has, brought a wider interest among men. While you can still get, plastic, steel, brass, wooden or even copper cufflinks, higher budget options with highend quality are also available. High gold prices have worked in favor of the silver cufflinks market, some buyers are willing to accept gold or even platinum plated sterling silver cuff links. A good custom jewelry provider will be willing to make good quality cuff links in gold or silver, so the sourcing should not be a big issue. One thing you need to keep in mind is that, gold or 925 silver cufflinks should have sufficient metal weight. Light weight cuff links might be priced lower but they are also more likely to bend or dent. All cufflinks are generally cast in parts and then assembled together, low metal content or bad craftsmanship can cause the cufflinks to break into pieces.




Gemstones

: When we talk about gemstones for your cufflinks, we will include diamonds too. While plain cufflinks do have a steady market, there is an increasing trend for including gems and even diamonds in cufflinks. When you talk about gems for a pair of cufflinks the first question that you will need to ask, is whether the gemstones are natural or man made. If all you want is the look of real gems without being concerned about them being genuine or artificial, let your jeweler know that. Artificial gems are generally priced much lower than their natural counterparts. For example if you wanted a yin yang symbol mounted on a black background for your cufflinks, the black portion can be done in a few ways. You could have black rhodium or black enamel. Plastic, resin or black glass could also be used. But if you are keen on getting some natural gemstone in the black portion of your cuff links, black agate or black onyx will be good options.

Still on the issue of gemstones, you will need to consider the gem type before you choose a specific cufflink concept. This is because many gems are expensive (per carat) when the gem size increases. For example, if you pick an onyx cufflink set that has a 14x10 octogonal black onyx gemstone, the price might not be too high. But if you wanted a blue sapphire pair of cuff links with the same design, remember that the price of a pair of 14x10 octogonal gems could be as high as 20,000 U.S$ to even 100,000 U.S$. If you wanted gold or 925 silver cuff links with blue gems but, are not particular about them being sapphires - here are some options. Blue topaz or even lapis is something that you could try. If you do not mind getting lab created substitutes in your cufflinks, the price would most probably fit your budget.

Gemstone cufflinks bring up one more issue that needs to be addressed and that relates to, gem mounting. While gems can make a pair of cufflinks more impressive and also add meaning to them, they can also be a source of repeated problems and expenses. Gems that are loosely or badly mounted can get damaged or even drop off the cuff links. Repairs and replacements can be expensive. The CUFF-06 amethyst cufflinks shown above show an excellent way of mounting gems in cufflinks, the entire gem border is covered with metal.

Taking Care

: Both gemstone and plain cufflinks will need some amont of care. While gold or 925 silver gem stone cufflinks might need a bit more care, you will need to take some care of plain cufflinks too. Given the position in which cufflinks are worn it is unlikely that, they will get damaged, dented or deformed by physical impact - but just keep that possibility in mind. Cufflinks falling on a hard floor can dent or deform and if they do have gems mounted in them, you might experience some gem damage too. In the case of gemstone cufflinks, the type of gem that you choose might dictate specific care that needs to be taken when wearing, storing or cleaning your cufflinks. It will be a good idea to discuss details with your cufflink provider before you make a final purchase.




Corportate Gifts

: Cufflinks as corporate gifts have been around for quite some time. The trends that we talked about so far might, not be directly visible in the case of cuff links that are to be gifted. Budgets might pose limitations on the choice of metal, design and gemstones in such cases. Corporate gift cufflinks would most probably have the logo or name of the business, the more clear the depiction of these - the less likely that the receiver would wear the cufflinks and 'advertise' your business. While you will need to restrain yourself to be in line with your budget keep in mind that, cheap and flimsy cufflinks are more likely to ruin your business than, create any sort of goodwill or publicity.




Economizing

: Here are some ways in which you can economize the price factor for your cufflinks. When it comes to cuff links made with gold or silver, the choice of sterling silver cufflinks will obviously moderate the price. You might consider plating silver cufflinks with gold, rhodium or even platinum but - keep in mind that any type of plating done on your silver cuff links will wear off in time. When choosing gemstone cufflinks, the type of gem you choose, the gem size required and also whether the gem is natural or man made (synthetic or imitation) will influence the price tag. When you talk about custom cufflinks, the initial design and mould overheads will be borne by the first pair of cufflinks that are made. As the volume for subsequent orders increases, the moulding charge is spread across a larger volume and therefore becomes lower (per piece or pair). So basically, the larger your cufflink order volume, the lower the price. Ofcourse, this equation does not work all through - so do not expect dirt cheap cufflinks even when volumes are very large. With precious metals becoming more expensive and business margins growing leaner, people are looking to other metals like brass and even stainless steel for requirements like cufflinks. The important thing about such cufflinks is that the manufacturer expects order volumes of around 50 pairs to even 200 pairs.




The above report on cufflinks is informative and useful. We have not moved into a sales pitch as we do the sales stuff on our regular websites. This web resource is aimed at educating and informing, there are no sales volume related to targets here. If you have found the information to be useful, please pass it on to your friends, collegues and relatives. If you have some comments or suggestions please, email us at sales@kaisilver.com and we will be glad to hear your voice. We have put up an impressive collection of Kai Silver cufflinks at
http://www.jewelry.kaijewels.com/man-cuff-link-kj-all.htm and urge you to have a look.



All Kaisilver jewelry is custom made in gold or 925 silver. We can custom make cufflinks and other jewelry with your designs or ours. The dimensions, metal and gemstones for your cufflinks can be chosen by you. We encourage you to look for various sourcing options and not limit your choice to Kaisilver. This is because the highend custom jewelry that we make is time consuming, and we are able to receive and fulfill limited orders. An immense amount if skilled craftsmanship is involved when making high end jewelry and this, process cannot be hurried.