Bracelet With Gemstones Custom Made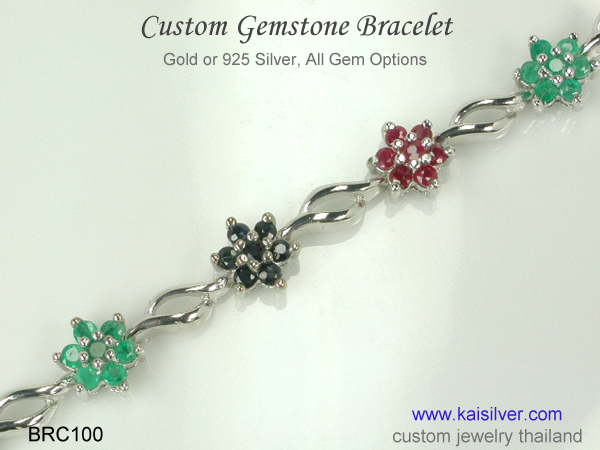 Gemstone bracelets are many and cover a range of prices and designs. Now let us talk about a bracelet that showcases the three all time greats of the world of gems, you will realize how hard it is to find one. Ruby, sapphire and emerald have been known to humans for many centuries and have, played an active part in almost every civilization across the globe. The BRC100 gemstone bracelet from Kaisilver pays tribute, to the 'Big Three' namely ruby, sapphire and emerald. A seasoned gem and jewelry buyer will tell you that there is no comparison between these three gems, each one is unique, rare and gorgeous in its own way.
When you wear one of these gems you underline the refined element in your sense of taste and style, combine all three gems in one jewel and you have a virtual gem parade on your wrist. With their historic presence it is no surprise that ruby, sapphire and emerald are positioned on the birthstone and anniversary gemstone charts. You do not need a special reason or occasion to buy this gemstone bracelet, it will also make a stunning gift for someone who appreciates true style and quality.
The bracelet can be ordered in gold or silver and both metal options are worked, with the same quality standards related to workmanship and gemstones. The gemstone gold bracelet can be crafted in 10k, 14k or 18k gold and you can choose from white, yellow and pink gold. Each bracelet is optimized for metal weight and this ensures that, the bracelet is sturdy enough to stand up to prolonged wear. While we do provide plating options for the sterling silver gemstone bracelet, you should know that any type of plating done on silver will wear off after a while.
BRC100 Highlights:
Custom made with gems of your choice, available in gold and 925 sterling silver.
Both gold and 925 silver bracelets confirm to the same quality standards.
The metal weight has been optimized to ensure a sturdy and durable bracelet.
The gold bracelet can be ordered in 10k, 14k or 18k gold and all three gold colors.
Plating options are available for the sterling silver gemstone bracelet.
Gems can be combined and mixed in any combination of your choice.
The BRC100 can also be crafted with one gem type all through.
You can request for larger gemstones for your bracelet.
We can also custom make a bracelet based on your own design concept.
We have shown the bracelet with ruby, sapphire and emerald on this page but, you can pick your choice of gemstones when ordering. All gem combinations are allowed and you can even mix gemstones and diamonds. And if you are after simple elegance, consider keeping just one type of gemstone for the entire bracelet. A diamond bracelet is a great idea if, your budget can handle the price point. We get several orders each year where, the client requests for a single diamond in the center of each flower. To put it simply, there is nothing that we cannot deliver in terms of gems or design features for your custom made gemstone bracelet.
We encourage you to learn more about the gorgeous gems and details for the bracelet in the BRC100 Gemstone Bracelet Report. Jewelry lovers today take great pride in getting to know the gems they wear better. The history and folklore tagged to each gemstone is unique, understanding these details will allow you to better appreciate and enjoy your jewelry.