Big Gold And Silver Rings For Men
By big rings for men we mean, rings to be worn on large finger sizes and the required size can sometimes be as large as 13,14 and even 15. Keep in mind that we are talking about a men's ring with U.S ring size 12-15 and these are indeed significantly large. It is not surprising that men's large rings generally have large overall dimensions and this, requires substantial metal weight to keep them sturdy and make them long lasting. And if you review large rings for men with gems, the possibility of big gems combined with high metal weight can pose challenges on the price point of the jewel. Kaisilver the online global leader in fine custom made jewelry has some interesting suggestions to make. This report deals with men's ring features that could have a direct impact on the price level of the jewel, it also gives constructive ideas on how to moderate the cost components of these features. Since the information provided here focuses on delivering a solution rather than, on making a sale - we recommend that every jewelry buyer reads and understands the content.
Metal Cost: One of the cost components of large rings for men is obviously the cost of metal and this, would depend on the metal weight and price. And when you talk about men's size 13 to 15 rings, good metal weight is one essential factor in determining just how long lasting the ring would be. Fortunately men have always been fond of silver and not too impressed with the flash and show of gold. Having said that, there is a dedicated market for men's large gold rings. Men generally seem to give higher importance to the meaning and significance of the jewelry that they wear. Keeping this mind mind we would suggest that, you first choose the style concept and the gem (if any) for your ring. In the next stage give a thought to metal based on your budget and preference. No matter what happens, do not settle for light weight flimsy large rings for men - in the long term these jewels will cost you dearly in terms of repairs and replacements.
Gem Cost: Big rings like those rings for men in the size range of 12 to 15, can be designed and crafted with or without gemstones. The price of gems (per carat) can vary widely and interestingly, the durability or toughness of the gem does not always move in the same direction as its price - emerald is a perfect example of this fact. Also there are options for natural gems and lab created gems, all gems referred to by Kai Silver resources are natural gems. We can provide lab created gemstones based on specific requests and explicit understanding. Since the price of most natural gems (per carat) rises as the gem size goes up, it is often necessary to select a design based on the preferred gemstone. In some gems like tourmaline, ruby, sapphire, emerald and tanzanite it might be okay, to pick a grade or quality based on your budget. This is generally acceptable in cases where the price of the gem shows steep variations across various grades. When making a gem selection for men's rings based on color, keep one important thing in mind. Many colors of the spectrum can be represented by more than one natural colored gem. For example, blue which is a popular choice for men's jewelry can be found in blue lapis, blue topaz, blue sapphire, tanzanite, iolite, turquoise etc. And since the prices for these gems show wide variations, you can use the price factor to your advantage and work within budgets. Getting into details about this issue will become quite technical but, a good jeweler should be willing to guide you on these and other gem related facts.
Design Cost: Take some time to understand the information in this paragraph. The fact remains that not a whole lot of men have super sized fingers in the 12 to 15 size range, this creates a limited but exclusive demand for men's big rings. Jewelers cannot afford to heavily stock such large jewels. The cost of metal, gems, diamonds and holding inventory can become a strain on the business. So when you do come across such ready made rings, they are not likely to satisfy your requirements related to metal, dimensions, gemstones, style and even quality of workmanship. This is what makes most men choose custom made large rings, in gold or 925 silver. Any custom jewel requires a jeweler to go through the entire production process from carving the wax model to making the silicon mold and the final metal masters. And since this entire process will be used to deliver a single piece of your ring, with your choice of dimensions, metal and gemstone - the incurred overheads need to be borne by that one piece. There are two sides to this scenario, the first is that your ring will have a cost component related to its specific design and creation. The second is that, since this is a ring designed specifically for you make sure that it includes all your ideas, likes and specifications. A true custom made jewelry provider should place almost no limitation on your choice of features though, these might be limited by cost factors and your budget.
Workmanship Quality: This is one feature for all jewelry and more specifically for men's big size rings for which, there should be absolutely no compromise. All of us develop a sentimental attachment with the jewelry that we wear and this, is no different for men. Good craftsmanship can do wonders for any jewel and if not good, can ruin even the best design with the most extravagant gemstone. The important thing is that both, gold and silver rings for men can and must have good workmanship - if your jeweler tells you otherwise just look for a new provider. At Kaisilver we prove our commitment to quality irrespective of the metal, gemstone or price point that the client selects. The same team of artisans and gem cutters works under the trained eye of our quality checking experts, for all jewelry orders. Besides making your big men's gold or 925 silver ring look awesome, good workmanship will also provide benefits like removing sharp edges that are not part of the design and setting gemstones securely. Don't rush for the cheapest large men's rings, in jewelry it is surely quality that matters - because you are wearing something to feel and look good, not investing in an absolute necessity!
While all the above issues need to be considered and addressed, it might not be easy for a casual jewelry buyer to take care of everything. So combine your efforts by choosing a reputed custom jewelry provider and work together to create the ring of your choice. In general, websites that provide high quality advice and suggestions are more willing, to understand client requirements and share views and knowledge. Websites that scream with 'Buy Now' and 'Pay Now' icons wish to sell what they are accustomed to offering, just think for a moment and relate this to your experience. So the best way to choose the right jeweler is to ask many questions related to the rings, gemstones, metal options etc. Does not matter if those questions are spread across many email communications. The response from the seller will define your level of comfort, all you need to do is to follow your mind at that point. While we are not the only online high end custom made jewelry provider, we have developed a loyal clientele of over 12,000 quality conscious jewelry and gem lovers spread across the globe. You can contact our experts at sales@kaisilver.com and discuss your doubts and requirements. Once you have all the answers, use that information and work with the jeweler that makes you feel comfortable. Since there is no commitment to purchase your big men's rings or anything else from us, there is no reason why you should not draw on our expertise.
Kaisilver Ring Highlights:
The same quality of design, gems and workmanship for gold and silver rings.
Silver rings with or without plating, we recommend that no plating be done.
Gold rings in 14k or 18k white, yellow or rose gold.
You can request specific price quotes for 10k gold rings.
Available in all ring sizes, as all rings are made to order.
Good metal weight, proportional to ring size and dimensions.
Fully custom made, can accommodate all your preferences.
Both plain and gemstone rings, no limitation on gem selections.
Pick our designs and request for modifications or send us your own design images.
Advanced design research enables us build-in durability enhancing features.
Resources: Mens 12-15 Size Rings Report by Kaisilver.
All Jewelry Custom Made With Your Designs Or Ours In Gold Or Silver, Your Choice Of Gemstones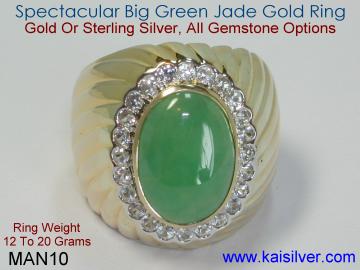 A great concept for large men's rings either with or without the surrounding gems around the center oval gem. Shown here as a large men's jade ring but, personalized with your choice of gemstone in gold or 925 silver. The metal weight of this big gemstone ring has now been upgraded and is in the 20-25 gram range. You can request for a ring head height that suits you by picking an oval gem in the size range of 9x7mm, 10x8mm, 11x9mm, 12x10mm. Discuss the ring height that you need with our team and let them, come up with the optimum gem size for those dimensions. You can decide to exclude the surrounding gems or, pick stones of your choice . If you are particular about the inside of the ring being solid without, any metal being scooped out, work on ring dimensions with the team ... here.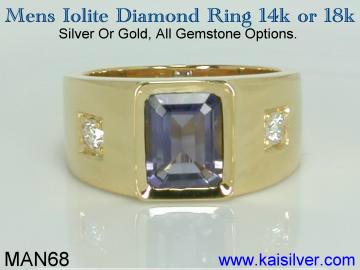 For those of you who enjoy wearing large men's rings with a contemporary style , the MAN68 in gold or sterling silver offers some interesting options. The center gem is large enough to draw focus on the stone but, not too large so as to put the range of expensive gems beyond too many budgets. With a 9x7mm center gemstone, you get a handsome head height of around 11mm to 12mm (1.1cm to 1.2cm) for this men's ring. The 2.5mm diamonds on either side add glitter and we would suggest that you keep them that way but, like always the final decision is yours. You could also order this large men's ring with larger diamonds or, with gemstones other than diamonds on either side of the center stone. Your choice of gemstones and the ring is shown here with a natural untreated iolite gem. A concept that will look fine for men's rings in the 12 to 14 size range, check details ... here.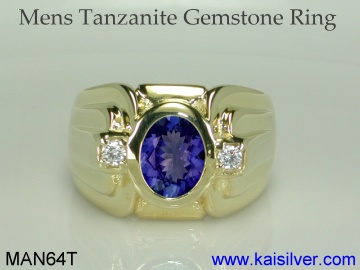 The concept for big men's rings where the gemstone required is a ruby, sapphire, emerald or tanzanite can be quite a challenge . All these gems happen to be in the 'expensive' price category. The price per carat for the above gems increases rapidly as the gem size increases. The price factor can become more critical for a good quality gem for your men's big ring, premium gem prices are inevitable. The MAN64T boasts of a head size that is at least, 14 to 15mm (1.4 to 1.5cm), it has style and makes a luxury statement. With all these impressive features, the tanzanite gem in this ring is a 9x7mm gem, it is decked on either side by a 2.5mm round diamond. This ring would be awesome for a men's wedding or engagement ring but, it is reasonably priced for a daily wear jewel too. You can order this ring in gold or 925 silver with just about any gem, we would surely recommend it for gems like ruby, yellow sapphire, blue sapphire, green sapphire, green tourmaline, aquamarine, spessartite garnet and tanzanite. The diamonds can be replaced with gems of your choice. A report on this men's ring is published ... here.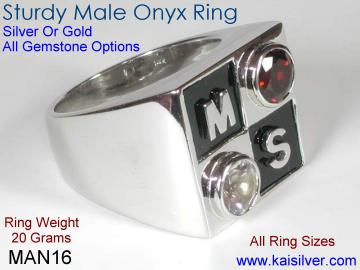 An awesome initial ring that can be customized to your preferences. If you with to have a big men's initial ring, consider options for this gold or silver ring. With 2 alphabets and 2 gems, the ring can have a square front with dimensions of around 20mm x 20mm or 2cm x 2cm. You can also request for the ring with dimensions and gems of your choice in gold or 925 silver. It is also possible to get an initial ring for men with just 1 alphabet and gem, or 2 alphabets next to each other and no gemstone. A very intricate process is used to assemble the ring where, the black portions that form the backdrop for the alphabets, are made from black onyx. Cheaper options like black enamel or rhodium plating would be easier but not as durable. Get to know all about this awesome men's large ring ... here.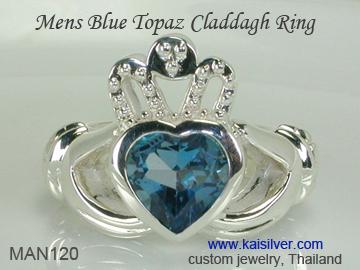 Many of you would be surprised to see a big men's heart ring in our list of suggestions. While there is no doubt that the MAN120 is an awesome men's ring, the jewel is also here because of its tremendous meaning and historic significance. First made about four centuries ago by an Irish slave, this jewel is today accepted as the perfect ring to symbolize true love and loyalty. Kaisilver crafts both men's and ladies claddagh rings in 925 sterling silver or gold, you choose the gemstone and we also make the same ring without a gemstone in the center. Since the true meaning of this big men's ring is in the main features which are the heart, crown and hands, we would suggest that you keep the basic concept intact. The size of the crown and gem can be adjusted to a certain extent to customize the dimensions of the ring. Learn more about this ring and the options available ... here.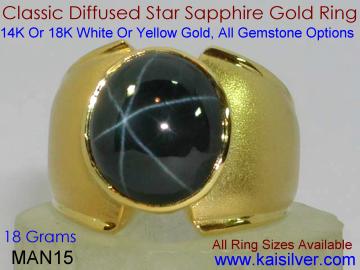 A large star sapphire ring, this men's ring is crafted in gold or sterling silver with a diffused star sapphire gemstone. This gem begins as a natural sapphire, it is then treated to give it the star effect. The result is a diffused star sapphire with a sharp 6 ray star at a price that is very much less than, what a similar natural star sapphire gem would cost. If you wish to have a sapphire ring or a star sapphire ring, at a moderate price, pick the MAN15 men's star sapphire ring. You can request for a 12x10mm oval or 10x8mm oval gem depending on, the dimensions that you desire for your ring. It is also possible to order this large ring for men with the gem of your choice. Sapphire is the birthstone for the month of September and though large men's sapphire rings would be highly desirable, the price range is generally way too high. However picking a diffused star sapphire ring, can get you the impressive size that you desire at a price that is reasonable considering that, you get a natural sapphire and not a factory made corundum synthetic. We have more details for this amazing star sapphire ring ... here.