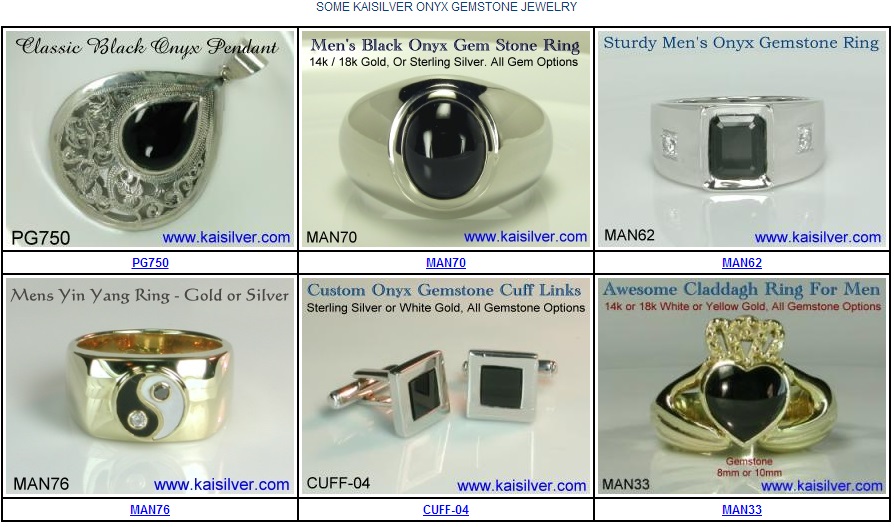 Black Onyx Gemstone Jewelry
Unless you have actually experienced the sheer beauty of black onyx, it is not easy to imagine how a simple black opaque gem, can deliver an impressive statement of style and fashion. Though many onyx rings you come across would have a smooth cabochon cut stone, style conscious jewelry buyers are keen to wear this gemstone in smooth and faceted form. A black onyx ring or pendant, relies on style and form to show of it's beauty. In many gemstone jewels, it is common for the gemstone to dominate the metal or vice-versa but black onyx is a good lesson in harmony and togetherness. The gemstone works with the metal to reveal a complete jewel concept, the design, gemstone and craftsmanship are all given equal importance. And this will be true irrespective of the metal color - white, yellow or pink (rose). A simple cabochon cut onyx gemstone will work it's magic against the high polish of a gold or silver mounting. But when you pick a classic faceted black onyx stone, the facets and angle begin to play with the light and enthrall you with a collection of highlights and quiet shadows.
Black onyx has been set in jewelry for many centuries and it's popularity is not restricted to any country or geographical territory. The PG750 Kaisilver black onyx pendant, has a concept that has been very popular in the northern hilly region of Thailand. The intricate cut outs in the design cast their beauty on you, the black gemstone seems to pull the eye to the beauty of the jewel. Jewelry critics often debate about a black gem being suitable for a feminine style, some of them claim that black does not belong to a women's wardrobe. This graceful black onyx gemstone pendant should close the discussion and debate - it is a jewel that every girl or lady would love to own. A custom onyx jewel would allow you to better express your style and accommodate even the most tedious features that your preference might dictate.
With the increasing popularity of our claddagh rings, it is no surprise that men are hoping to wear such a meaningful jewel too. It is interesting to note that, the MAN33 black onyx men's claddagh ring has become very popular among men. While economics does play a part in gem selection, it is not just the moderate price of black onyx that men are going for. Onyx is easy to maintain and not unduly fussy about care and attention, it is also easy to clean and wash onyx gemstone rings. The attractiveness of this black gemstone is retained irrespective of the metal color - men's rings generally turn towards yellow gold and 925 sterling silver. When we released our MAN75 yin yang ring, we just had to rely on black onyx to represent the black portion of the highly respected symbol. Most of us would refer to the ring as a yin yang ring and not a black onyx ring but, the black gemstone is an important component of the jewel. Many jewelers have simplified the design and production of yin yang rings by simply using colored enamel to represent the black and white colors but, that is surely not how we would like to make our jewelry.
Most men who do wear cuff-links do so for formal occasions and simple color contrast for the cuff links suits the need. Our CUFF-04 black onyx cuff links are expertly crafted in gold or 925 sterling silver. Each pair of cuff links is set with black onyx that is immaculately custom cut to fit the gold or silver castings. Choose the standard flat cut black onyx for your cufflinks or request for a more stylish cushioned checkerboard cut - all requests are accommodated without any significant difference in price point. Black onyx cuff links in gold could be ordered in yellow, white or pink gold and sterling silver offers plating options too. Considering the fact that cuff links do not undergo as much wear and tear as rings, a 2 micron (yellow, white or rose) gold plating on your black onyx cufflinks would last for quite long. And if you wish to leave your silver onyx cufflinks un-plated, cleaning and polishing away tarnish is going to be easy and convenient.
Just like any other gemstone, it is possible to combine black onyx with other colored gemstones in a jewel. And there are few gems (none that we know of) that would not enjoy the company of this shinning black gemstone. Pick a color from the entire color spectrum visible to the human eye, and it would complement the black color of onyx. Classic jewelry styles tend to combine red garnet, dark blue topaz or medium purple amethyst with black onyx. And we see know reason why black onyx jewelry should not include the green from peridot or tourmaline or the pink from Kunzite and sapphire - the list is endless so we leave the decision to you.
Kaisilver Black Onyx Jewelry: While we will encourage you to review our Black Onyx Jewelry Collection, we would request you not to restrict your choice too what you see in that collection. We custom make all types of jewelry in gold, platinum or sterling silver with the design and gemstones of your choice, so make sure that you pick a design that truly impresses you. We welcome images and sketches that would enable us better understand your requirements, and urge you to discuss your ideas with our experts at sales@kaisilver.com Since each gemstone is carefully selected and expertly cut, you can request for a smooth cabochon, faceted or even a checkerboard cut for the gemstone in your black onyx jewel.