Green is one stone color that looks perfectly fine in all types of jewelry and for both, ladies and men. A men's green stone ring could be crafted with a range of green stones, the choice of a specific stone would depend on a few factors. If you wish to get a gents gold or 925 silver ring with a green stone but, are open to all natural green stone suggestions - you will have a range of stones to choose from. It is quite likely that the green stone that you need happens to be your birthstone, in such a case it is obvious that no other green stone could be used. The birthstone charts show two popular green stones, emerald the green variety of beryl holds the position for the May birth stone. And peridot the green stone from the mineral named olivine is the birthstone for the month of August.
We pride ourselves in being one of the few jewelers willing to share knowledge and experience. This report is compiled to inform and educate and not to make a sale. The jewels shown in here are meant to serve as mere examples of what, you can expect when you choose a green stone men's ring. If you need more information regarding any particular jewel shown here, click the link provided against the piece and you will be taken to our regular website. And if you wish to have more information or clarify any doubts related to gems and jewelry, do communicate with our team of experts at sales@kaisilver.com They will be glad to assist you and provide constructive advice - all this without making you obliged to make a purchase from us.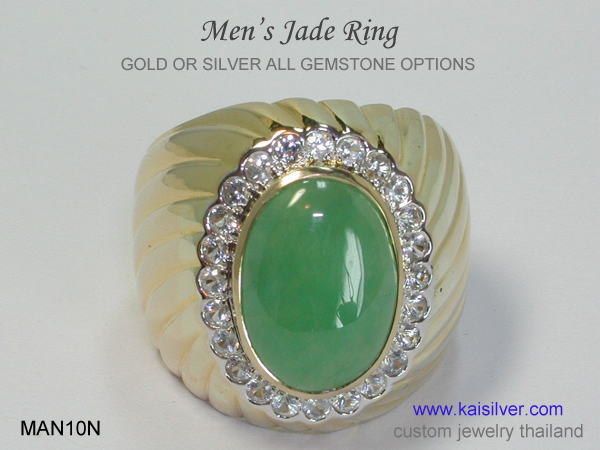 Jade and especially green jade, is an awesome choice for a gents ring with green gemstone. Kaisilver provides a natural jade gemstone, certified for authenticity - for a jade ring in gold or silver. The dimensions of the ring can be customized to suit your preference. Read the full report ... more.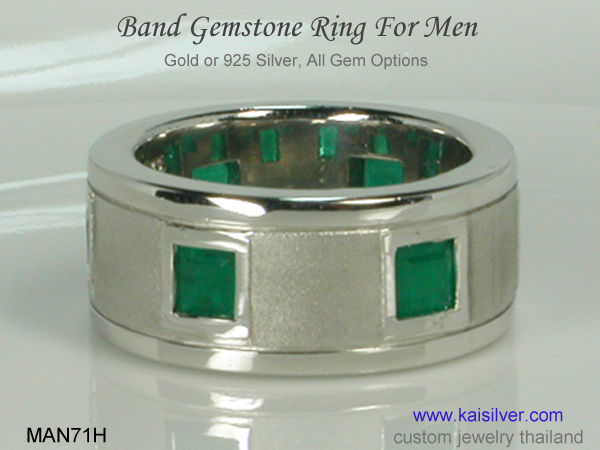 Emerald is the green variety of the mineral beryl and happens to be, one of the most desirable gemstones - all through history. For a men's green gemstone ring with emerald, be prepared to take a fair level of care of the gem. Emerald needs to he treated with care. Read ...more.
In this report, we discuss the most popular options for a men's green stone ring. We will evaluate of stone from a variety of perspectives and the information is bound to be useful to you. Even in cases where, you have already made up your mind regarding which green stone to use for your ring - learning more about that stone will help you take better care of it. This will mean that the stone will hold itself better and maintain it's condition over years and even for decades. Keep in mind that, we are talking about natural green stones got from nature and not, man made look-alikes. Each stone would have it's own properties and these will need to be considered when wearing or cleaning the stone.
When selecting a green stone for a men's ring, you would first need to decide whether, you are open to options for all green stones. In some cases, the specific green stone might already be decided based on some related factors. For example, for a men's August birthstone ring, the required gem would be a peridot - a green gem from the olivine mineral family. Similarly the ring was to be made as a May birth stone ring, an emerald which is a green variety of beryl would be implied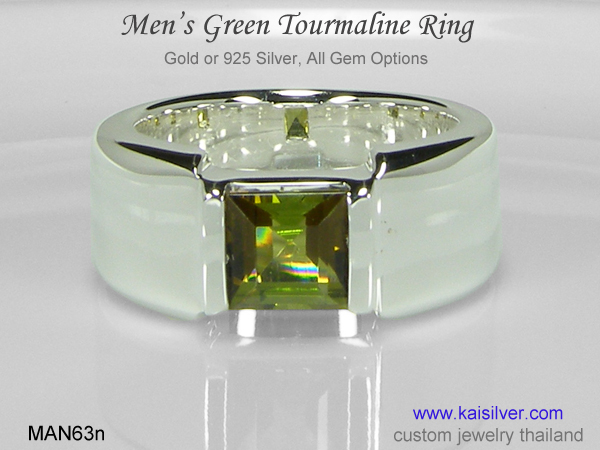 A gents band ring with a green tourmaline gemstone, a majestic men's band ring with a sturdy green gem. A certified tourmaline gem in the center - you could choose the gemstone of your choice. The MAN63 green gemstone ring is available in gold or silver, all ring sizes ... more.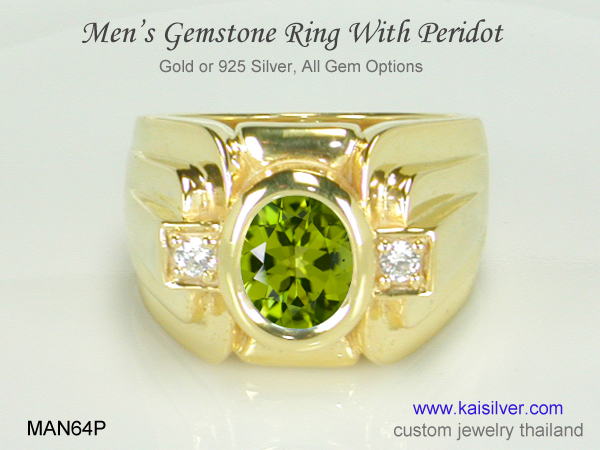 A heavy gent's gold or silver ring with a natural peridot gemstone. This ring is very tough and has a good metal (gold or silver) weight. You can request for a larger peridot (or other gem) for the MAN64P ring. Fully custom made and available in all ring sizes. Read the full report ... more.
There is no single green stone which would fulfill all requirements for a mens ring, each gem would have it's own characteristics. Let us therefore learn a few essentials related to popular green stones. So stone features might, require you to take a bit more care of the stone - so the information provided here is high on utility value.
Basically when making the choice for a gent's green stone ring, the stone itself should be understood in terms of hardness (durability), price, size availability,. requirements for special care and probably stone enhancement treatments too. Very few jewelers would provide the level of detailed information that we do, so read this report and use the information to make the right purchase decision.
Peridot
This green gem is not very difficult to look after. Just make sure that it does not bang against hard objects or surfaces. Strong chemicals and solvents, should not be brought near any type of jewelry. When cleaning your men's green stone ring that has a peridot gem, keeping away from ultrasonic cleaners is a good idea.
The MAN64P Kai Silver peridot gent's ring is shown with a fine custom cut peridot gemstone. Most peridot gems used in jewelry today, come from China or Arizona (US). While these peridot gems are moderately priced, they had a far lower price tag about a decade ago. The demand for green gems never seems to drop and peridot, has seen a steady price increase.
There is a premium price for peridot that comes from Burma or Pakistan. Stones from these mines can cost as much as 10 to even 20 times more than peridot from China or Arizona. You should pay the premium price only, if you are blessed with a hefty budget and are really keen on getting the rarer peridot gems, mined in Pakistan or Burma. Expect to find a fair amount 'silky' inclusions in peridot from these premium locations.
At a time when many gems are treated by various processes to improve their beauty, color and clarity - peridot is generally not treated in any way. Kaisilver will provide a natural, untreated and certified peridot gemstone for your ring. The prices quoted for peridot rings or other peridot jewelry on our main websites, relates to peridot from China or Arizona. You can let us know if you prefer, peridot from Burma (Myanmar) or Pakistan. We will provide you with a specific price quote.
If you happen to see some black spots or other inclusions in peridot gems remember that, the gem was not treated in any way. Putting gems through heating processes, can often improve their clarity and color but, no such treatments are applied to peridot. Kaisilver procures peridot gems directly from the miners, each piece is then custom cut and sent to an independent testing laboratory - this to get a certificate of authentication.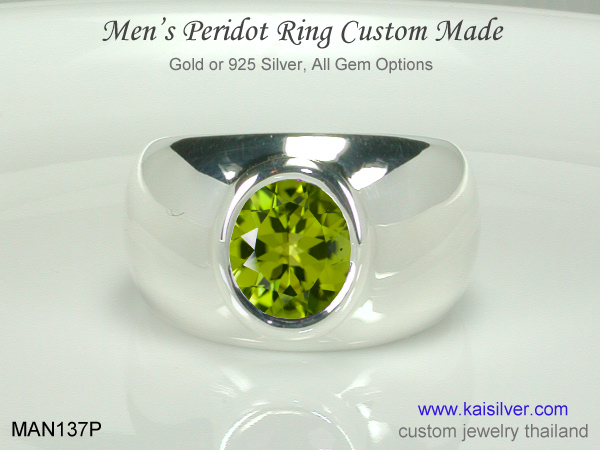 The classic oval ring design concept for this gent's ring with peridot gemstone. The MAN137P would have the same superior standards in gold or sterling silver. You can send us your own design ideas to be custom made. A custom gemstonegent's ring available in all ring sizes ... more.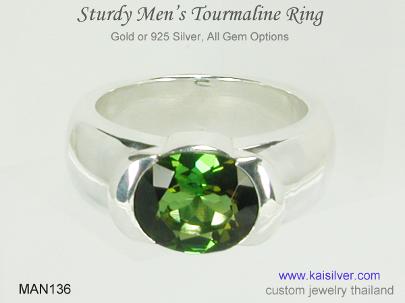 A big green gem for this custom gent's ring, the green tourmaline gem is certified and natural. You could order this heavy gent's ring with any gem of your choice - not just green. Tourmaline is found in a range of colors pink, green and red (rubelite) are the most popular colors ... more.
Green Jade
A very popular option for a men's gold or silver green stone ring, jade is actually available in a number of colors. Jade is defined to include both nephrite and jadeite - nephrite is most often found in a darkish green color. The internal structure of jade is made up of millions of microscopic fibers that, inter-weave with each other. This mesh type of formation, brings impressive toughness to the stone. So if your men's green stone ring has a jade stone set in it, you will enjoy many years of worry free wear.
There is one rarely explained fact related to jade but, it is important that you know about it. More than 90% of the green jade that is used in gold or 925 silver jewelry is dyed to enhance it's color. If you wish to get a gents green stone ring with a gem as shown in the MAN10 image above and, require the gem to be untreated - expect to pay around 1,000 U.S$ to 2,000 U.S$ just for the gem stone. It is very rare for jade to be found with such a good evenly spread color - that puts a tremendous premium on the price. The jade shown in the above ring, is also a dyed gem. You can let us know if you need a natural untreated jade gem for your gents ring and we will work out a price quote for you.
While it is true that jadeite from Burma can cost several thousand dollars per carat, Kaisilver sources handpicked untreated jadeite jade from Burma that are moderately priced. You can order your green jade gemstone ring for men with an untreated Burmese jadeite or make a specific request for a dyed (treated) gem. We can also craft your custom men's ring with a high priced superior color untreated Imperial Jade gem. We source all jade from the Kachin region of Northern Burma, this is indeed the preferred source for natural jadeite.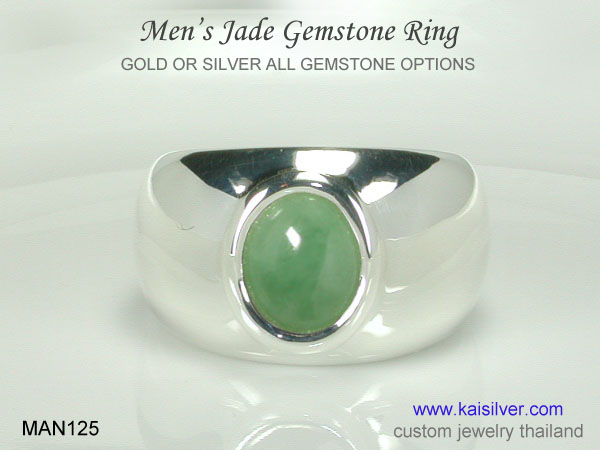 A sterling silver ring with natural green jade from Myanmar. The MAN125 gent's ring can be ordered in gold or silver, all ring sizes and all gem options are available. By sourcing jade (jadeite) directly from the miners, we offer a wide price range for the gemstone. Read the report ... more.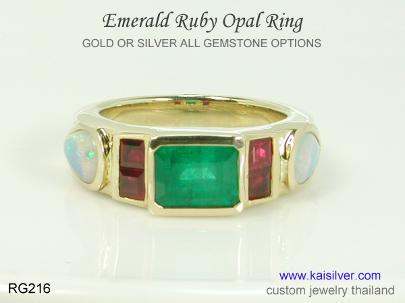 A ring with 3 different types of gems - emerald, ruby and opal. With Kaisilver providing complete customization, the RG216 ring can be modified to make it perfect for a men's gemstone ring. The size of the gem could be increased, the side gems could be eliminated ... more.
Green Tourmaline
With the increased demand for natural colored gems, the entire color spectrum of tourmaline gems have shown a sharp price increase. If you choose to get this gem for your gents green gem stone ring, keep in mind that much of the mine output these days yields green tourmaline with a darker shade of green. Tourmaline is fairly tough by nature and will not crave for too much care and attention.
Given the fact that current tourmaline prices are quite high, we would recommend that you set your sights on a modestly sized green tourmaline gem for your gents ring. The gents green tourmaline ring shown above, has a carefully selected 7mm square green tourmaline gem. The shade of green that you see in the above square tourmaline ring, is what you can expect for your ring.
Since gents generally prefer darker colors, green tourmaline in a gent's ring is a great idea. Expect to pay more for your green stone ring with tourmaline, the stone is much more expensive as compared to peridot and even dyed jade. While some birth stones charts list all tourmaline colors as the birth stone for October, you might be interested to know that the introduction of tourmaline on the charts was meant to include just pink tourmaline.
Since green tourmaline can withstand all standard procedures and equipment used to clean gems and jewelry, this is one green stone that perfect for a gent's silver or gold ring. Going for a gent's 925 silver green tourmaline ring will allow you to ease the metal cost component and this, is likely to get you more allocation for the gem size and quality.
Emerald
Undoubtedly the best known green gem since ancient times. While many green stones were mistaken for emerald in ancient times, not much confusion exists today. A gents green stone ring in gold or 925 silver, with this green stone would boast of one of the most popular gems of all time.
Emerald is an expensive gem but interestingly, the durability of this green stone and even it's clarity do not seem to reflect it's hefty price tag! Emerald a green variety of beryl scores a fairly high rank on the Mohs scale used to measure hardness but, a very specific physical property makes it shy away from being tough and durable. All natural inclusions show inclusions and fissures (fine cracks), and more than 95% of emerald gems including the very valuable ones preserved in museums are treated with natural oils - this is done to soften the appearance of the fissures in the stone.
So when choosing a gents emerald ring, you would need to accept the fact that the gem will almost never be eye clean and that, it needs to be treated with some care when being worn, kept away or cleaned. Given these characteristics of the emeralds, the gem size selection and overall MAN71 ring design ensure that the gems are not easily hit by physical impact and the moderate size, does not make them very expensive. You would also like to know that the birth stone charts place emerald as the May birthstone.
Other Green Gems
Networked to gem mining and cutting operations globally, Kaisilver has preferential access to over 200 million carats of gemstones. By way of information we quickly talk about other natural green gemstones. Remember that you can request for just about any gem for your gent's ring with green gemstones. Malachite is an interesting green gem with black whirls, an opaque gemstone that is modestly priced. Sapphire needs no introduction - a sturdy gem from the corundum mineral family, a tough and durable gemstone. Sapphire is available in a range of colors and green happens to be one of them. As expected green sapphire is a fairly expensive gemstone. With a color that can often resemble that of green tourmaline, chrome diopside is a medium priced green gemstone. Mined in the Siberian region, this gem though very pretty is not very durable. You might have heard of green fluorite a natural green gemstones, suffice it to say that the gem is quite fragile and unsuitable for being set in high end jewelry. Garnet does come in a few green varieties of which demantoid garnet is the prettiest, however the gem is generally found in the 1 to below 1 carat size. One very important fact about demantoid is that, the gem has the glitter and fire of diamond - medium to high grade demantoid gems are quite expensive. If you need these or any other green gem for your gent's silver or gold ring, email our experts at sales@kaisilver.com and we will be glad to come up with suggestions and a customized price quote.
Design And Metal Selection
The green gem rings for gents on this webpage are shown as examples, they do not in anyway limit your choice of design. You could pick any of the ring designs from our websites and request, for the piece to be crafted in gold or silver - with a green gem or any gem of your choice. Since each ring is meticulously handcrafted by expert artisans in Thailand (we ship worldwide), all design modification requests can be accommodated. We can also craft a unique ring for you with your own design idea or image. To put it briefly there is absolutely no restriction, on your choice of design.
All Kaisilver jewelry can be ordered in gold or silver. Since the same team of artisan, gem experts, gem cutters, designers and production professionals work on both gold and silver jewelry - the gent's green gem ring in gold or silver, would have the same superior standards. The gent's gold ring can be ordered in 10k, 14k or 18k gold - you also have the option to specify white, yellow or pink gold.
If you go for a silver green gemstone gent's ring, we would recommend that you leave the ring un-plated. Saying this because, all plating done on silver will wear off over time. The plated silver ring would then appear quite dull and shabby, cleaning and polishing such a silver ring would pose some severe challenges. On the other hand an un-plated silver ring, would require a fairly simple cleaning and polishing process. Contact our support team on the email provided below, for any help and information that you might need. They will be glad to help even if, you plan to purchase nothing from us.
WHO IS KAISILVER
Leading the online high end custom jewelry sector for over 2 decades, Kaisilver today serves over 12,000 style conscious jewelry lovers located in 15 nations. A team of superbly skilled jewelry artisans, gem cutters and production experts work on all Kaisilver jewelry orders. We craft rings, earrings, pendants, bracelets, bangles and cufflinks - in gold or silver, your design or ours. Since the same team is assigned to work on both gold and silver jewelry, the same premium standards are maintained for both metal options. You can request for design modifications or send us your own design ideas to be custom made. Our support experts at sales@kaisilver.com will be glad to help you with any information that you might need.
Being closely networked to global gem mining and cutting operations, we have preferential access to over 200 million carats of gemstones. This means that you have an unrestricted choice of gemstones, your selection need not be limited to what is shown or mentioned on our websites. We deliver the best gemstone at each price point.
HOW TO BUY
Each item shown on this webpage or on any Kaisilver website, has a unique item code. That is the reference that you can use to, get help from our customer support team at sales@kaisilver.com and they will be glad to help. All the items shown in this report link to a specific report that, provides additional information regarding the item. In any case we would suggest, that you discuss your requirements with our team of experts. Specify the item code, the gemstone preference and the metal (gold or silver). Whether it is a green gemstone ring or any other jewel that you wish to have, you should know that we can accommodate all design modification requirements. We could even craft a unique jewel for you based on your own design ideas.
As mentioned earlier in this report, your choice of gemstone is not restricted to what is shown on our websites. Gold options include 10k, 14k and 18k gold and further into yellow, white or pink gold. Just repeating that all jewelry can be ordered in gold or silver - the same superior standards maintained for both metals.
KAISILVER REVIEWS
My rings were delivered today. They are very beautiful. Thanks again Ms. Nok and everyone at Kai Silver ... Anthony Rogers
REPEAT ORDER
I received my ring today and just wanted to thank you on your fine craftsmanship. The ring is absolutely beautiful. A big thanks to all of you at Kaisilver ... Anthony Rogers ... more.