Tourmaline Gemstone Rings
In ancient Ceylon (now Sri Lanka) people believed that the various colors of tourmaline were derived from the rainbow, apparently the gems travelled through a rainbow as they came down from heaven to earth. Science has today taken much of the folklore thrill out of gems and minerals but, the beauty of tourmaline has never lost its attraction and charm. Tourmaline rings are popular with men and ladies, the wide range of tourmaline colors ensures that there is at least one color and hue that will become your favorite. Both gold and 925 sterling silver tourmaline gemstone rings are generally crafted with pink or green tourmaline. Another reddish pink gem called 'rubelite' is in reality a variety of tourmaline, it has nothing to do with ruby. Kaisilver custom tourmaline gemstone rings are available with your selection of gemstone and design. If you are not very sure of the design that you desire, browse through our ring collections, choose a design that you like and then, request for that ring to be made as a gold or silver tourmaline ring. Since we do not work with any limited set of master molds or designs, it is possible to modify our designs to better suit your preferences. And don't forget that, you can always send us a design concept in the form of a sketch, image or verbal description for your tourmaline ring. Our support team at sales@kaisilver.com will be glad to help you with any questions or requirements that you might have.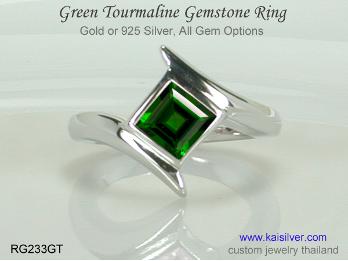 An elegant tourmaline gemstone ring, you can choose a pink or green tourmaline gemstone for this ring. Both 14k and 18kgold and 925 sterling silver tourmaline rings have good workmanship and handpicked gemstones, we can also work with your own ring design and any gem option ... more.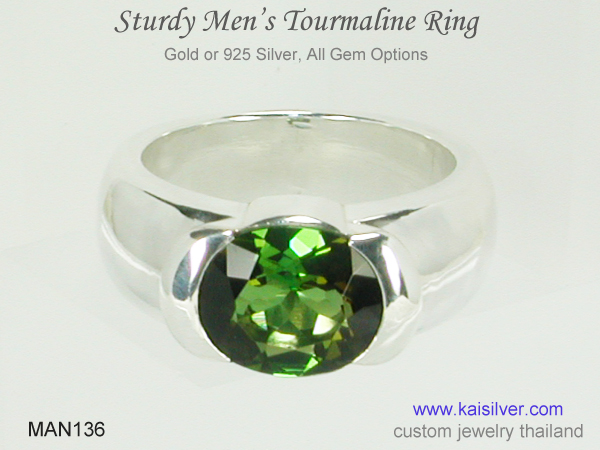 A big tourmaline ring in 925 silver or gold, the MAN136 custom men's green tourmaline ring has a big tourmaline gem in the center, the oval 11x9mm tourmaline gem is set in a sturdy ring. The 20-25 gram metal weight for this ring makes it tough and sturdy for long term usage ... more.