Gold Rings->Sapphire Rings->RG237 Sapphire Ring
Sapphire Diamond Ring [RG237]
The RG237 sapphire diamond ring from Kaisilver has gained popularity across the globe. While some people love this sapphire diamond ring for it's beauty and grace, seasoned fashion critics admire the high level of customization that is available for this sapphire gemstone ring. Our experts started on the design and concept for this gold or silver sapphire gem stone ring keeping a few parameters in mind. The idea was to create a sapphire diamond that was not very expensive, this had to be achieved without compromising on the quality of the jewel. The results are for all to see today, a beauty that is decked and ready to go for a sapphire and diamond wedding or engagement ring. One look at the price and you will realize that, the ring has achieved a level of affordability that few fine sapphire rings can match. We will talk about the customizable features for this silver or gold sapphire diamond ring so make sure that you read and understand the entire report.
Jewelers have been clever in explaining to buyers that, a silver sapphire diamond ring cannot have the same quality of design, gemstone and craftsmanship as a similar sapphire gold diamond ring. This gimmick has today lost steam as Kaisilver takes pride in educating jewelry buyers of what they can expect and what they should demand for when, ordering sapphire diamond rings. The gold sapphire diamond ring (RG237) is available as a gold or sterling silver sapphire gemstone ring. In this report we will focus on the customizable features offered by this diamond and sapphire gem stone ring. The idea is to ensure that you get the maximum satisfaction in owning and wearing this gorgeous sapphire gem stone ring.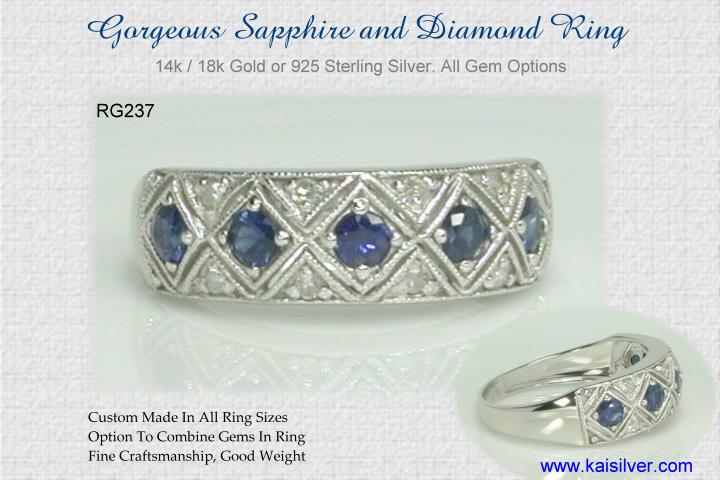 The RG237 shown above is a white gold sapphire and diamond ring. You could ofcourse order your sapphire ring in yellow gold too. There are some prominent features for this sapphire gem stone ring with diamonds that, can be clearly seen on the image. We will first talk about them and then move on, to discuss customization possibilities that can enhance the satifcation you get from owning this awesome jewel.
As you can see from the above image, the ring has 5 round sapphires
set in the front portion
of the band. These are 3mm round sapphires, all handpicked and custom cut gems. The important thing is that, they are natural blue sapphires and not man made fakes. The 1.5mm diamonds in the ring are set in between the blue sapphires on the top and bottom. You therefore have a total of 8 white diamonds in the ring.
By keeping the front
band width
at proportionaly 6mm, we have crafted a jewel that appears far more expensive than what it's price tag would suggest. The ring conveys a luxury feeling, with teh diamonds and gems almost packing the entire front portion of the band width. The inset image reveals another important feature of the ring. You can see that the band for this sapphire diamond ring that begins with a 6mm size in the front,
tapers a bit
as it moves to the portion that goes behind the finger. You can ofcourse request for your sapphire diamond ring to have a uniform band width all around too, more of the customization aspect in the subsequent paragraphs.
When most jewelry buyers think of
sapphires
, it is blue sapphires that come to mind. However the fact is that, you can get
sapphires in other colors too
. An interesting concept for your gold or silver sapphire diamond ring would be to, combine different sapphires colors in the ring. For example, you could alternate a 3mm round blue sapphire with a 3mm round pink or yellow sapphire. The color options for sapphires would be yellow, white, green, pink, orange or blue.
Each time a Kaisilver custom jewel becomes popular, we answer several emails that ask a similar question. Jewelry lovers want to know in what sizes these rings are available. The good news is that this sapphire and diamond white or yellow gold ring is available in
all ring sizes
. While the ring normally has a metal weight of around
8 to 10 grams
, we will let you know if a larger ring sizes requires more metal weight. The idea is to keep the high level of durability across all ring sizes.
We would like to say a few things about
natural and fake sapphires
. All gems used to make your sapphire and diamond gold or 925 silver ring will have natural diamonds, these stones are not factory made look alikes. Talking about natural sapphire gems, you need to know about gemstone treatments too. Almost 90% to 95% of all rubies and sapphires used in jewelry are heated. This is done to increase the clarity of the stone and also enhance it's color. The heat treatment applied to rubies and sapphires is accepted by gemstone experts and has been practised for around a century now. You should know that newer sapphire treatments like heating with chemicals and gases, diffusion treatment or fissure filling treatments are not considererd as 'normal'. A jeweler who provides such sapphires must inform the buyer of the treatment facts, this is however not done in most cases. Sapphires treated by processes other than the old 'conventional' heating carry a lower value as compared to unheated or conventionally heated sapphire gemstones. Kaisilver sapphire gems are heat treated and we will clearly inform you in cases where other forms of treatment have been applied to the gems. You can let us know if you do not mind having fissure filled or diffused sapphires in your sapphire and diamond ring. This can lower the overall price but, we will requie you to expressly state that you are aware of the treatment applied to the sapphire gems.
As promised earlier, we will now discuss the customization levels and features possible for this Kaisilver sapphire diamond ring. You need to get the true benefits of a custom sapphire diamond ring, this will ensure that you really enjoy wearing and showing your sapphire gem stone ring. Some of the customization options will allow you to moderate the price tag, something that is necessary when you need to work on a tight budget.
Gemstones
: Your sapphire diamond ring, can include gems besids sapphire too. Infact you could request for the design to be retained but, stones replaced by gems other than sapphires. If you are interested in a blue sapphire ring, you will obviously want all the sapphires in the ring to be blue in color. A unique sapphire diamond ring could combine sapphires of different colors in the same ring. Shifting from sapphires, you can choose from amethyst, garnet, spessartite garnet, ruby, emerald, tanzanite, blue topaz, pink tourmaline or green tourmaline too. You never have restrictions on selecting gems when orderding custom made jewelry from Kai Silver - we handpick and custom cut all gems that can be found on our planet.
Diamonds
: We already mentioned that the RG237 diamond and sapphire gem stone ring has 8 round diamonds of size 1.5mm. These diamonds add a fine glitter without, overpowering the beauty and grace of the sapphires. An interesting option is to leave the diamonds out of the ring. Not many ladies would refuse to have diamonds in their jewel but, budget constraints sometimes dictate such actions and requests. We also mentioned that the diamonds above and below the round sapphires actually, add a luxury look and feel to the jewel.
Band Width
: The RG237 as shown in the image on this web page, has a 6mm band width in the front. This tapers to around 3mm on the portion that goes behind the finger. The 6mm band width appears to tightly hug the diamonds and sapphires in the ring. This is what gives a luzury and extravagent look to the jewel. You might want to consider this sapphire diamond ring for a wedding or engagement sapphire gem stone ring. In the case of a sapphire diamond wedding band, the band width needs to be uniform all around the band. So in this case, the band ring would have a 6mm band width throughout. Such a sapphire diamond wedding band would require additional metal weight, this might involve a slight increase on the price of the ring. The next paragraph talks about having gems and diamonds all around the band, this would also imply that the ring has a uniform band width.
Stone Portion
: As can be seen in the image of the sapphire diamond ring, the 5 blue sapphires and 8 diamonds are set only on the front portion of the ring. This moderates the price point and also allows for a more efficient use of metal weight by, supporting a band width that tapers as you move towards the back of the finger. It is quite possible that you like your sapphire diamond ring to have diamonds and sapphires all around the band. This is something that we can easily provide since, each ring is fully made to order. Such a customization will require two things to happen. Firstly, the band width will need to be made equal all around the ring. The second thing is that, the diamonds and sapphires if set all around the ring would also add to the price tag.
Metal
: We did mention that the sapphire gem stone ring with diamonds shown here is a white gold sapphire ring. Your choice could be a 14k or 18k sapphire diamond ring in white or yellow gold. We have recently custom made, a few pink (rose) gold sapphire gemstone rings with this design concept, and they looked fabulous. We mentioned that metal selection was one of the customizable features of this sapphire diamond ring. This obviously means that you can order a gold or 925 silver sapphire diamond ring. Having said that we would like to add that, the silver or gold sapphire ring with diamonds, would have the same quality of craftsmanship, gems and diamonds. If you choose the silver sapphire and diamond ring, we can do a yellow or white gold plating on the ring but, would advise you to avoid plating your 925 sterling silver sapphire ring. This is mainly because, all platings done on silver jewelry will wear off in time.
The above report is based on market research done on the RG237 sapphire diamond ring from Kaisilver. We have kept sales talk out of this report to focus on the high degree of customization supported by the jewel. If you would like to know more about this jewel or need some information related to pricing, please check out the details on our regular website at
http://www.gemstonejewelry.kaijewels.com/sapphire-diamond-ring-rg237-kj-01.htm
Our support team at
sales@kaisilver.com
is also on hand to answer any doubts or queries that you might have.