Men's Topaz Rings With Blue Topaz Gems
There was a time when a debate raged on the topic of men and topaz gems, the question was whether topaz gemstones are suitable for men. After efforts from Kaisilver and a few more reputed jewelers, the style gurus and jewelry lovers began to realize that topaz was an awesome gemstone and suitable for both men and ladies. Topaz is available in a range of colors, white and blue topaz are quite moderately priced but, rarer colors like pink and yellow are much more expensive. We would like to clarify at the very outset that, our discussion does not include topaz that is merely coated with fancy colors - these gems are not stable in terms of color and the surface coating can come off with wear and tear.
Of all the topaz colors blue is the most preferred choice for men's rings and this, should come as no surprise. Men like blue and this can be seen in their dress style too. Talking about men's rings with blue gems, high demand is observed in blue gems like blue sapphire, blue topaz, blue lapis lazuli and even blue topaz. In recent years, spinel in it's natural form has been better understood and promoted and, blue spinel has gained popularity. If you had to talk specifically about blue topaz gemstone rings for men, it is all the three shades of blue that are suitable for men. Mens light blue topaz rings would have sky blue topaz and this gem, can often resemble the more expensive aquamarine. Do not confuse aquamarine and topaz, they are two very different gems and gorgeous in their own right. The brighter blue shade of topaz is referred to as swiss blue topaz and generally, has a higher demand for men's topaz rings worn by the younger age group. If there is one color shade of topaz that is liked by men in all age groups, it is the dark blue or london blue topaz. When ordering a mens blue topaz gemstone ring, choose the blue color shade that you like, do not move with the general preference as it might not be what you really like.
Kaisilver: Our blue topaz rings for men can be ordered in gold or 925 silver. The same level of attention, craftsmanship and gem selection is assigned to gold and sterling silver men's topaz rings - so make the metal choice based on your preference. We do present a fine collection of handpicked topaz men's rings here but, there are a few important things that you should keep in mind. You can pick any ring from our websites and request for it to be made in gold or silver and with blue topaz. The second and more important thing is that, there is no limitation on design when you work with us, the design for your mens gold or 925 silver blue topaz gemstone ring, can be chosen from our website or provided by you. We custom cut every gem and so, the dimensions, shape and cut of the stone that you would like can all be specified by you. It is a great idea to discuss your requirements with our experts at sales@kaisilver.com before making a buying decision. We would strongly suggest that you get all your doubts and questions cleared and then, decide on the jeweler that you feel comfortable working with. You are not obliged to make any purchase from us to draw on our immense experience and knowledge, so do take the help of our team.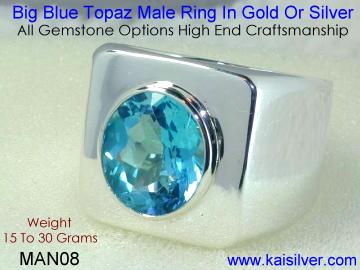 A sturdy and large swiss blue topaz ring for men. This men's ring has good metal weight and is crafted by extremely skilled artisans at Kai Silver. You coulld choose a gold or silver blue topaz ring and pick from, three gemstone size options - 12x10mm, 10x8mm or 9x7mm oval. Your blue topaz mens ring can be ordered in all ring sizes and we can accommodate all requests for design modifications and customization. You have all three blue shades namely, sky blue, swiss blue and london blue topaz to choose from and there is no limitation on the gemstone that you can select for your ring. Get to know more about this awesome men's gold or silver ring ... here.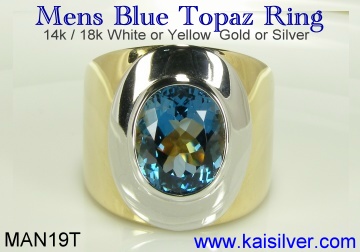 A dark london blue topaz ring, the big oval gemstone is firmly set in a two tone gold ring. The MAN19T blue topaz gemstone ring for men is available in gold or silver and both metal options, come with fine craftsmanship and handpicked gemstones. Notice the portion around the gemstone, you could request for a set of text or symbols to be etched into that portion - this can enhance the appearance of the ring and also add to its meaning and significance. The entire ring can also be made in one metal color and all ring sizes are possible. Since each gem is custom cut by our expert gem cutters, you can also specify the type of gem cut that you prefer for your men's blue topaz gemstone ring. The ring is shown here with a large oval blue topaz that has the conventional faceted cut, other possibilities include a smooth cabochon cut or the multi facet checkerboard cut. Review all details related to this handsome mens london blue topaz gemstone ring .... here.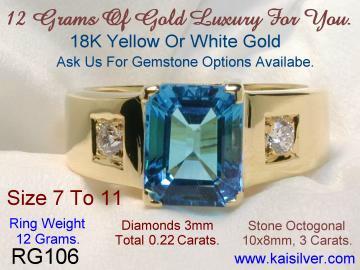 One of the most popular blue topaz rings for men to ever hit the market, this jewel was originally designed by the experts at Kaisilver. Interestingly it also rates as one of the most copied and 'replicated' men's jewels of all time! The metal weight of this men's blue topaz ring has now been upgraded and is around 20 to 25 grams. Like always it is possible to customize all the features of this ring including, three blue topaz shades to choose from, silver and gold metal options etc. The ring as shown here has a 10x8mm octagonal swiss blue topaz gem in the center and a 3mm round diamond on either side. Review the complete report for the RG106 men's topaz gem stone ring ... here.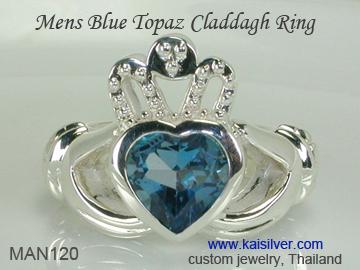 Few of us would expect to find a heart shaped blue topaz ring that is suitable for men, so the impressive MAN120 comes as a pleasant surprise. This heart london blue topaz gem stone ring for men depicts one of history's most meaningful jewels. The first claddagh ring was made four centuries ago by an Irish slave named Robert Joyce. The young man made this ring for his beloved and wanted the features of the ring to depict his true love for her. Kaisilver is credited with crafting the finest claddagh rings for ladies and men, our jewels are available in gold and silver with the gemstone of your choice. Your mens blue topaz claddagh ring retains all the meaning of the first ring made centuries ago. The hands in the ring symbolize friendship and togetherness, the heart signified his love for her and the crown showed that he would always be loyal to her through good times and bad ... more.