Affordable Burmese Jadeite Jade Rings For Men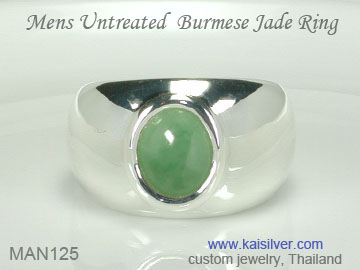 When talking about jadeite jade from Burma, we often hear only about the best jade that sells for around 1,500 U.S$ per carat or more. With this price range, a men's jadeite ring with a 3 to 4 carat jade gem would be priced at around 6,000 U.S$ to 10,000 U.S$. It is quite obvious that this price range would put Burmese jadeite men's rings beyond the reach of most budgets. Kaisilver has worked hard to procure moderately priced natural jadeite from Burma, we work closely with mine operators to ensure that the material we get is natural and untreated. Jade lovers with some knowledge of gemstones and those of you, who believe in the special powers of gems would truly appreciate these natural jadeite jade gems. We are now in a position to offer, quality gold and silver jade rings for men with natural and untreated Burmese jadeite. And you desire to get the look of fine jade without paying the super high price, you can even consider choosing dyed jade for your men's ring. But if you happen to be one of those select few, with a budget to acquire a high priced green jadeite ring, let us know and we will ensure that you get a ring that brings optimum value for your investment. The best thing about Kaisilver jade rings for men is that, both gold and silver jade rings get the same level of attention and workmanship. The gemstone is always selected by our experts and immaculately custom cut irrespective, of the metal selected and the price of the ring.
Highlights Of Our Jade Rings For Men:
All rings are crafted with natural jade from Burma, gems are moderately priced.
You can request for high priced fine, prices range from 1,500 U.S$ to 3,000 U.S$ per carat.
Both gold and 925 silver men's jadeite jade rings, have good workmanship and handpicked gems.
Select moderately priced untreated or treated (dyed) Burmese jade gems for your jadeite jade ring.
Request for price quote if you prefer high quality jadeite jade from Burma.
Rings are available in all ring sizes, each ring is fully customized with your preferences.
Choose the design for your men's green jade ring from our websites or, email us your own images.
Men's gold jade rings can be ordered in yellow, white or rose gold - select 14k or 18k gold.
Since plating on silver will wear off after a while, we recommend that no plating be done on the silver ring.
If you still prefer plating for the silver men's jade ring, choose from white rhodium, yellow gold or pink gold.
All jade gemstone rings for men have good metal weight and are sturdy and durable.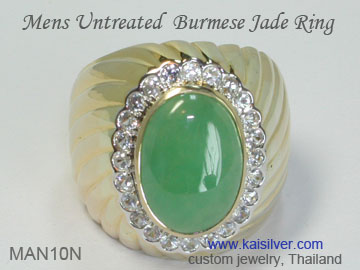 Untreated Or Treated Jadeite: The moderately priced men's gold and sterling silver jadeite jade rings from Kaisilver, can be ordered with untreated or dyed (treated) jade gems from Burma. Most buyers with knowledge about gems prefer untreated gems, they understand that gems were formed by nature and are best appreciated in their natural form. With a history that dates back to many thousand years, jade has some fine traditions and folklore attached to it. Believers in the metaphysical properties of jade, often wear a jade ring or jade pendant to encourage peace and harmony in their life and profession. Such buyers prefer jade jewelry with gems that have not been treated, the emphasis is on meaning and significance rather than on, external perfect and price tags. Kaisilver picks modestly priced untreated jade right from the mining locations, this ensures that no treatments have been applied to the gemstones. The MAN125 men's gold or silver jade ring is shown here with an untreated natural jadeite gem from Burma. The same is true of the MAN10N big jade ring for men, the gemstone in this ring is a large oval Burmese jadeite jade gem. While the untreated jade gem at an affordable price does appeal to many jewelry lovers, dyed jade has its own band of followers. A sterling silver or gold jade ring for men with a dyed gem can have a very extravagant and luxurious appeal, this at a down to earth price. There is nothing wrong in wearing a custom men's jadeite ring with a dyed (treated) gem as long as, the seller discloses the fact that the gem is treated and charges, a price that reflects the value of the gem. At Kaisilver we can provide both treated (dyed) and untreated natural jade gems for the men's gold or silver ring.
Buying From Kaisilver: Buying from Kaisilver is not the regular push and rush process so, take your time, discuss your requirements and make a well informed purchase decision. Just remember that we can custom make your men's green jade ring with your design or ours, the gemstone, dimensions and selection of gold or silver is all up to you. Review some ideas for your men's green jade ring in our Men's Jade Rings Report, you will also find details about prices and options. Our support experts at sales@kaisilver.com will be glad to answer your queries and doubts even if, you plan to make no purchase from us.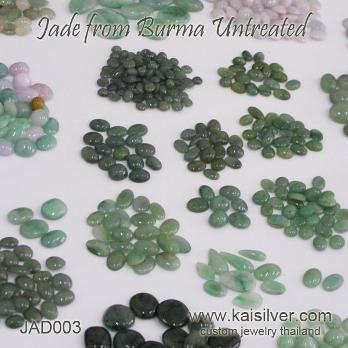 A gorgeous collection of reasonably priced untreated natural jadeite jade gems from Burma. With gem manufacturers preferring to dye most of their merchandise in the hope of getting a better look and price for their stones, we at Kaisilver need to shop very near the mining locations to ensure that we get the best selection of untreated jadeite at a moderate price. When ordering your men's sterling silver or gold jade ring, you can specify a general color range for example, pale green, light green, medium green color and dark green.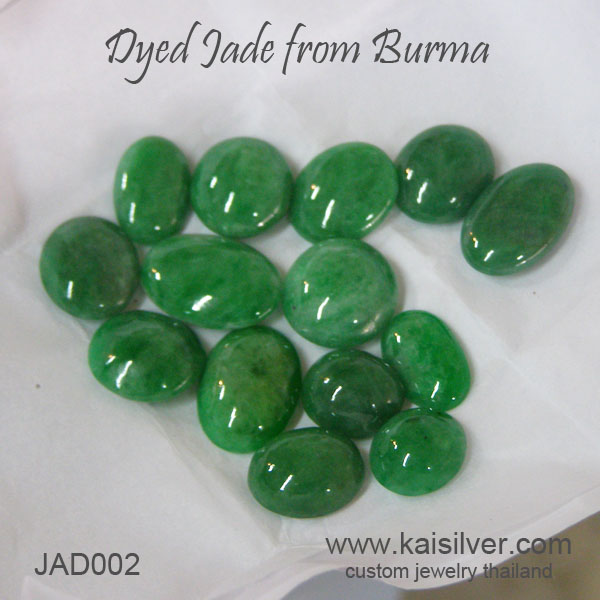 For those of you who wish to get a high price look for your modestly priced jade men's ring, dyed jadeite is an interesting choice. At Kaisilver we make clear a differentiation and disclosure regarding, dyed and untreated jade. If you would like to have an impressive jade ring for men with a gem that has a high quality look but, do not want to spend big money, contact our support team and learn about treated (dyed) Burmese jadeite. We will handpick and custom cut a gem for you and make sure that, you get value for your money.