Aquamarine Ring With Diamonds, Gold Or 925 Silver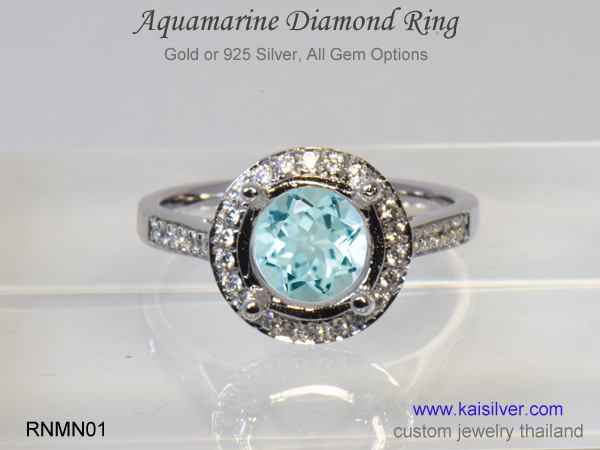 An effortless way to get that refined and sophisticated touch to your overall look. This Kai Silver aquamarine and diamond ring is priced for daily wear but, is perfect for an engagement or wedding ring. Aquamarine a member of the beryl family is blessed with a fine pastel blue color, it has the fluid and gentle look of the waters. You could order the RMN01 in gold or 925 silver and the gold ring, gives you all three gold color options.
The white gold aquamarine ring shown here has a bright and stylish look, the diamonds encrusted in the ring complement the bright look of the metal. A 14k or 18k aquamarine gold ring in white gold, showcases the light blue color of the gem without casting any color from the metal. And if you prefer the warm color of golden yellow for your ring, choose yellow gold. Rose gold which is also referred to as pink gold, has drawn much interest in recent years. Interestingly, the Russians adopted rose gold in a big way in the early part of the 19th century. The pink color of this gold is not a saturated color, so you end up wearing a ring with a pastel blue gem and a pastel pink gold color. The 7mm round aquamarine gemstone in the center is haloed by a row of glittering diamonds. The design and workmanship of this ring give it a much pricier look, but this is precisely how all Kaisilver custom jewelry is crafted.
At Kaisilver we do not restrict your jewelry selection to a fixed catalog, each jewel is fully custom made and can therefore all requests for modifications. You could therefore request for an oval or square aquamarine gemstone for your ring. This same ring could be custom made with a gem other than aquamarine in the center, we place absolutely no restrictions on design or gemstone. The reassuring part of shopping with Kai Silver is that, you get the same quality standards for gold and sterling silver jewelry.
Let's talk about the suitability of aquamarine for an engagement or wedding ring. The bridal jewelry segment has gone through some revolutionary changes in recent years, conventions have been dumped and demand for colored gemstones has surged. If you have tracked the price graph for aquamarine for the past 5 to 7 years, one thing would be terribly clear. Aquamarine has moved out from the very affordable or reasonably priced category, the priced has consistently inched up the ladder. It is the demand for aquamarine engagement rings that has pushed up the price. Young couples are giving more importance to traditions and folklore attached to gemstones. Crystal healers often recommend wearing an aquamarine jewel to bring, harmony and reconciliation to the home. This belief fits in well with the spirit of a marriage and family, so it is no surprise that bridal jewelry with aquamarine is popular today.
Aquamarine is a gemstone that few men or women would not like to wear. But this aquamarine and diamond ring would have a very special significance for those of you born in the month of March. The gem is the birthstone for the month and makes a special connection with those celebrating a March birthday. You could also gift this aquamarine gemstone ring in gold or 925 silver to someone born in the month of March.
More Information: At Kaisilver we believe in providing detailed information about each jewel before making a sale. Review the RNMN01 Aquamarine Ring Report, to know more about this awesome jewel. Besides providing pricing details, we also let you know more about the options available for you to select. Our support team at sales@kaisilver.com is always ready to clear any doubts or queries that you might have. We can custom make any jewel in gold or sterling silver with the gemstone of your choice, based on your own design image or sketch.